9 Easy Outfit Ideas For Every Lazy Girl This Fall
You can never be too warm or too chic.
The leaves are changing colors, the air is chilly, and Halloween is just around the corner, which means it's the best time of the year.
It's finally time to pull out the comfy sweaters, sip hot chocolate, and watch scary movies. Probably the best thing about this season is that outfits are easy and comfortable to wear, even for a lazy person like me. Now if you're someone who hates planning outfits but still wants to look great, then you've come to the right place.
These are what I feel are the most relaxed and most comfortable outfits for the fall weather, that not only look chic but are quick to put together.
1. Comfy oversized sweater, jeans or leggings, and combat boots.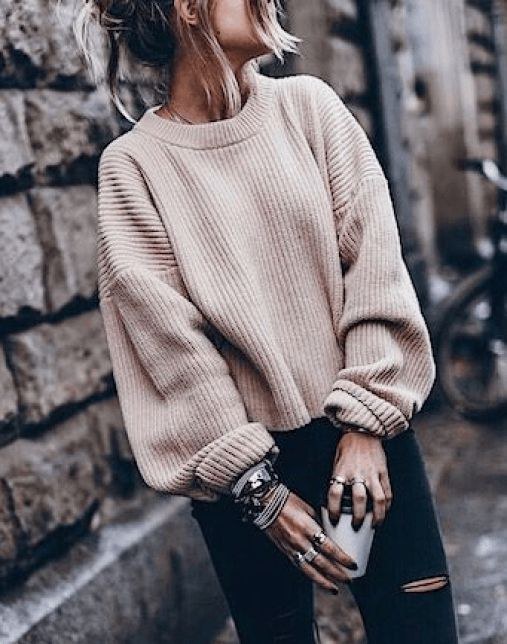 A common archetype of fall is this outfit. You'll see this ensemble on every article, Pinterest post, or fashion magazine the minute the temperature dips below 60. There's a reason why: it's comfortable, and it's within reach. Most of us have all (or at least some) of the items needed for this outfit, making it a natural choice when we're in a hurry to get somewhere and don't have time to put together an outfit properly. Even better is that it can be paired with a warm scarf and the boots can be switched out for sneakers or flats, making it an incredibly versatile outfit.
2. Long-sleeved shirt, jeans, and sneakers or booties.

When the weather isn't too chilly, then this is the outfit to wear. A long-sleeved shirt lets you keep your body warm while preventing unnecessary heat that a large sweater might bring. Pairing it with some distressed boyfriend jeans (for a slouchy-chic look) or skinny jeans (for a more sophisticated look) will enhance the outfit. The sneakers finish the piece, making it comfy and great for days when you're on your feet.
3. Neutral trench coat, skinny jeans, blouse, and heels or flats

This is the outfit you need when you're heading to work and want to maintain a professional ensemble while still looking trendy. The neutral trench coat pairs well with the colorful season while keeping the outfit colors toned-down enough to be appropriate for work. The skinny jeans follow the straight lines of the trench coat flowing and pairing it with a simple blouse makes the outfit look professional. It's your choice whether you prefer heels or sandals/flats, but whatever the decision may be, you're guaranteed to look great in the office while dressing for the weather.
4. Leather jacket, sweater or blouse, ripped jeans, and combat boots.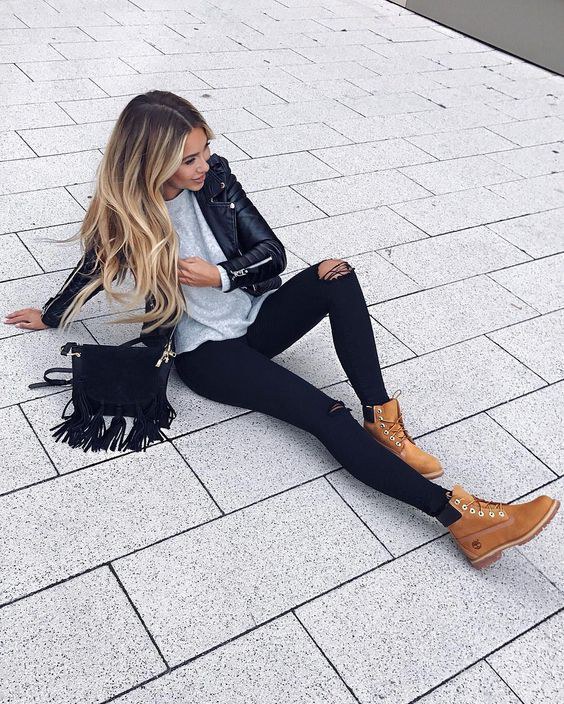 For an edgier look this fall, try throwing on a leather jacket over a simple sweater or blouse and couple it with some distressed jeans. The jeans and leather jacket will definitely toughen up the outfit and to complete the look, add a pair of combat boots. Or, if you want a more upscaled look, switch the boots out for heeled booties. And if the weather is too chilly for you, adding an infinity scarf will help keep you warm and make the outfit look good.
Like Odyssey on Facebook
5. Jean jacket, blouse, dark jeans, and sneakers.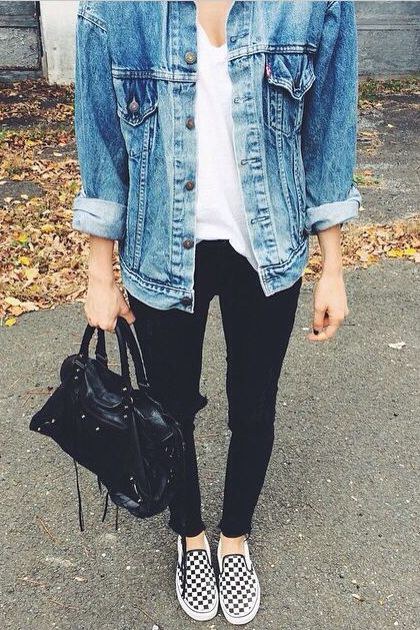 This outfit is simple, cute, and keeps you warm, making it a great outfit for the fall season. The jean jacket and sneakers keep the outfit looking fresh, but remember to pair it with different colored (preferably dark) jeans to contrast the jean jacket.
6. Sweater dress (or sweater and skirt), sheer leggings, and heeled booties.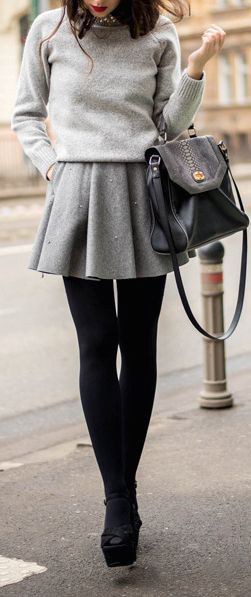 Who says you can't wear a dress in the fall? Use a sweater dress and pair it with some cute booties or combat boots. If you want to make the outfit more casual, tie a flannel around your hips and ditch the boots for sneakers. Or if you want to make the outfit more upscale, try thigh-high boots instead of the heeled booties.
7. Sweatshirt, joggers, and sneakers.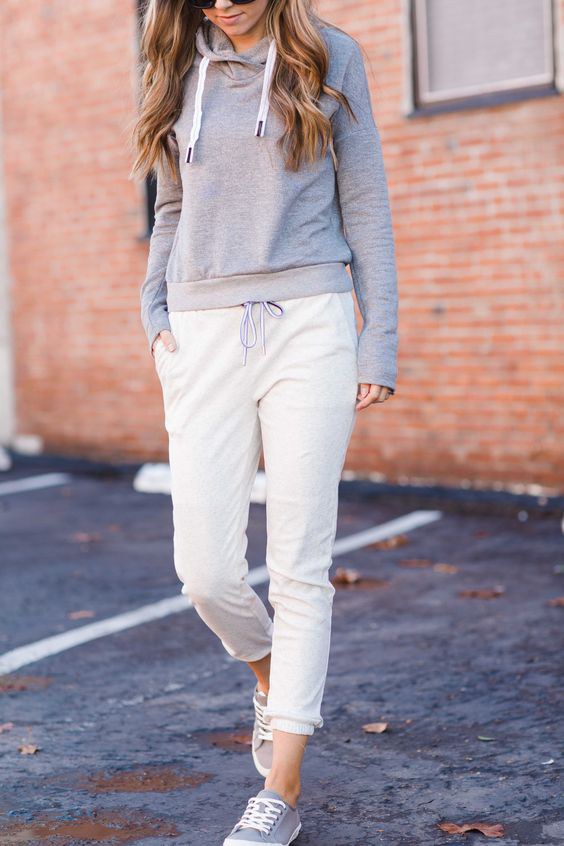 The ultimate lazy girl outfit that is both comfy and casual. You can use a full-sized sweatshirt if it's a cold day, or switch it out for a cropped sweatshirt if it's not too chilly. The joggers can be full length or half, again depending on the weather, and you can pair them with some comfy sneakers.
8. Chambray shirt, t-shirt or blouse, leggings, and combat boots.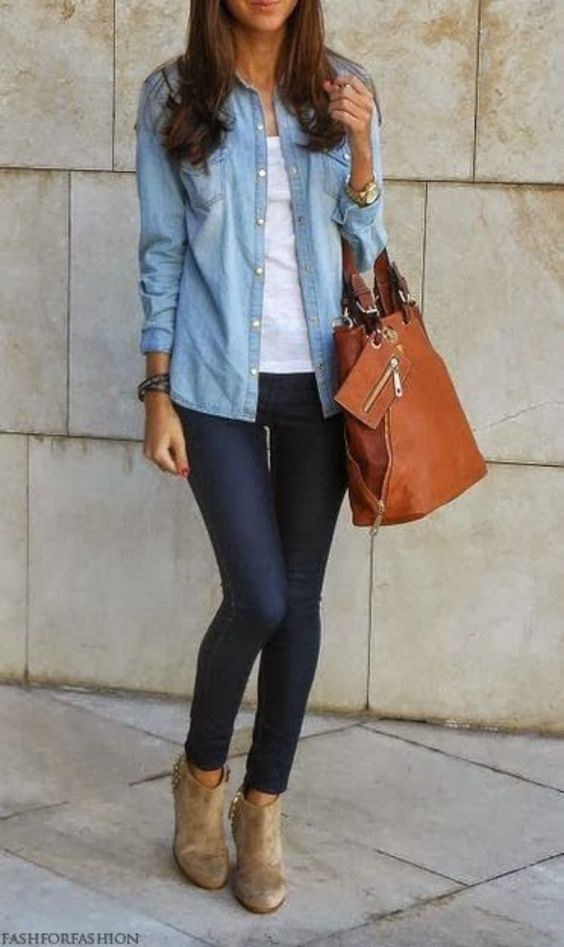 Another comfy classic that involves pairing a chambray shirt (I'd go with something light), a solid tee, dark leggings, and combat boots. Or, if you'd rather make the outfit more sporty, switch the boots for sneakers. If you'd instead make it more feminine, then wear flats or sandals.
9. Blazer (neutral or patterned), blouse, jeans, and heels or flats.

For a more sophisticated fall look, using a blazer instead of the trench coat mentioned before can both keep you warm and help you blend into the office. A dark blouse (if the jacket is patterned) or a light blouse (if the jacket is neutral) and jeans contrast one another to make the outfit both ready for a day out or a day in at work. Lastly, pairing it with heels or flats completes the look of professionalism.
---
Fall is probably the most versatile season there is for fashion. The possibilities are endless to what outfit you can choose to wear, so don't be afraid to mix it up or try adding new things to the suggestions I mentioned above. The most important thing is to have fun with your style and branch out from the norm. It will help you not only look your best but also learn what works for you and what fun styles you can come up with. Whatever you choose to wear this fall, remember to put your own identity into it, and you'll have no problem keeping warm and looking good.