How to Wear Coats with Midis
Midi skirts and dresses have hemlines that finish between the bottom of the kneecap and the bottom of the calf. Midis are longer than knee-length, and shorter than maxi length. These hemlines tend to be longer than regular hip and thigh-length outerwear, which can create outfit proportions we are simply not used to. Many women feel dowdy and unattractive in the combination, especially when a flared midi is combined with a thigh-length puffer.
At the same time, midi dresses and skirts in all sorts of silhouettes are topped with outerwear in all sorts of lengths and silhouettes on the catwalks. These days, the so-called unattractive combinations are on-trend and as fashion-forward as ever.
Here are some guidelines before we get into the examples.
Straight midi skirts and dresses that are tapered at the hem can be topped with any style and length of topper. It's the A-lines and flared midi silhouettes that can create proportions that make us feel less than fab.
Outerwear that is the same or very similar length as a midi skirt or dress is usually a slam dunk, regardless of the silhouettes and colours of the midi and topper.
Knee-length outerwear is great to wear with flared midi skirts and dresses, especially when the coat is structured. It tends to look more streamlined than thigh-length outerwear.
Creating a low contrast between midi and topper accentuates the long lean line which can offset odd proportions.
A structured coat worn over a flared midi tends to look more traditionally flattering despite the differences in length and contrast.
Short coats and jackets look great over straight and flared midis. They can be fluid, oversized or tailored.
On to some examples. I'm using visuals with flared midis since they're trickier to top with longer outerwear.
1. COAT AND MIDI THE SAME LENGTH
A long puffer or wool coat that extends beyond the kneecap and is the same or a similar length to the midi is ideal. If you live in a very cold climate and like to wear midis in Winter – GET ONE. I intend to get an extra long puffer or wool coat later this year.
2. THIGH-LENGTH FAUX FUR COAT AND MIDI
You have to be okay with wearing volume over volume for this '70s-inspired look. The contrast of the coat and midi are high, which accentuates the difference between the horizontal hemlines – and that's just fine! Feel free to stick to flats if that's more your thing.
3. KNEE-LENGTH COCOON COAT AND MIDI
The cocoon coat creates volume over the volume of the flared midi, but it's longer than thigh-length which accentuates vertical integrity. The vertical integrity would be stronger if the contrast between midi and coat were low, but the high contrast works well too. Feel free to stick to flats if that's more your thing.
4. STRAIGHT THIGH-LENGTH RAINCOAT AND MIDI
This is a similar concept to #2 except that the thigh-length coat is slightly longer, more casual, and the model is wearing flats. A parka type coat at a similar length works just as well.
5. STRUCTURED KNEE-LENGTH COAT AND MIDI
The coat is slightly shorter than the midi, but it's structured AND a low contrast which offsets odd proportions. The white footwear accentuates the column of colour and vertical integrity of the outfit. You can create the same columned effect in any neutral or non-neutral.
I don't have an extra long puffer or wool coat yet, but I do have several knee-length wool coats that I happily wear over flared and straight cold-weather midis. Two are structured, one is straight, and one is cocoon. I also have a longer thigh-length straight coat and parka that I enjoy wearing with midis. I also throw in a short cape for milder cold weather. That means that I do #2, 3, 4 and 5 with these midis and coats from my wardrobe. Some of the midis here are longer on me than on the models.
I have many warm-weather Summer midi dresses, and I simply combine those with a fitted or fluid SHORT denim jacket, moto style jacket, or a thigh-length cocoon coat. Here are my warm-weather midis and the toppers I wear with them:
Feel free to ask questions in the comments section if you're unsure of proportions. Remember that outfit proportions and irregular juxtapositions can be dowdy and unattractive right up until they are fashionable, hip and on-trend. Generally, almost anything goes these days if you wear something with verve, intention and confidence.
13 best dresses to wear this autumn, from floral midis to corduroy shirts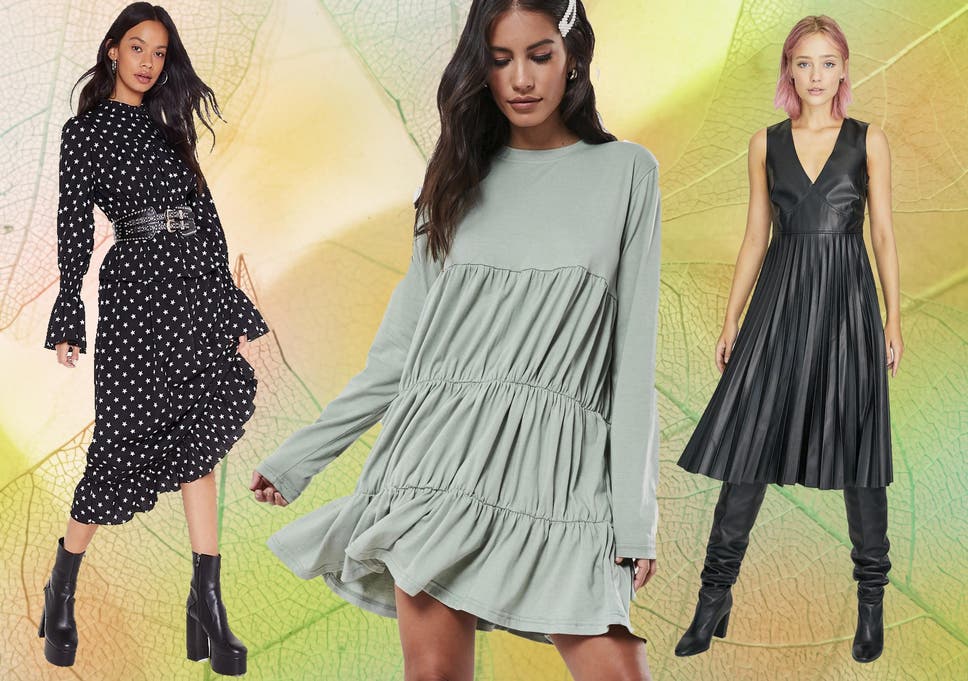 Kitting your wardrobe out for autumn is a tough job. The mini dresses of the summer months won't cut it as the mornings get chillier, but you also don't want to overheat on the tube in a chunky knit.
The humble autumn dress therefore has a big job to do: we want seasonal prints and a comfy fit that we can pair with a leather jacket and ankle boots as well as big coats and scarves when it gets even colder.
Long dresses were everywhere this summer, so the move from last season into autumn is not as pronounced as it usually is.
This year, the new season is more about different colours and textures as long, most definitely, is still in.
Of course, we're not over leopard print – in any way. We're really into the darker tones of green and burgundy, as well as the classic autumnal floral print.
Flowy materials with ruffles are still here, and we also welcome leather and corduroy into the mix, as well as polka dots and poplin frills.
From oversized smock styles to the continuing reign of the flowing midi, here are our favourite dresses this season that your wardrobe will thank you for.
You can trust our independent reviews. We may earn commission from some of the retailers, but we never allow this to influence selections, which are formed from real-world testing and expert advice. This revenue helps to fund journalism across The Independent.
River Island the black Sienna dress: River Island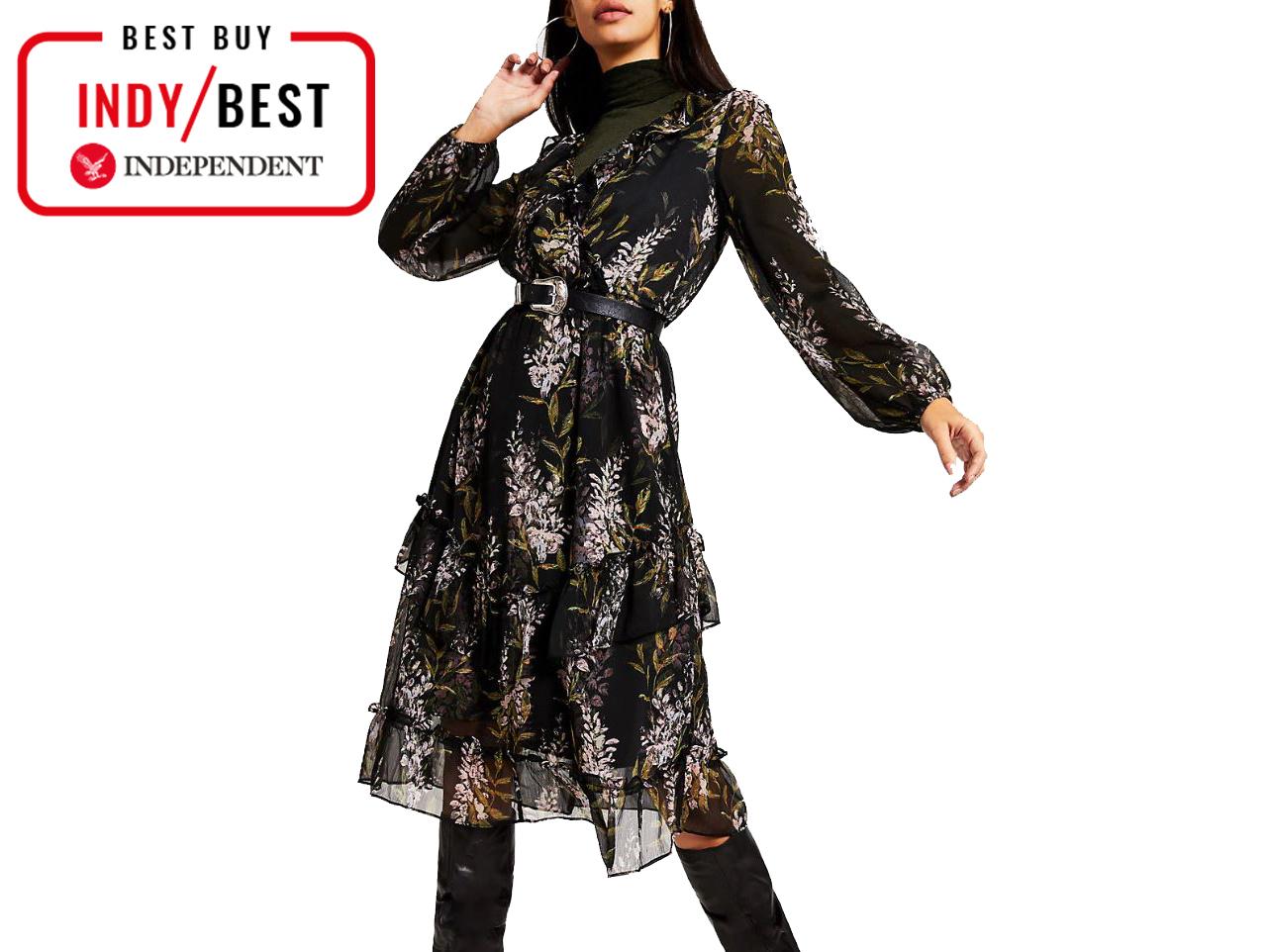 If sheer sleeves and a moody floral print doesn't scream autumn, then we don't know what does. The wrap design and tiered frilled hem makes this dress really flattering on, it's flowy but structured enough to show off your shape. The print is a classic choice, working equally as well with chunky boots and a leather jacket as it does with mules for an evening look. We found the neckline quite low, so layered a turtleneck top underneath it for work as the model wears here. The small cut-out at the back is a nice touch for when you don't layer anything underneath. A floral, flirty midi dress that you can dress up or down.
Ba&sh Paris dress, Ba&sh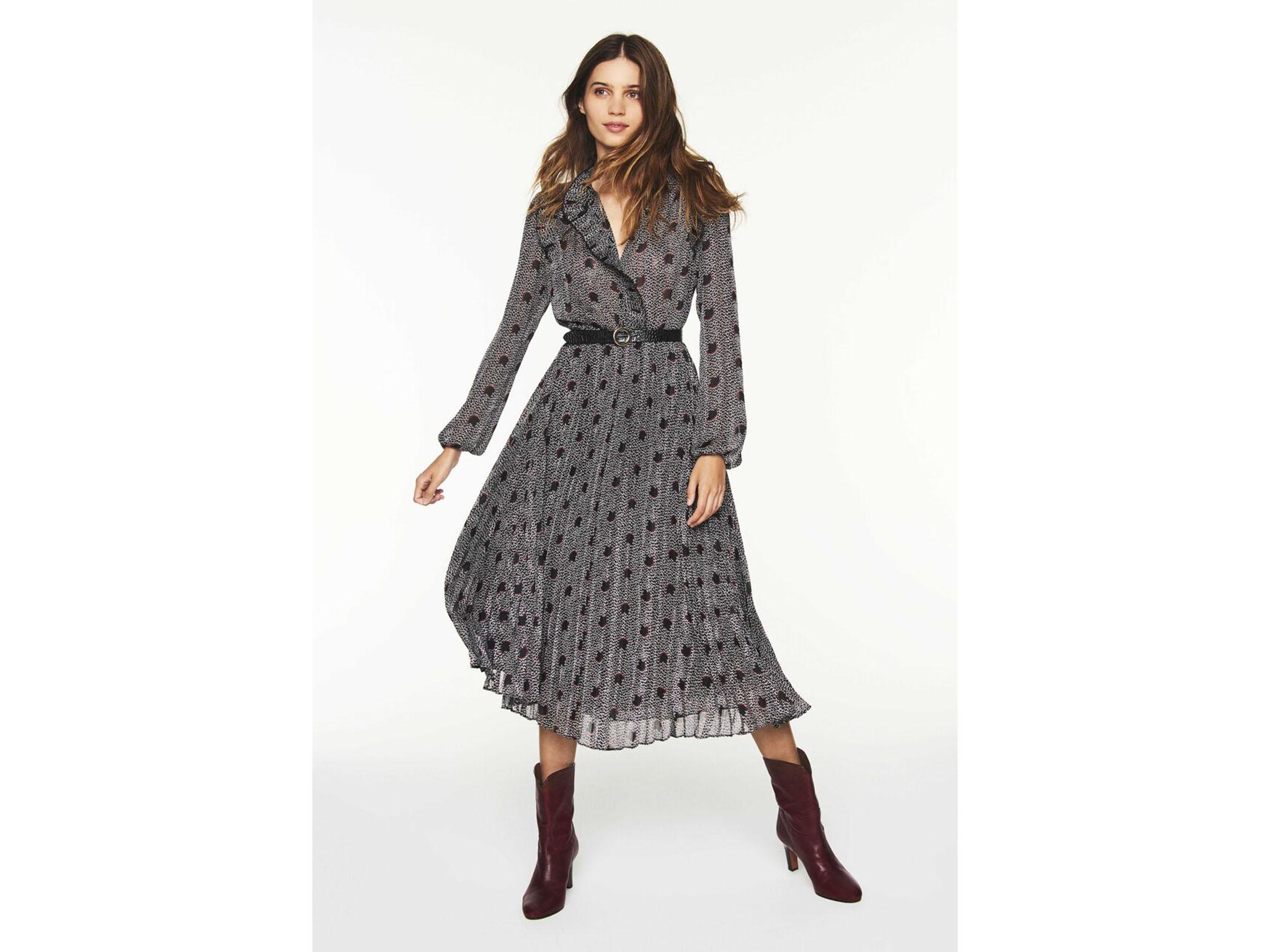 Created by friends Barbara Boccara and Sharon Krief – hence the collab name – the brand takes inspiration from Parisian style, and none more so than this midi, perfectly named the Paris dress. Yes, it's got a hefty price tag, but its design will make you feel great. We love the light material and its flowing pleated skirt which contrasts with the frill along the front buttons and shoulder seam of the arm. There's a faint glimmer of gold thread in the material too. This is a beautiful piece you'll find becomes a go-to this season and long beyond.
River Island blue long sleeve mini smock dress, River Island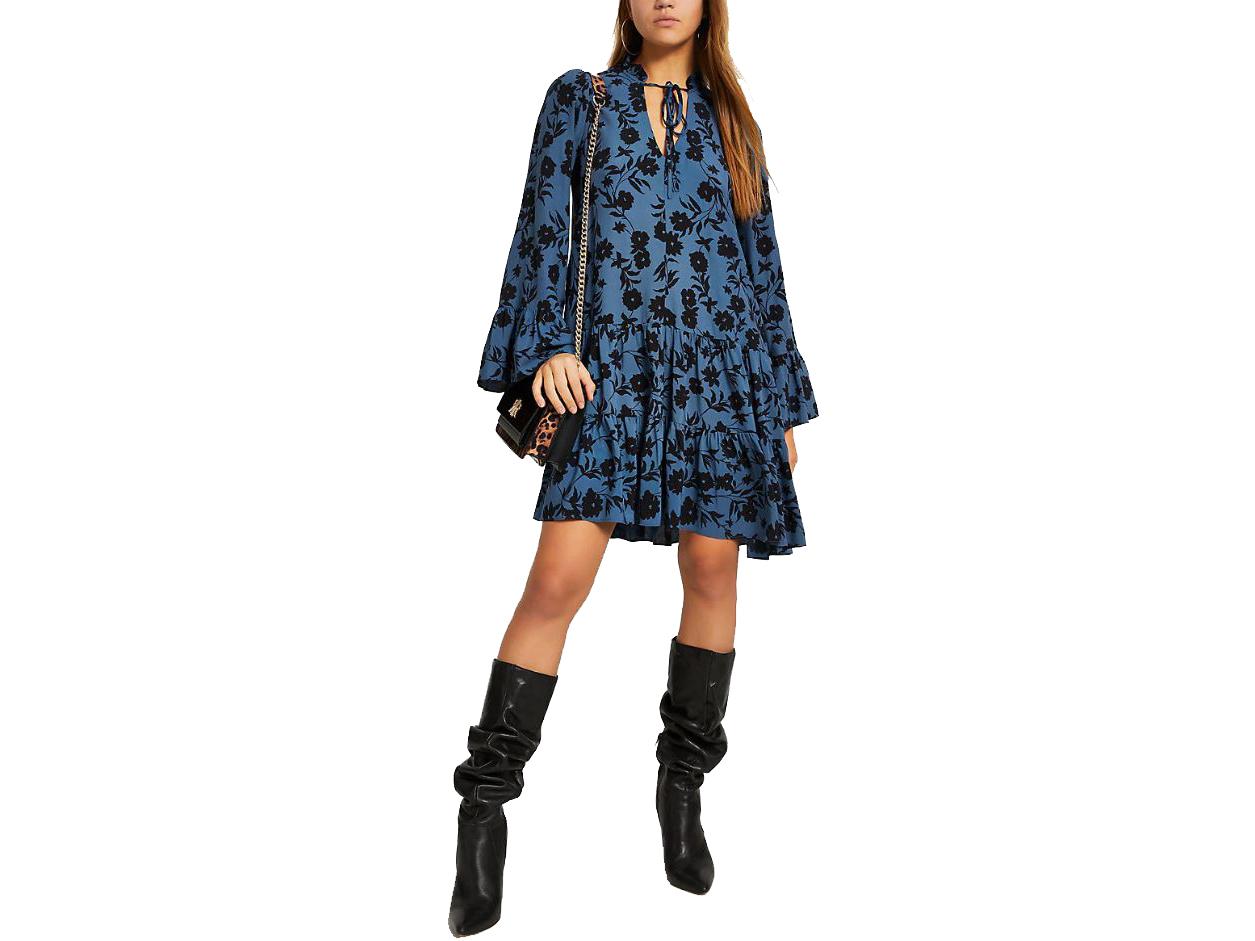 Smock dresses are having somewhat of a renaissance and this offering from River Island lives up to the trend. It's one of the comfiest dresses we tried with its loose fit and is flattering on all body shapes. The back is slightly longer than the front which makes it sensible to wear with tights to work and we love the flared sleeves, tiered hem and muted blue colourway.
H&M green leopard print shirt dress, H&M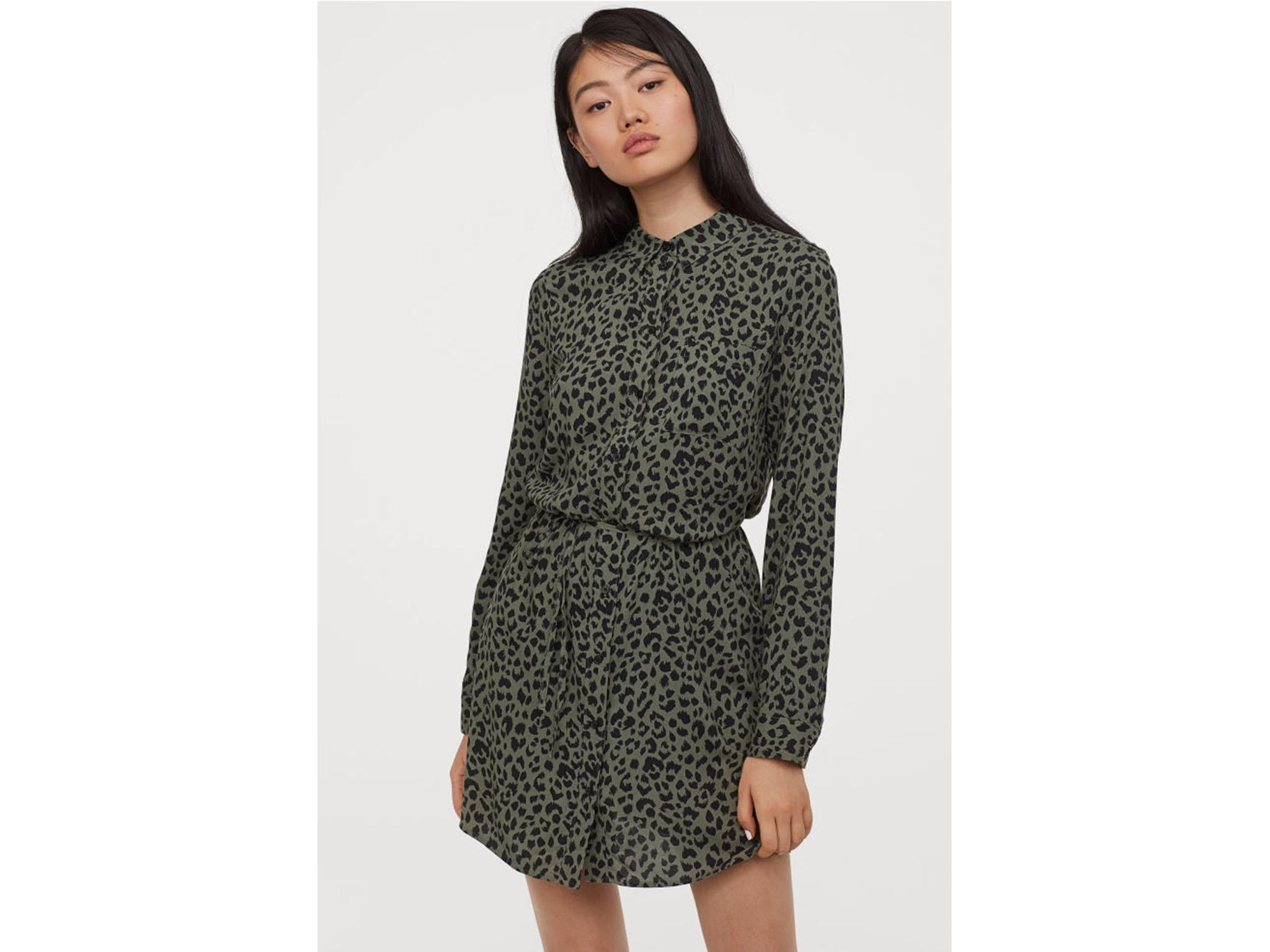 With the change of season comes the welcome change in colours we wear and we've moved from our summer obsession of apple green to this army-type shade. And of course, leopard print isn't going anywhere. This simple shirt dress is oh-so easy to wear either in the office with black loafers or on the weekends too. It's quite thin so great for layering and works well paired with with a beige trench. We also like wearing it with a little black jumper over the top too.
Nasty Gal as star as I remember frill maxi dress, Nasty Gal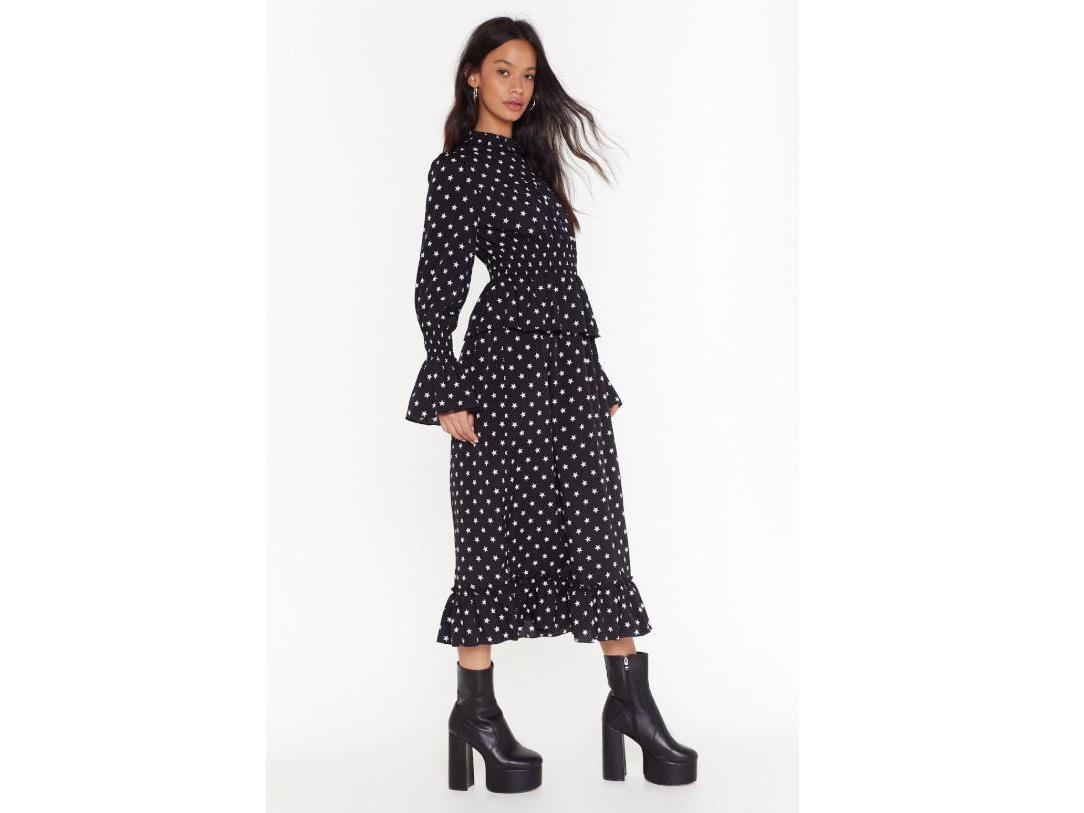 Maxi dresses certainly aren't just for summer, and this star studded number from Nasty Gal is giving us witchy-vibes in the best possible way. Our tester has a large bust and was concerned that the high neckline wouldn't suit her, but the elasticated waist and flared sleeves add shape to the dress which framed her silhouette nicely. The frilled detailing at the hem and waist adds to the charm of this maxi, we love the print and paired it with a chunky belt and biker boots for a fool-proof autumnal look.
M&S Collection satin snake skin print waisted midi dress, M&S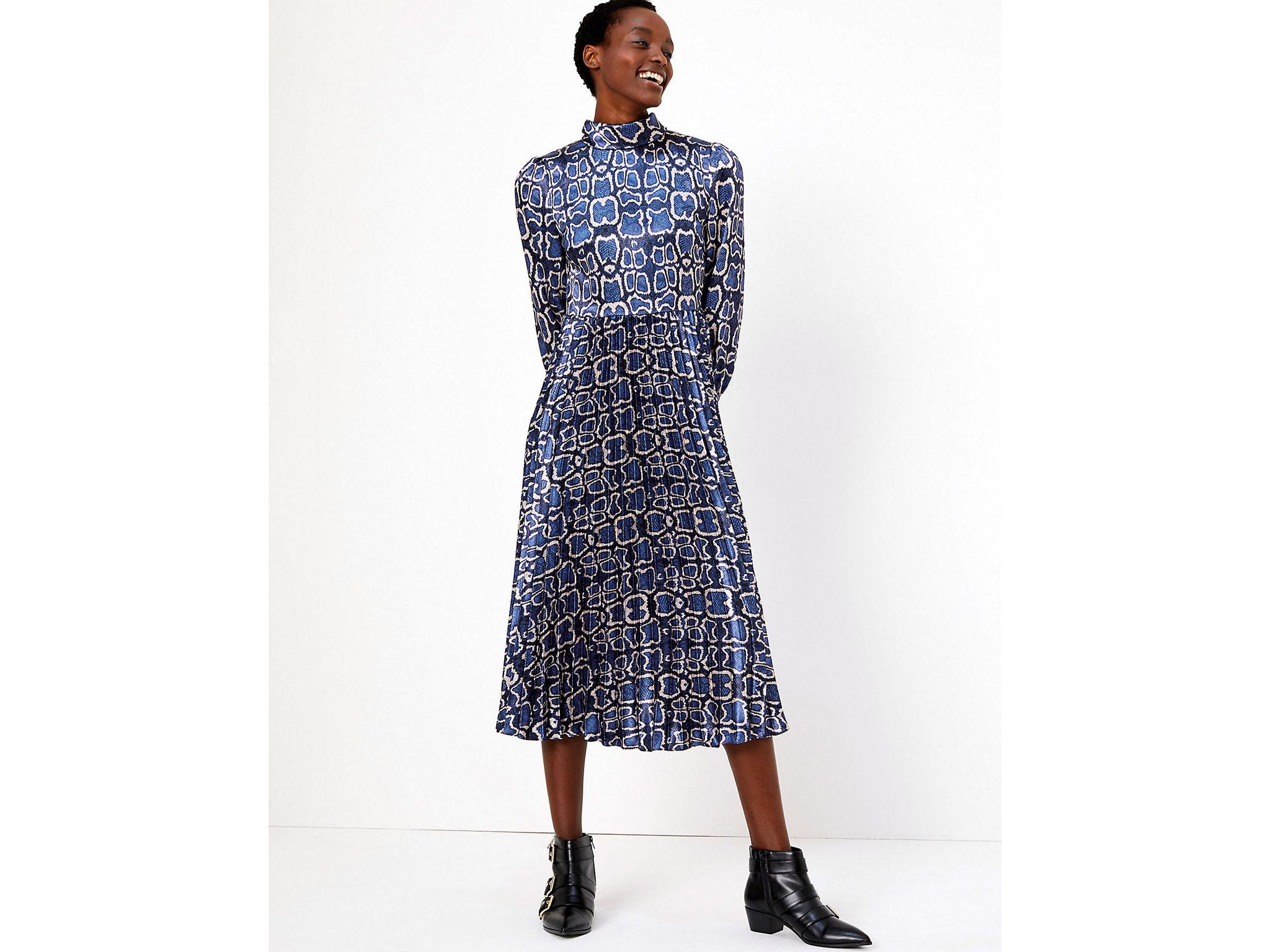 With its pleated skirt and silky-feel material this dress is a dream. To make things even better, it's also a great fit with a flattering style that drops from the waist and turns into a beautifully pleated skirt. We also like the cuffed sleeves that are slightly ballooned and the unusual high neck with a folded over neckline which ties like a scarf at the back. We love the print with its multi tones of blue as well. It can be dressed up for an evening event, or down with a pair of trainers and a long trench.
Nasty Gal just in case you for-dot plus maxi dress, Nasty Gal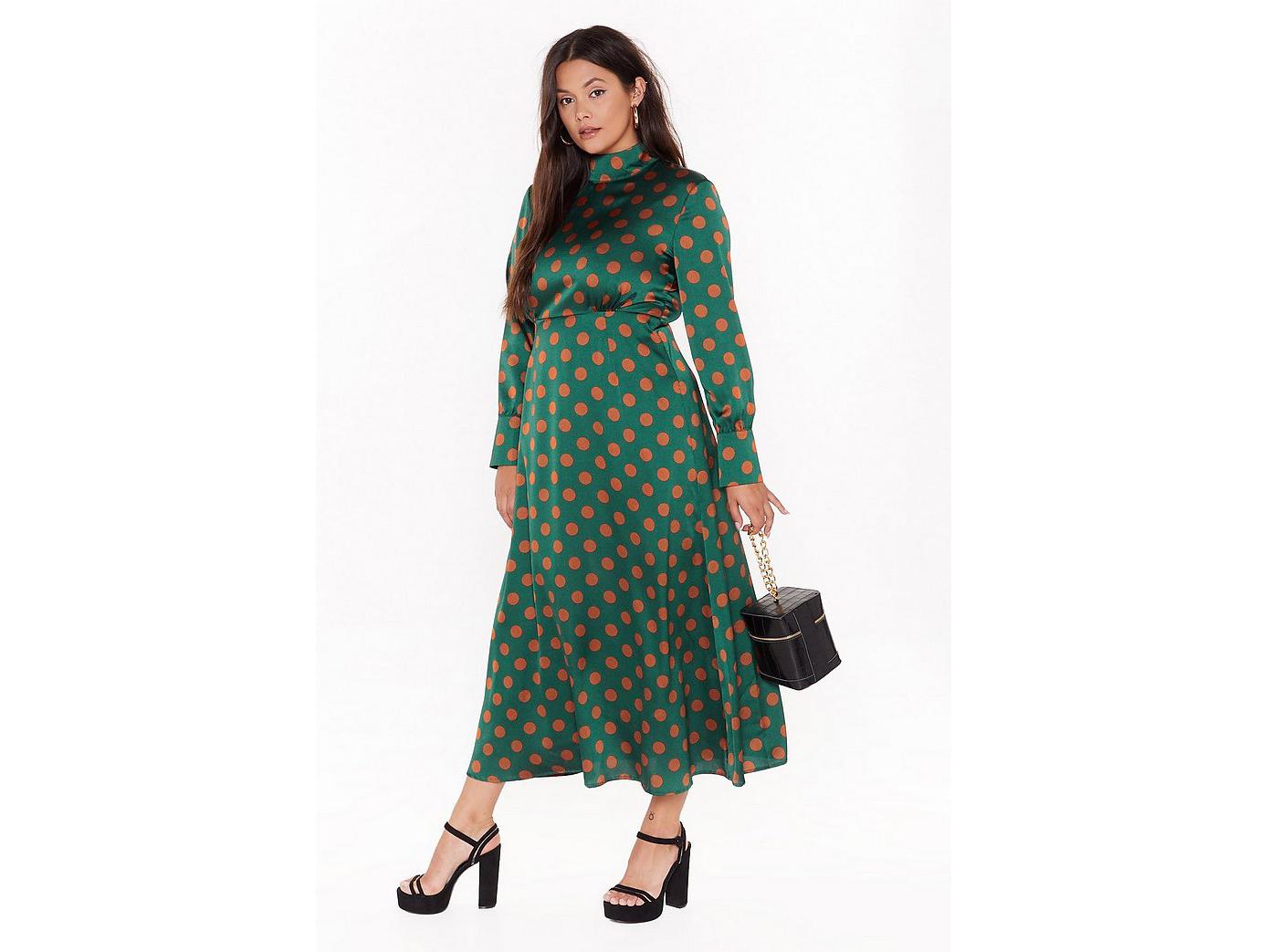 We're obsessed with this emerald and rust orange polka print and the satin fabric is more forgiving than you may think. Nasty Gal describes this as a "relaxed maxi silhouette" and we happily agree. It's fitted enough to accentuate your shape while feeling comfortable and flattering. The gathered detailing at the bust accentuates your waist and we love the fitted cuffs. This feels and looks far more expensive than it is and would be great for an event or dinner date.
Warehouse floral leopard print midi dress, Warehouse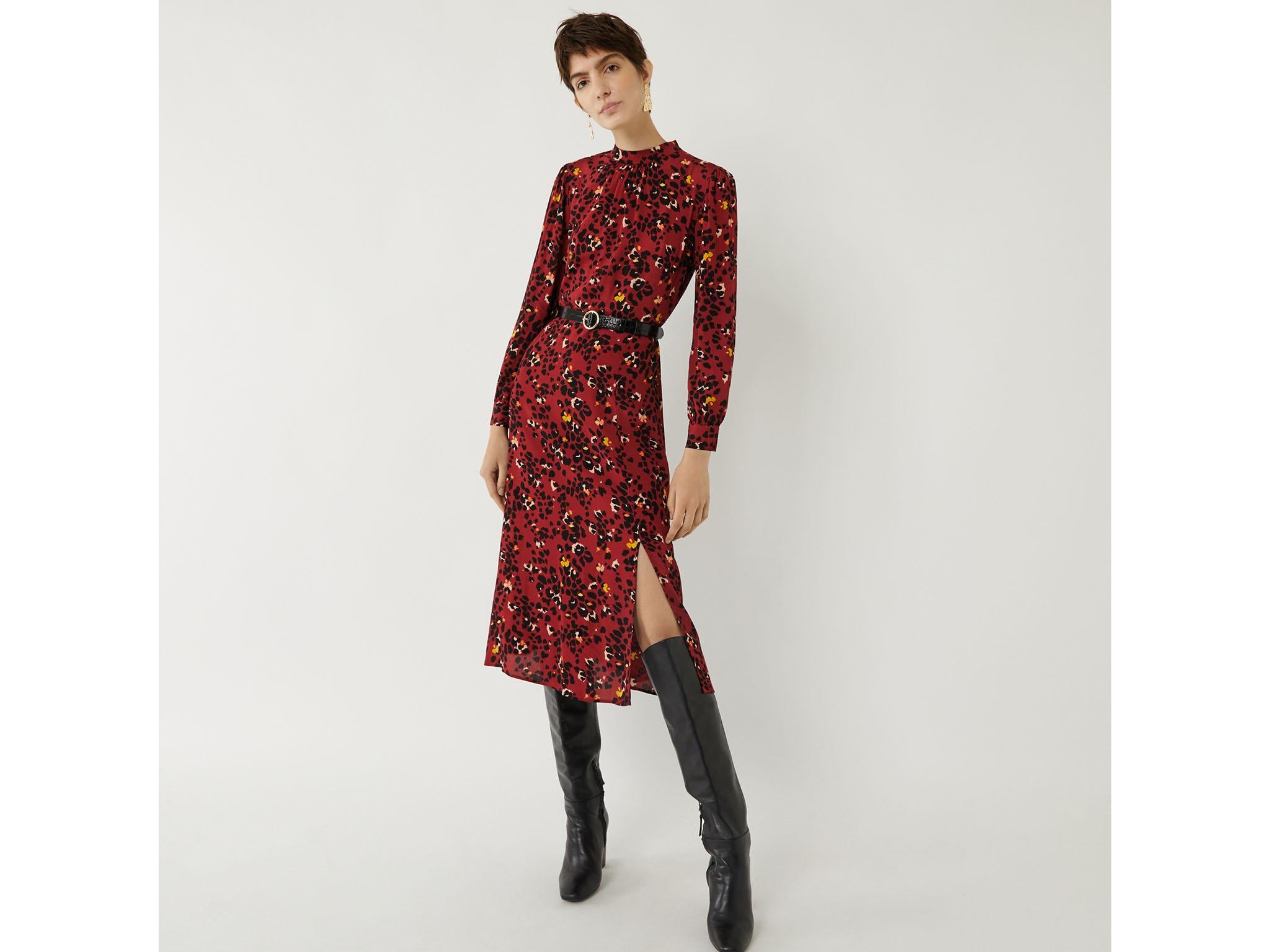 Another autumnal colour we can welcome back is burgundy. We love the mid side split of this midi dress and the ruched material around the high neck and chest. Aside from the shape of this dress, we also really like the hints of yellow and orange in the print that lifts it. Team it with a leather jacket for a real turn-of-the season feel.
Missguided green jersey tiered long sleeve smock dress, Missguided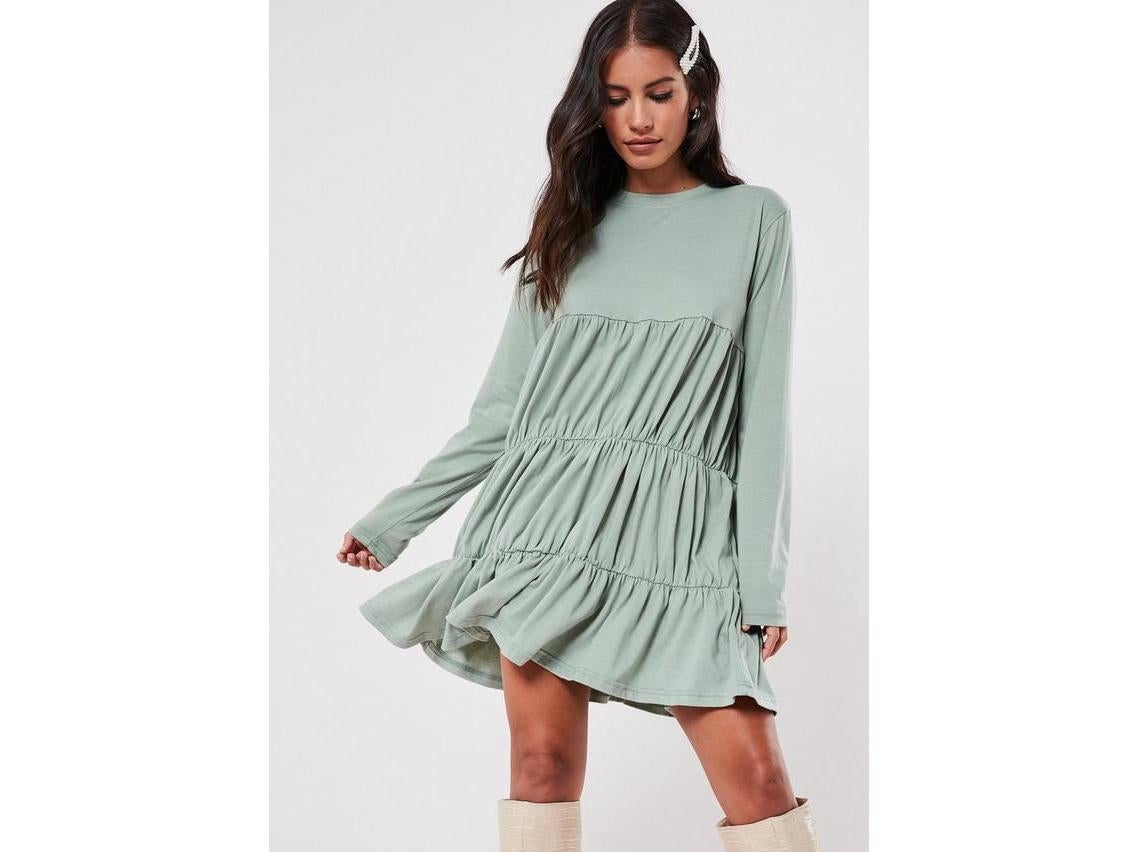 It can be easy to rely heavily on jeans during autumn for casual outfits, but this Missguided smock is the perfect day dress to mix it up with. The pastel green fabric looks cute paired with knee-high boots and we're really into the tiered frill detailing. The long sleeves are great for colder days and we found this long enough to pair with a belt if you're after some definition at the waist.
New Look dark green corduroy shirt dress, New Look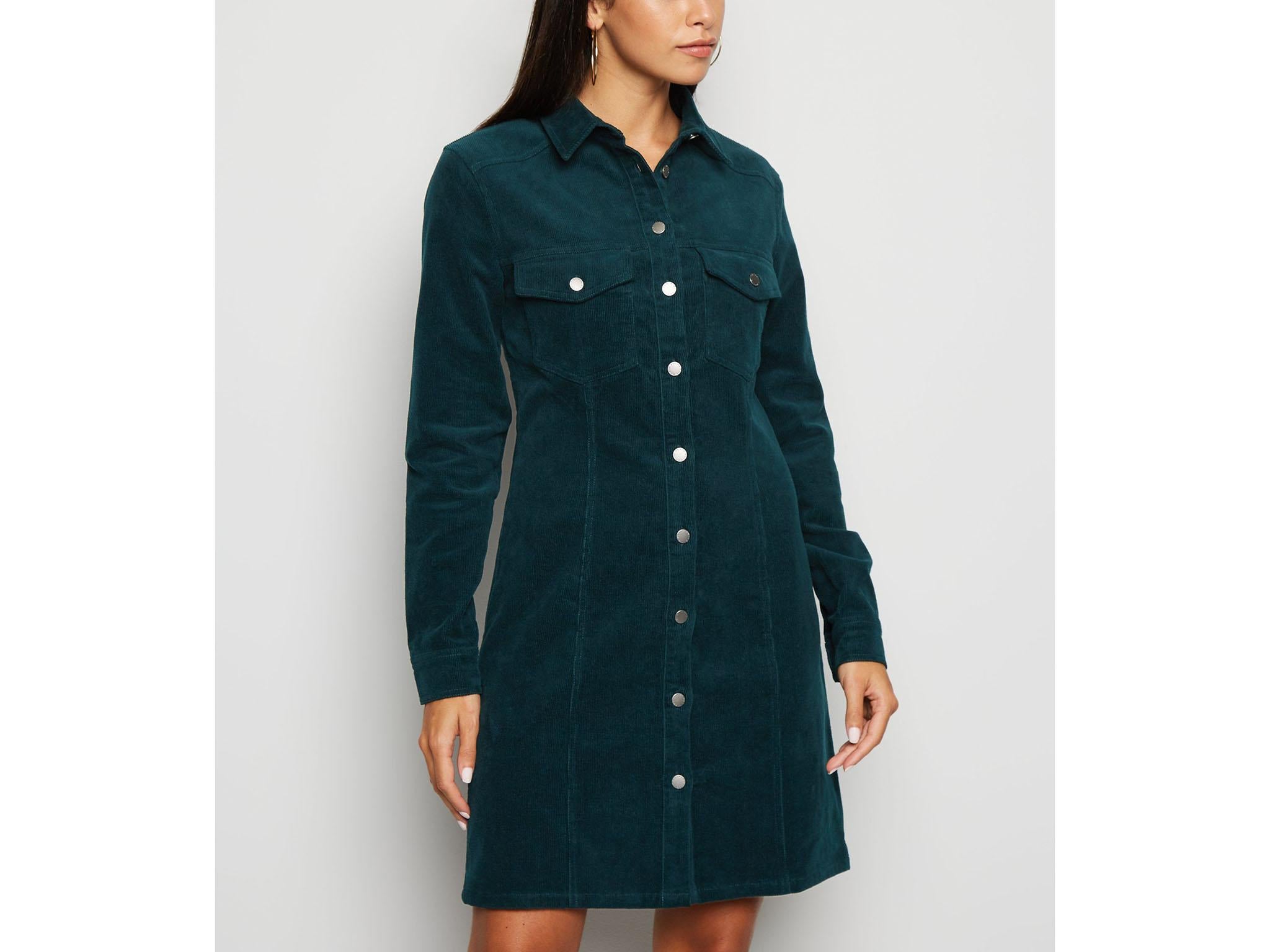 Ok, so it's another shirt dress, and it's also green but we're obsessed with this one. Although it's made from cord, it's super stretchy with a fit that snugs to your body without being too tight making it very comfortable to wear. And its mix of darker tones and thicker materials means it could not be more autumnal in our eyes. Pair it with thin denier tights, big gold earrings and black heeled boots. Also available in black.
New Look red floral high neck split hem midi dress, New Look
We feel super chic whenever we wear this midi dress. The high neck paired with puff sleeves makes this a really flattering choice, we love the small details like the sleeve buttons and split hem. The red floral print is a real go-to for autumn and we like how versatile it is. We love wearing it with ankle boots for work, but stick on a pair of strappy heels for the evening and you'll be on the mulled wine before you know it.
Stradivarius pleated midi dress, Stradivarius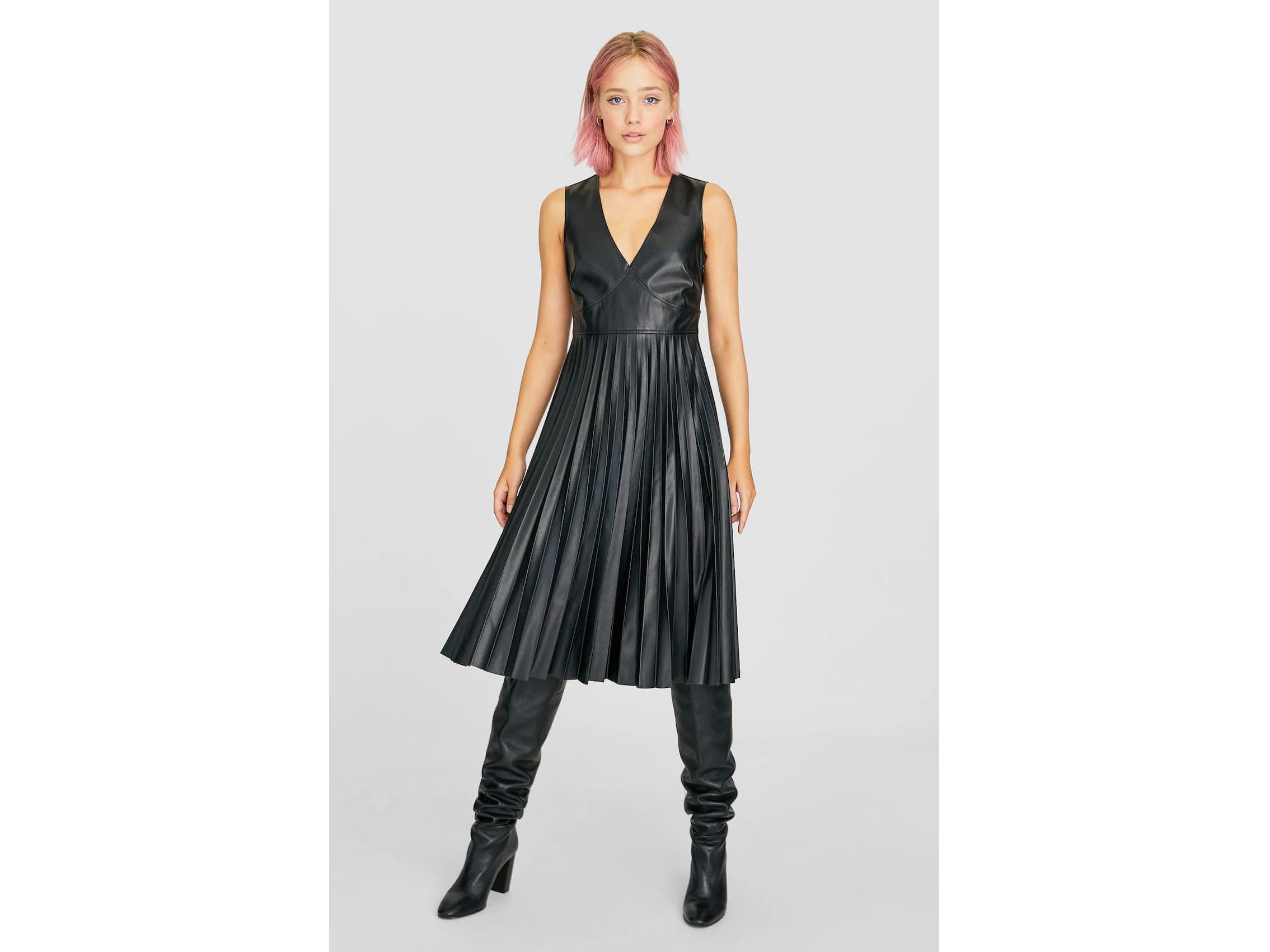 Leather-look items are all the rage this season, but they can be hard to pull off. So we were pleasantly surprised by this midi from Zara's sister brand Stradivarius. The pleather is lightweight and lined, meaning you won't get stuck like Ross and his leather trousers in Friends. The pleated skirt adds a bit of fun to a more serious look and the cup detailing on the bust is an ode to the underwear as outerwear trend. We'd suggest sizing up in this, but love it if you're looking for something a bit different. We can't complain about this price point, either.
PrettyLittleThing terracotta polka dot tea dress, PrettyLittleThing
This colour couldn't be more autumnal and we love it combined with the contrasting polka dots on this cute tea dress. Our 5ft 7″ tester found it came up quite short on her but it was still appropriate enough for work with tights. We love layering a turtleneck top underneath this for extra warmth and the tie at the waist really cinches you in. The sleeves are flared which we found flattering and the fabric feels like a higher quality than the price-tag suggests.
Welcome to David's Bridal, the United States' largest bridal retailer.
We are proud to offer our wedding and special occasion products to shoppers around the world.
Bridal Gowns & Bridal Party Attire
Special Occasion & Party Dresses
Ceremony & Reception Items
Wedding Party Gifts
Guest Favors… and so much more
International Shopping Tips and Information:
Select your county and currency below. If you don't see your country listed, please check back in the future as we expand our service offerings.
Check the product page to make sure your products qualify for International Shipping. Any ineligible items will be removed when you submit your order.
Note your guaranteed exchange rate and order total – they will not change and there are no additional fees at delivery.
Please keep in mind retail prices may vary by country.
Enjoy shopping with David's Bridal, your complete online wedding resource!
David's Bridal international retail prices, promotions, and product may vary. International shoppers who visit davidsbridal.com will see items available for online international purchase shown in their selected currency. The total international purchase price including additional charges for shipping, duty and taxes will be reflected during checkout. Items not eligible for international purchase online are displayed in US dollars and reflect US retail prices and promotions.
15 Best Outfit Ideas on How to Wear Black Midi Dress
For those of you who don't know already, midi dresses are dresses that has the length ends around the mid-calf area. Among all the colors, the black midi dress is the most popular and that is quite obvious if you look closely in a cocktail party. While mini dresses usually looks more refreshing and sexy, a midi dresses look more elegant and mature. For this blog post, I have gathered some of the best black midi dress outfit ideas and put them in a list. Let's check them out now.
Black Midi Dress with Beige Coat Layered Over It
I am starting off the list with an elegant look that is going to make you shine in a formal occasion. You would want to wear a black midi dress with open-toe heels and a long beige coat just casually layered over the dress. That is how you should wear when you enter the room, while in the middle of the event, you can simply take off the coat and "wow" people with a different, refreshing look.
Black Dress with Heather Grey Knit Sweater Cardigan
To wear a black midi dress casually, you can simply pair it with a heather grey knit sweater cardigan. Wear heeled sandals for a more elegant look, or you can dress casual all the way by wearing flip flops.
Black Lace Midi Dress
For a more complex look with more details, you can wear a black lace midi dress. Simply pair it with nude heels. You can add a touch of elegance to the outfit by layering a faux fur coat over the dress.
Sleeveless Tie Waist Midi Dress with Net Overlay
For those of you who have a slim waistline, you can emphasize your advantage by wearing a tie waist black midi dress. Pair the dress with black open-toe heels. Sometimes, it is the details that can make you stand out from the rest. This dress has a beautiful detail in the overlaying net. That makes the dress look like an elegant semi-sheer dress.
Wear with Black Leather Jacket
If you have a very charming dark and cool character in you, you can try to wear a black midi dress with a black leather jacket. Complete this unisex look with white sneakers. It is fun to surprise your friends in cocktail parties every once in a while. Just when your friends think that you would wear something sexy and ladylike, surprise them with a cool unisex look like this one.
Three Quarter Sleeve Black Flare Midi Dress
For a adorable, princess-like look, you can wear a three-quarter sleeve, flare midi dress. Keep the look minimal by wearing solid black platform heels. This outfit is especially suitable for those of you that like to remain low-key yet still look beautiful and lovely in a party.
One Shoulder & One Sleeve Asymmetric Black Dress
Sometimes, an asymmetric design that requires you to show a little bit of skin can demand of attention. You can see that this dress has a stylish and sexy one-shoulder, one-sleeve design that looks absolutely stunning. The asymmetric shoes that match perfectly with the dress take just take the outfit to another level.
Sequin Midi Dress with Long Blazer
Not only cuttings can change the style of a dress, the fabric that the dress is made of can also make the dress looks very different. As an example, the dress for this outfit is a black sequin midi dress. The subtly shiny texture of the dress gives the outfit a more sophisticated look. You can wear it with a long beige blazer and open-toe heels. It is one of very few outfits that looks both elegant and professional that you can wear to work or to parties. If you are interested in outfit ideas of similar dresses, you can check out our blog post on how to wear a black sequin dress.
Black Midi Dress with Chiffon Sheer Overlay
Talking about fabric, for a refreshing and breezy look, you can choose a black dress that has a chiffon sheer overlay. Keep the look light and breezy by wearing some light-colored shoes like white or pale pink heels.
Strapless Black Dress with Cheetah Heels
For those of you who don't mind showing some skin, strapless dresses can really make you shine in a party. To complete this sexy and youthful outfit, you can simply pair the dresswith black strappy heels or nude heels. You can also wear cheetah heels as displayed in the picture for a more complex and mature look.
Strapless High Split Midi Dress
For those of you that want to show some legs while you don't really like the youthful and refreshing feel of a mini dress, you can wear a high split midi dress. To look absolutely chic and sexy with this black strapless dress, wear it with black heeled sandals and a necklace.
Long Sleeve High Neck Dress with Ankle Boots
For a low profile look that is more for work than for parties, you can wear a long sleeve high neck black midi dress. Simple pair it with black ankle boots and a black purse for this minimal all-black work outfit.
Black and White Striped Midi Dress with Denim Jacket
For a much more casual feel, you can choose a black midi dress that has some sparsely-spaced white stripes. Layer a denim jacket over the dress to complete the comfortable looking street look.
Wear with Oversized Denim Jacket & Ankle Boots
Similar to the previous outfit idea, you can layer an oversized denim jacket over a solid black midi dress. Wearing leather ankle boots will nicely match the rest of the outfit.
One Shoulder Black Midi Dress
For those that have beautiful shoulders and collarbones but feel that a strapless dress is a little too much, you can wear a one shoulder dress with leather ankle boots.
So, here are some of my favorite ways black midi dress outfit ideas. Most of them are quite easy to pull off, may be with the exception of some strapless dresses. Let's give them a try and have a different, beautiful look for your next cocktail party.