7 SEXY DATE NIGHT OUTFITS THAT WILL IMPRESS
How To Wear Dress And Over The Knee Boots: My Favorite Street Looks
Hi there, fashion ladies! In today's article, I want you to have a look through my favorite street style looks that feature beautiful dresses styled with over-the-knee boots. You are gonna be wowed and impressed by these stunning ideas.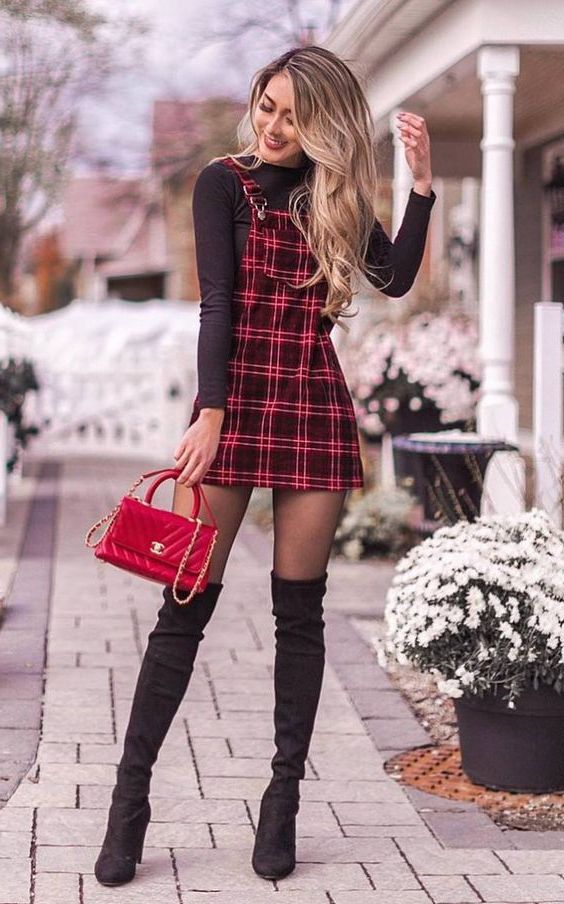 A super idea for Fall months. We see a plaid print overall dress worn over black long sleeve top completed with suede OTK boots in black.
Believe me, this combo is a perfect way to underline your uniqueness and individuality. Personally, I think this dress + over-the-knee boots combo will make you look trendy, stylish and feminine. Those of you who want to know more, just scroll down to find out more.
Say hello to boho-inspired outfit ideas. We see a young lady wearing a white perforated dress with ruffled sleeves styled with a floppy hat and slouchy OTK boots in brown suede: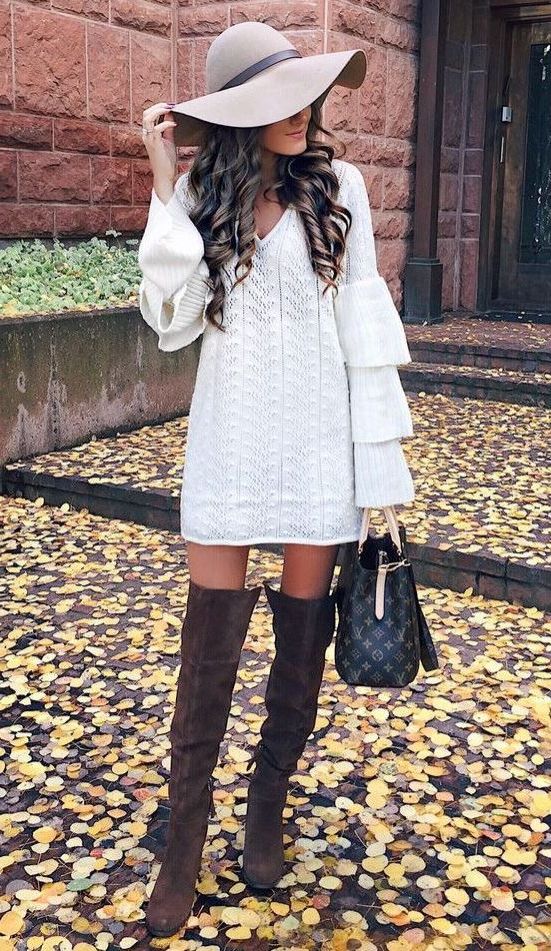 This combo is extremely versatile and ideal for all kinds of events. You can either create a bohemian inspired outfit or keep things look elegant and ladylike by teaming structured coats with fitted dresses and thigh-high boots.
LBD and black OTK boots might be a perfect OOTD. Complete this all in a black combo by adding a cute cardigan: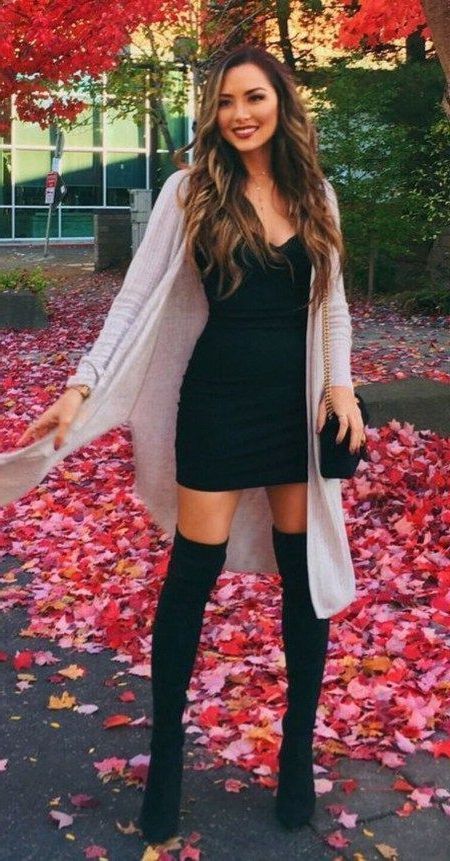 As you can see from the images below, there are so many beautiful high boots to choose from, including leather and suede designs in different hues, like black, camel, grey, cream beige, etc. These beautiful combos can be worn to parties, as well as to work.
Another boho-inspired outfit idea, we see a floral long sleeve dress completed with rounded sunglasses and OTK boots in black suede: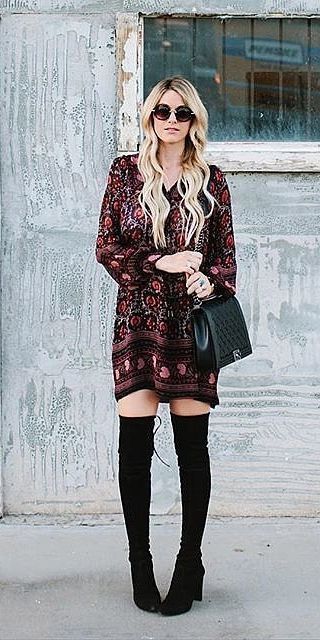 By the way, over-the-knee boots can easily elongate your legs and make you look fabulous. Try this footwear with pencil style dresses for office hours, as well as for going outs.
The multi-floral dress looks ideal with a black leather belt, chain strap shoulder bag and OTK boots in black: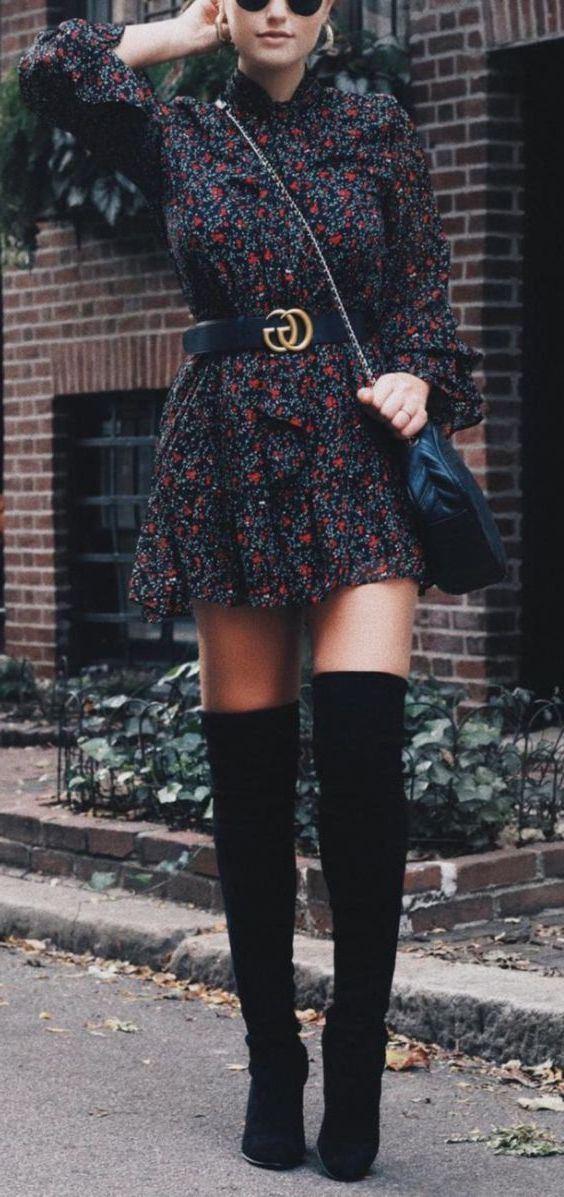 If you want to keep things relaxed and casual, then I recommend to try on over-the-knee footwear with sweater dresses and shirt-dresses in solid colors or bright prints. Anyway, if you are in search of inspiration, then you are welcome to look through these ideas. Would love to hear your thoughts in the comments below.
Oversized White Sweater And OTK Boots In Black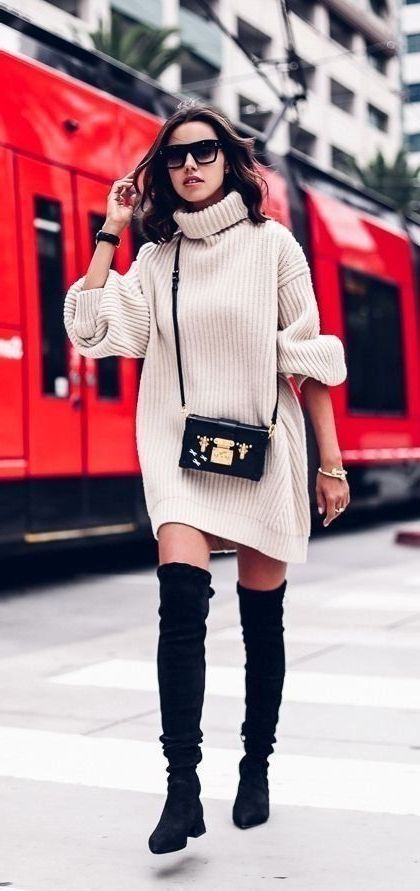 An oversized white turtleneck sweater dress is completed with black OTK boots and flat-brow sunglasses.
All In Black And Camel Coat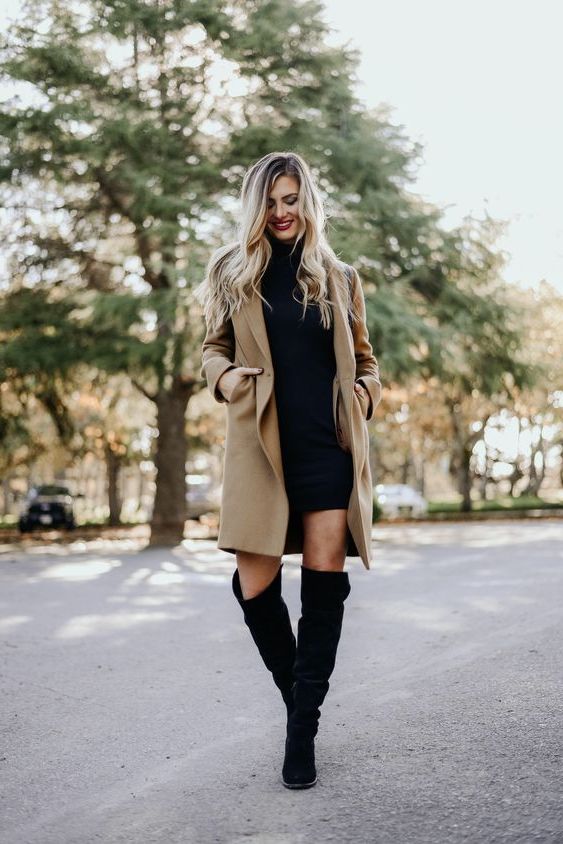 Another great outfit idea consisting of a black mini dress, black suede boots, and a camel coat. Love it!
Studded Black Leather Jacket And White Mini Dress And OTK Boots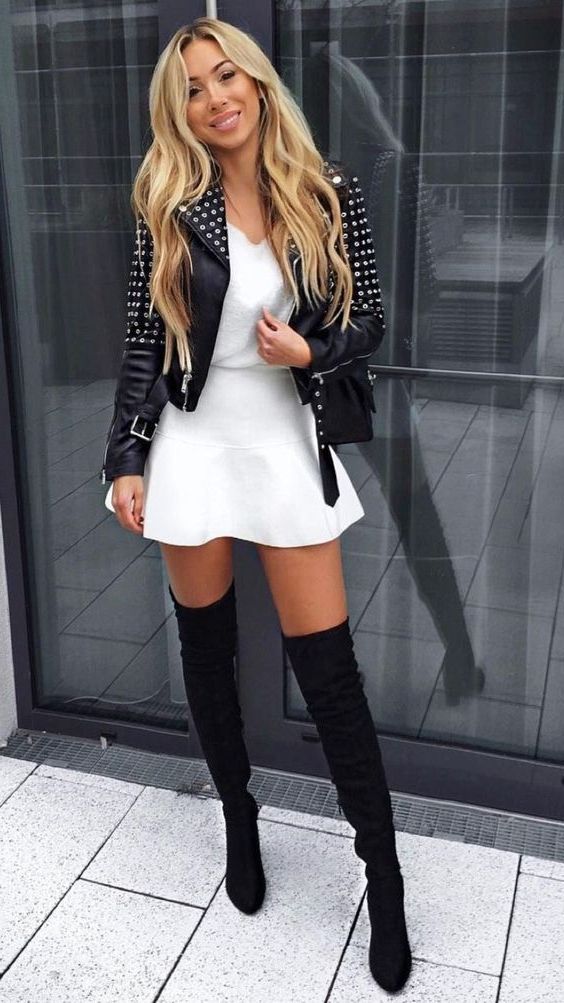 Improve your edgy style by teaming a black leather jacket embellished with studs layered over LWD completed with OTK boots in black suede.
Black T-dress and Black OTK Boots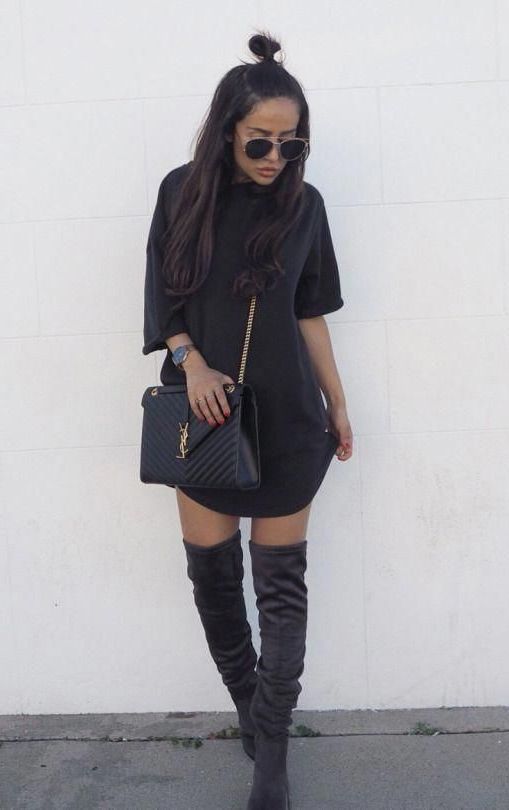 We see a short sleeve T-dress in dark grey paired with dark grey suede OTK boots.
All Black Outfit Idea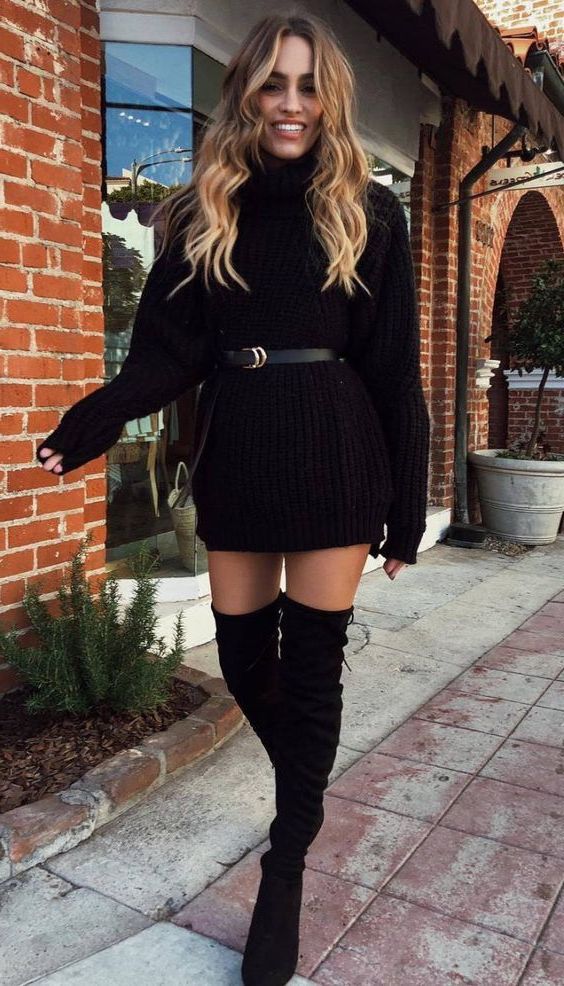 Make a wow statement by wearing all black look. We see a black sweater dress tied with a skinny belt and teamed with black OTK boots.
Sweater Dress And OTK Boots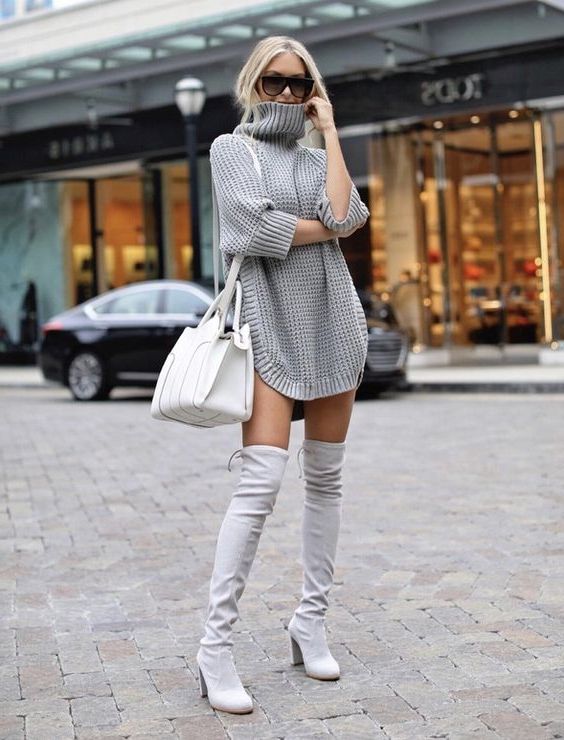 Light grey high-neck sweater dress and White Suede OTK Boots, an ideal look for fall season days. Complete it with a spacious black shoulder bag and flat brow sunglasses.
Oversized Sweater Dress And Black Suede OTK Boots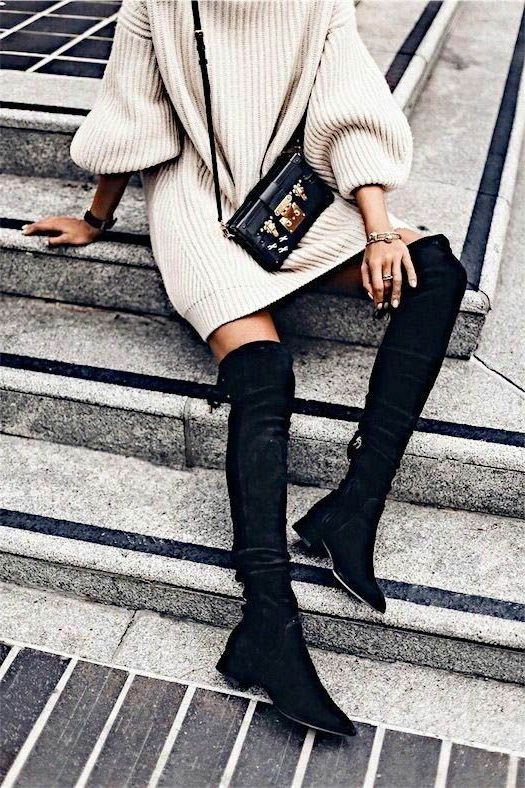 I am so in love with oversized fashion. Go for a baggy sweater dress and complete it with black over the knee boots.
Black Floral Dress And Black OTK Boots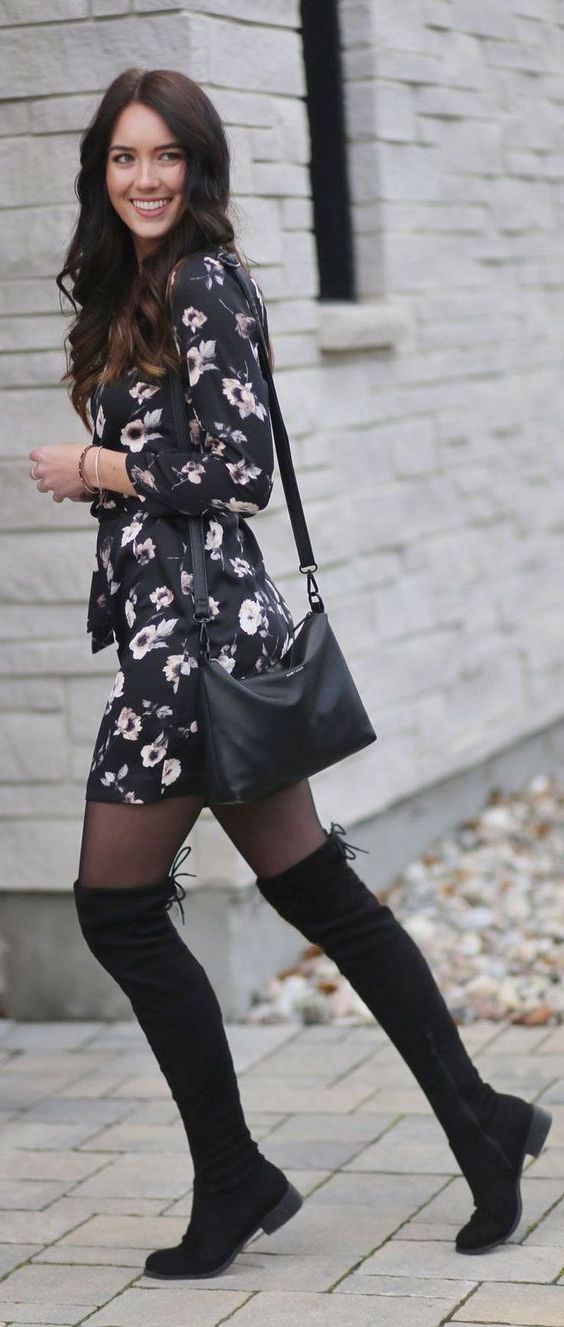 An ideal Fall look for ladylike fashion. We see a black floral dress teamed with black tights and black OTK boots.
Biker Jacket, Mini Dress, And OTK Boots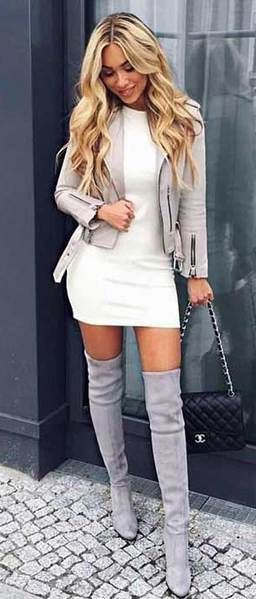 That's a wow effect look! Go for a cream white biker jacket teamed with LWD and light grey suede OTK boots.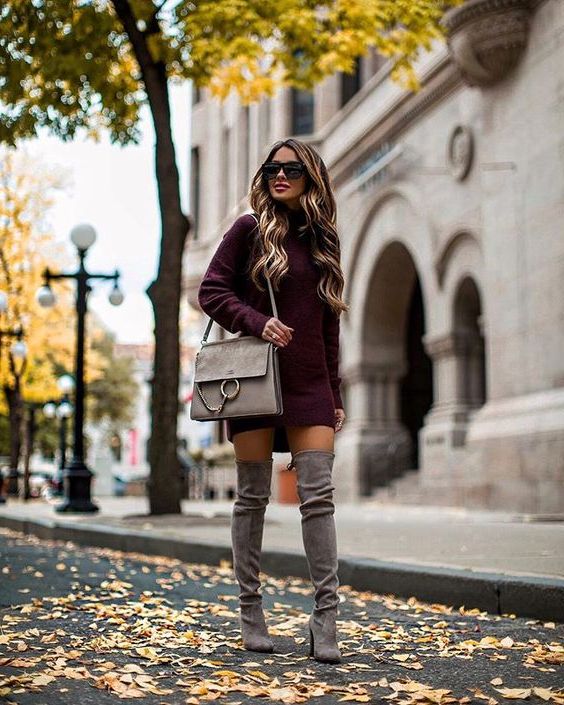 Be sure to try this combo, we see a dark maroon sweater dress with grey OTK boots.
Sleeveless Coat With High Neck Sweater Dress And Over The Knee Boots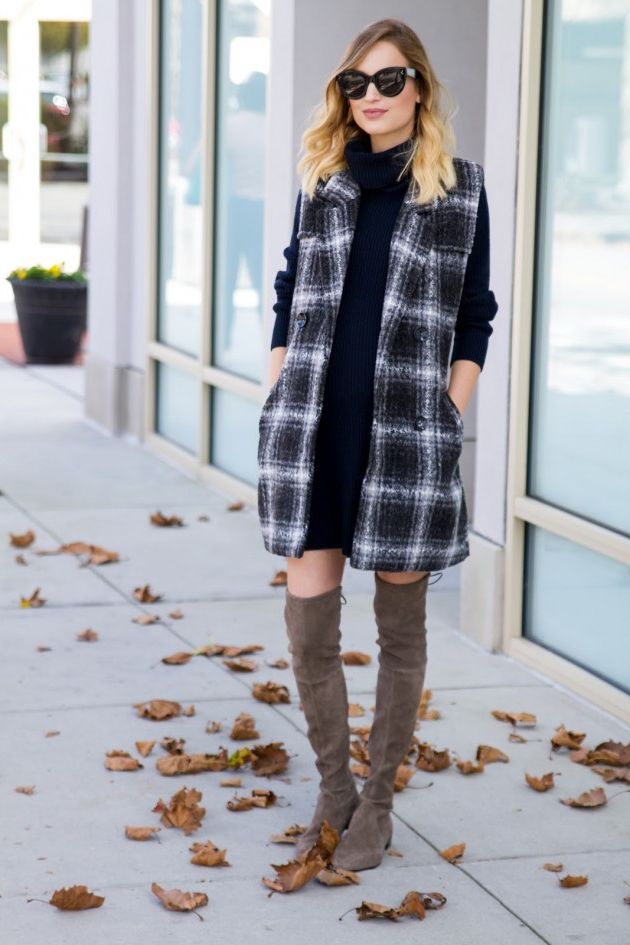 Make a wow statement by teaming a plaid sleeveless coat with a black sweater dress and grey suede OTK boots.
Red Coat, Black-White Striped Dress And OTK Boots In Black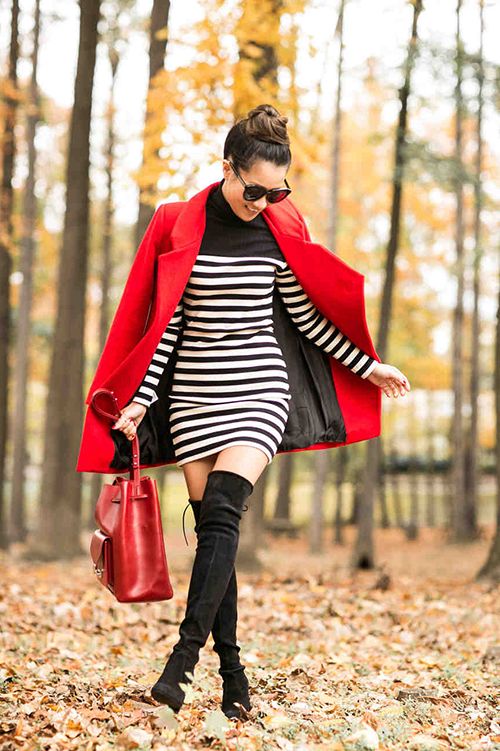 Improve your vibrancy! Go for a red coat and layer it over a black-white striped dress and OTK boots.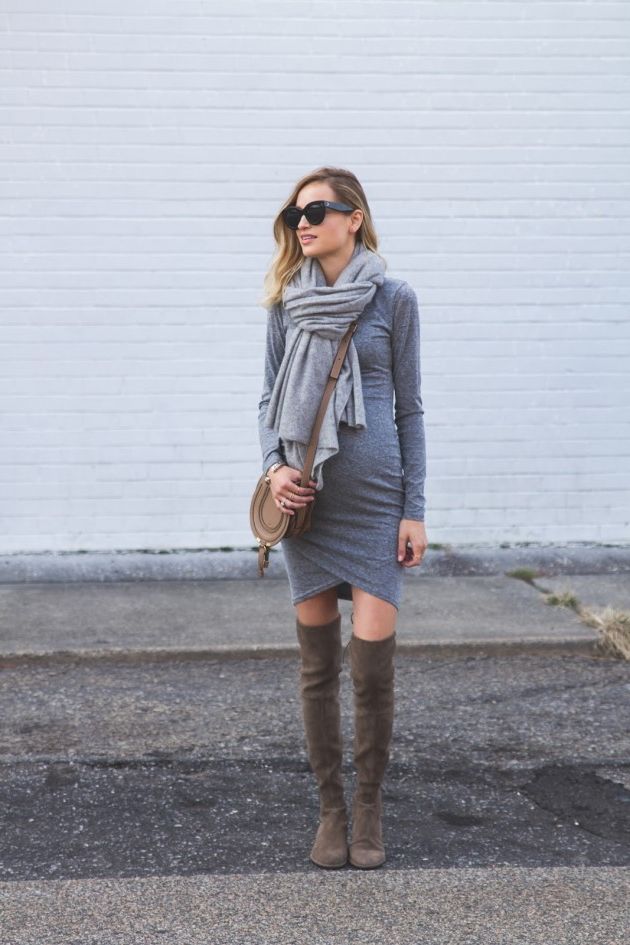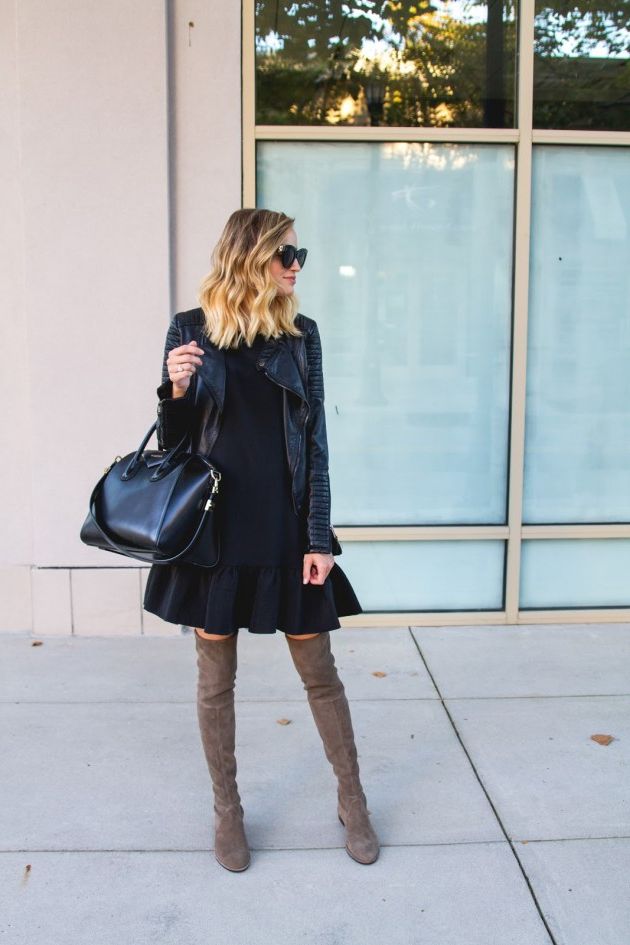 Paisley Print Dress And OTK Boots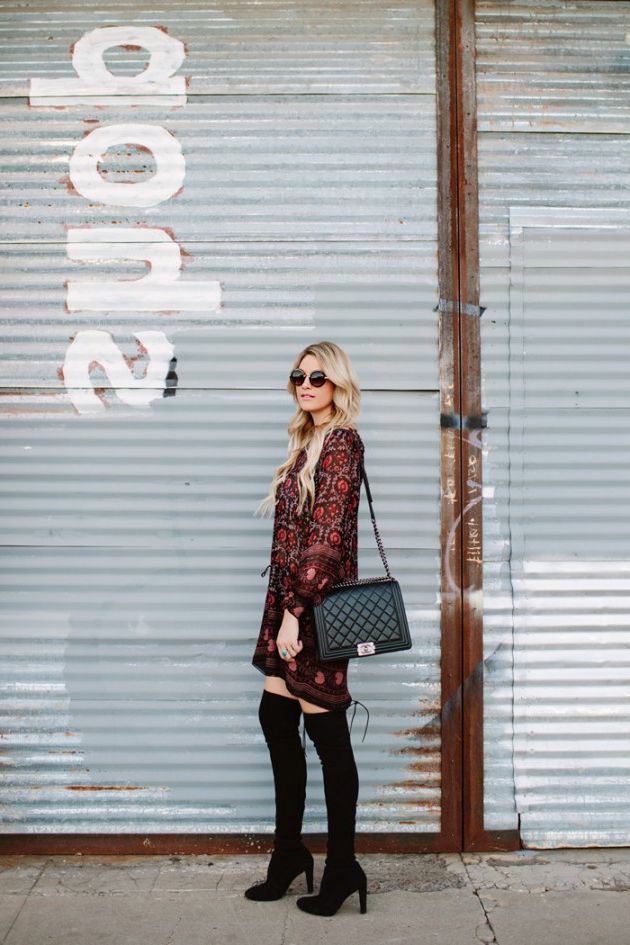 Improve your hippie style with this gorgeous dress and black suede OTK boots.
Red Biker Jacket, Peasant Dress, And OTK Boots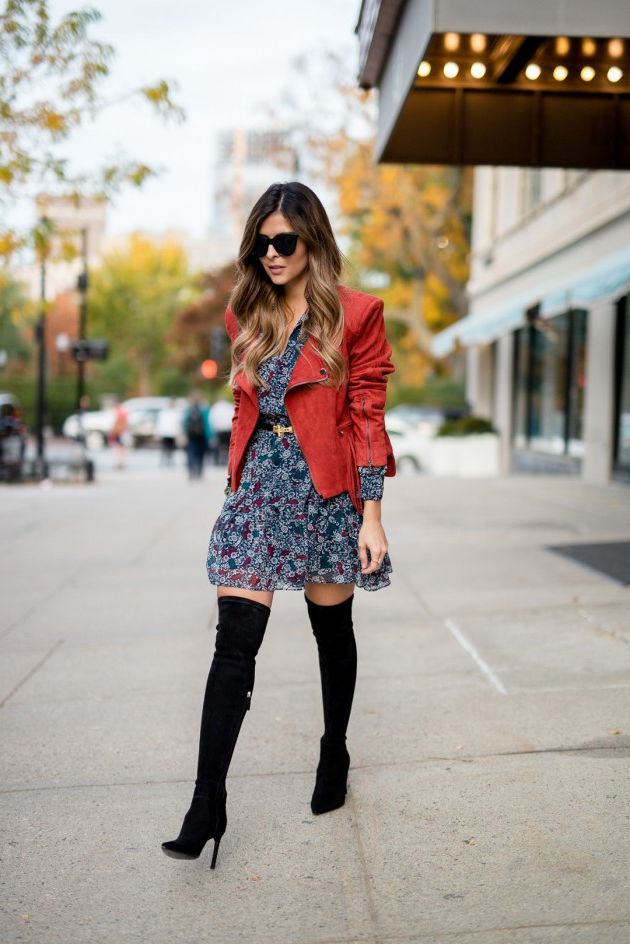 Here we see an edgy style. A red biker jacket looks cool with a floral print dress and black OTK boots.
Bell Sleeve Floral Dress And Dark Brown Suede Boots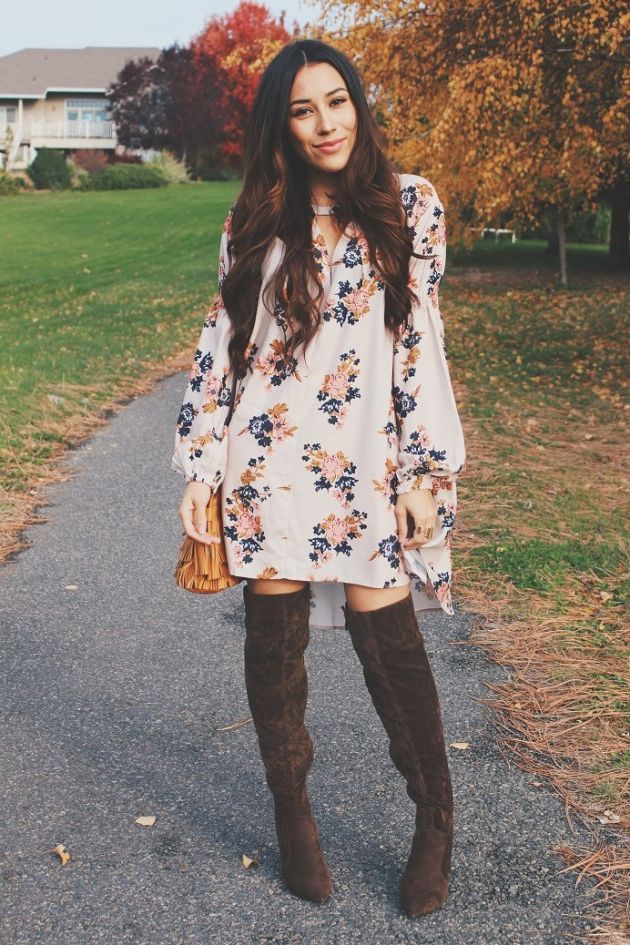 In love with bohemian trends. We see a floral dress and dark brown suede boots.
Layering And Dress With OTK boots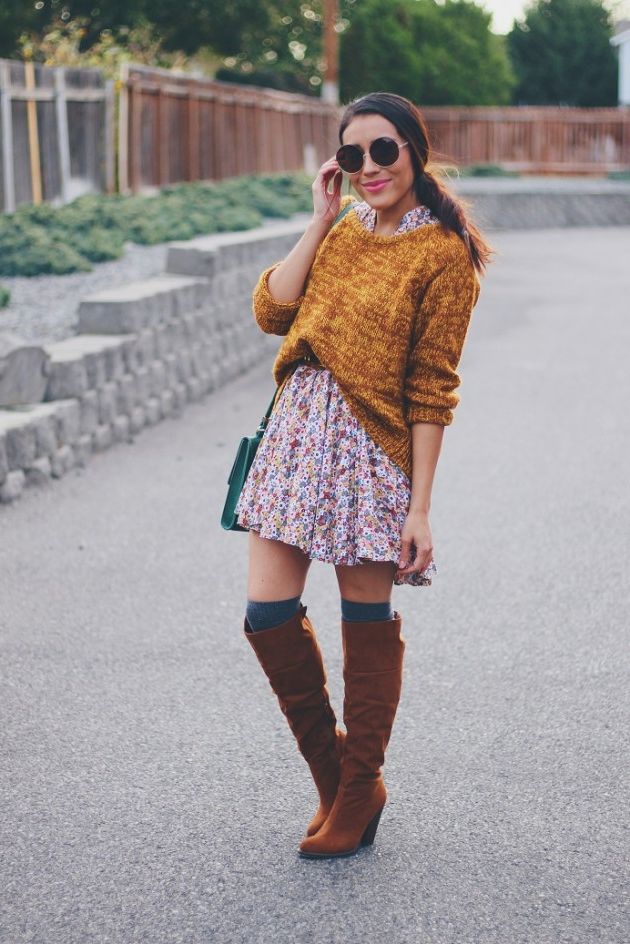 Another boho-inspired outfit idea that consists of a cropped sweater layered over floral dress completed with brown suede OTK boots. Go and check my post on bohemian outfit ideas you can easily recreate next week.
All My Favorite Fashion Trends For Women To Try This Year
In today's article, I want to draw your attention to this year's emerging style trends every woman should know and follow. As you know, fashion trends come and go, but the following ones are making a huge comeback and it seems like we are going to wear them for a quite long time. In this blog post, I will cover such topics, as glam rock, hipster trends, hippies, fashion, as well as concrete clothing styles that are here to stay. Hope my ideas and tips will help you build an impressive outfit this year.
Glam Rock Fashion
Yes, you got me right, we are having a huge comeback of glam rock. Think of studs, crystals and other eye-catching embroideries on clothes and accessories that can make you look and feel special. This look is all about expressing yourself, showing off your true inner beauty with edgy and dark outfits. So, you need clothes that define your femininity. Think of provocative shoes, studded jackets, skirts, corsets, etc. I do love to see ladies who try on something daring and cool, something like wearing leather pants or skirts. Speaking of accessories and jewelry, it can be a shiny necklace, skull earrings, creative headwear, and many other things completed with glitter and sparkles. Don't be afraid to experiment, but you should keep in mind about the colors combination.
Hipster Trends
If you are into something softer, then you better go for hipster style. The spirit of a true hipster is all about functionality. It's okay to wear ripped denim, plaids, cut-offs, kicks and old tees, etc. If you are only a beginner to this trend, then you can start from wearing hipster accessories and some sort of details that can make you look like a hipster chic. I see ladies who wear crop tops with ripped jeans and classy trainers completed with light cardigans during Summer and cozy leather jackets during Wintertime. Don't be afraid of making inspiring contrasts by mixing and matching various apparel and accessories. This or that look can definitely make a real wow effect to your personality. Glasses are another attribute for hipster ladies who want to make a wow impression, that's why I recommend checking this post and see how to wear tortoise eyeglasses, so you look special and unique. It's always cool to see women, who create something new by clashing two different trends together, I mean creating a kind of cool mix with glam chic and hipster essentials, either teaming hippie with hipster basics, etc.
How To Dres Like A Hippie
Many people find a similarity between hippie and boho looks, both styles combine similar clothes and accessories. A floral headband does look pretty cool with almost any outfit, and that's why it's a very easy way to make your outfit (even if it's not 100% hipster-friendly) look hippie-inspired. This can be a great look for traveling, for spending time at home and vacation. What I love the most about it, you stop following mainstream looks and create something original buying stuff at thrift shops, this defines your own style and unique look. I mean, for example, you can go for a vintage dress bought in a thrift shop and complete it with some trendy accessories and shoes that can easily make the whole outfit look special. Try to wear mild and soft colors with floral patterns. In today's fashion world we see amazing ways how to make a wow statement with modern hippie outfit ideas, that's why I highly recommend checking tips and tricks how to implement them in real life. Another cool tip for hippie ladies is to wear long blouses, as tunics. Just go for the ones in floral and tribal prints. Don't forget to complete your style with an embroidered vest. If you do like maxi length, then a gypsy skirt is what you need. Go for the ones in loose and flowy styles.
What Kind Of Jewelry To Wear With Floral Dress
As I've mentioned before, we see a comeback of floral dresses and that's why you should know basic rules on how to style them right. No matter if you go for a calm or bright floral print dress, you should style it with the right jewelry. I do recommend to wear simple and classic pieces with small and delicate details, I mean, try to combine your dress with something traditional, and always follow the rule: less is more. If you are into creative looks and want to make a wow statement, then I've got inspiring Coachella street style looks you can easily copy and paste in real life, you gonna see bold ideas on floral print and other trends. The colorful jewelry will only overload your look, that's why you need something delicate and sweet.
Are Dungarees In Fashion
Now is the time when dungarees are back and you can officially give them a try! Thanks to modern designs, you won't look like a weirdo. It's all about getting the correct sizing and proportions. Just go for a pair that hugs your hips, and hits the right place, so you look at your best. I do love the ones that look like from the 1990s. Make overalls look sexy this Summer, as I've got plenty of cool ideas to share with you! They do match white tops and can go with pullovers, shirts, and knitwear. I do love to see double denim looks when dungarees are teamed with matching jean jackets. Even slouchy styles can easily be paired with all your favorite essentials. Try to match them with animal print accessories, it will be a cool update!
Is Peplum Still In Style
Yes, this look comes back and it's pretty massive right now. We see full of interesting ideas on how to wear peplums this year. Trust me, this addition will give any woman extra style look and confidence. It automatically adds a dressy update and a put-together appearance. Make sure to find a way how to mix it with the rest of your outfit. Peplum matches all women, no matter if they are curvy, skinny or bulky. I personally love peplums for their elegance and classy style. All you need is to look for the peplum that ideally suits your style. There are dozens of clothing staples to choose from, peplum tops and blouses, peplum dresses, peplum skirts, and peplum trousers. I highly recommend checking out my post on peplum tops that can make you look awesome, as every design shown in this article is a must for any woman.
Overall Shorts Are Back In Style
Every lady can have so much fun with overall shorts. This piece of clothing comes from the 90 and I suggest you choose the ones that can make you look sexy. I do love the ones that make you look hipster inspired, either tomboyish. I do see many girls wearing slouchy style overalls, they do look awesome both with feminine and boyish clothes. But you can always go for casual, by teaming overalls with basic tees and athleisure footwear. By the way, I do recommend to see my post on summer overalls for women that are in trend right now. Hope these ideas will inspire you.
Pleated Pants For Modern Women
Like it or not, but it's time to try pleated pants. Why do I love them so much? They are clean-cut, chic, elegant and classic, plus pleated pants are back in style for a long period of time. They are adaptable for most dress codes and they make any lady look polished and adventurous. I know many ladies who do love the pleats, it makes them look chic and special. They do look cool with classy blouses, basic tops, and blazers. Modern labels offer us mostly casual and cool designs that can be mixed and match both with classic and casual basics.
Sunglasses Trends
I've got you covered wildcat-eye sunglasses! Say goodbye to your old unfancy shades and try something new and trendy. From my personal perspective, retro cat-eye sunglasses, rounded and transparent ones are must-haves for ladies. Why do we need sunglasses? This small accessory has a large impact on us. I personally love these cat-eyes shades, for their ability to change wearer's face, as well as update entire style. Yes, a wide variety of new silhouettes are available in the fashion market, but I do recommend to choose one of these three styles. The cat-eye shades have a kind of retro touch and I love that special the look that the is simple, classy and fresh. If you are more into cool style, then go for rounded sunglasses. They do look awesome with most of the clothes. The transparent shades come in different shapes, but you can choose the ones that are in Wayfarer design, either the ones in the same cat-eye frame. Anyway, I've got another amazing article that features other best sunglasses styles for women, so you better give one of these shades a try!
15 Glamourous Floral Maxi DressOutfit Ideas
The floral pattern plays a very important role in the fashion world. If want to see some beautiful ways to wear the floral maxi dress, you are in the right place. I have gathered my favorite floral dress outfits and put them into a list. Let's check them out now.
White Floral Maxi Dress
A white, deep V, high split, floral maxi dress is one of the most classic styles of floral dresses. You simply wear it with a beautiful pair of nude pink heeled sandals and a subtle looking necklace. Keep your hair style simple and you will have a refreshing summer look.
Off The Shoulder White Floral Maxi Dress
If you don't mind showing a little more skin, you may want to consider a off the shoulder floral dress for a beach summer party. The off-shoulder and high split cutting will emphasize the beauty of your collarbones and your legs.
Boho Floral Dress
For a very different style from a typical white dress, you may want to try a boho floral dress. Usually, the key to look good in boho style is to pay attention to the accessories and shoes. For this outfit, it is preferable to wear with boho style sandals and a serie of bohobracelets.
Yellow Floral Maxi Dress
For a cheerful look with a lot of positive energy, try a yellow floral maxi dress. Many people are not too comfortable with wearing yellow clothes. But trust me, wearing yellow makes you shine. A yellow dress like this is perfect for a summer gathering.
White Floral Dress with Sleeves
Although I personally prefer the refreshingness that comes with a sleeveless dress, a short sleeve floral dress also looks so pretty. Indeed, a short sleeve one is probably more suitable for the spring. You can complete this feminine and elegant outfit by paring with white heeled sandals and a white purse.
Green Chiffon Floral Maxi Dress
It is a little rare to a floral dress in green, but if you see it in a store, you better try it on and see if this beautiful combination of the floral patterns and the color of green work magically for you.
Black Long Sleeve Floral Dress
Having shared some outfit ideas for white and yellow dresses, you can see that light colors work wonderfully with the floral pattern. This black long sleeve floral maxi dress shows you that black floral dresses can look equally good too, just in a more subtle way.
Backless Floral Maxi Dress
We have seen that a black dress can look more subtle, but this backless floral dress is not subtle at all. It is such a beautiful dress that you will look stunning if you have a beautiful back and also have the confident to pull it off. It is a really sexy outfit for a beach party.
Cold Shoulder Floral Maxi Dress
I always think that the cold shoulder design is one that doesn't require you to show much skin to look sexy. It is no different when the cold shoulder cutting applies to the floral dress. Keep the outfit clean and simply by only wearing the dress with solid color heels.
Lemon Yellow Cold Shoulder Floral Dress
For a really bright look, instead of trying the white cold shoulder dress, how about we try a lemon yellow floral dress. This is one of very few dresses that can match perfectly with a pair of gold heels. This is a great outfit especially if you have a very confident character.
Green Floral Maxi Dress
This is another green floral dress that I simply want to share with you because, to me, green just works well with the floral pattern. You can see that no accessories are needed for you to pull this off. A pair of sold white heels will just do it.
Orange Strapless Floral Dress
It is even more rare to come across an orange floral dress. This orange strapless dress simply looks sexy and beautiful. The use of choker necklace in this outfit is the icing on the cake.
3D Floral Maxi Dress for Wedding
Yes, there is such thing as a 3D floral dress. It simply means there are little flowers either made of thread, knit, or fabric that actually pops up from the dress. This 3D floral dress is perfect for wedding photo shoot.
3D Floral Dress with Sheer Mesh Overlay
This is another 3D floral dress. The sheer mesh overlay is the little twist for this design. I think this will make a great cocktail party outfit, especially if you want to wear something very different from a typical cocktail dress. Actually, you want more unique cocktail dress idea, you may want to check out our blog post on yellow cocktail dresses.
Red Floral Maxi Dress
If you want something that looks really bright but yellow doesn't look on you, you may want to try a red floral dress instead. One still detail that you should note is that it's best to wear shoes with the exact color for this outfit.
I have just shared with you a lot of different styles and colors of floral maxi dresses. I am definitely a big fan of floral dress. I like how cheerful it looks and how much energy it brings. I especially like white dress and yellow dress when it comes to floral dresses. I hope that you enjoy the outfit ideas I have shared. Even if you can't find the exact dress that suits you, I hope at least the content has inspired you to find the one that works for you. It's just always fun to search for outfit ideas that works for you. Before you leave, you may want to check out our other articles on different outfit ideas. I mean there are lots of them on this website and we have put a lot of effort to put together the best of the best outfit ideas for you. Enjoy.