6 eveningwear lessons to learn from awards season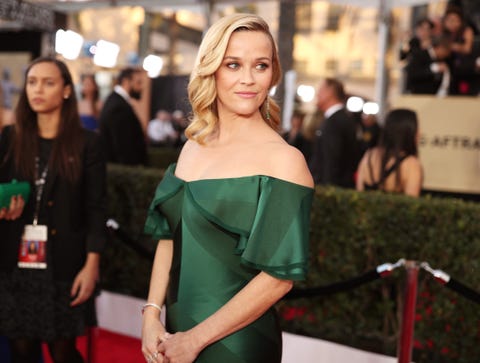 With a very glamorous swoosh of satin, tulle and tousled hair, the 2018 awards season has been one to remember. From the Grammys to the Oscars, Hollywood's finest have treated us to plenty of va-va-voom, politically-powerful statements and a veritable colour explosion.
Granted, our average weekend doesn't involve a red carpet, but there's still something to garner for our own after-dark wardrobes. Enter THE OUTNET.COM. With over 350 designers at up to 75% off, you can dress like an A-list star without blowing the budget.
Need convincing? We asked celebrity stylist Martha Ward for the red-carpet-to-reality lessons we can all learn from…
1. Take it as red
For the ultimate in cocktail chic, red is your jam. Jennifer Hudson, Camilla Cabello and Olivia Munn all worked the shade to dramatic proportions thanks to slim-fitting silhouettes and cinched waists.
Red is to be approached with caution, but never underestimate its confidence-boosting powers. Whether you opt for a sexy mini dress or an androgynous blazer, the colour never fails to allure. If you'd prefer a more reserved approach, look to long sleeves and high necklines. Ballet flats are also a great way to dress down the boldness.
Feather gown, Emilio Pucci; Midi skirt, Iris & Ink; Jacket, Givenchy; Halterneck dress, Valentino; Colour block dress, Emilio Pucci; Crepe maxi dress, Emilia Wickstead; Suede sandals, Malone Souliers – all from THEOUTNET.COM
---
2. Try emerald ears
A smattering of emerald jewellery is the perfect match for your eveningwear—just ask Reese Witherspoon and co. "I always think of the Hollywood golden era when I see emerald," says Martha. "But if you daren't wear a full emerald dress, using pops of it in an otherwise ordinary outfit makes for a striking finish."
Try a statement earring like these stars or add an emerald belt around a black dress or chunky necklace with a cream silk shirt. A jewel embellished flat will also translate the great green message, like this Miu Miu pair from THEOUTNET.COM.
"Just try to avoid other bright colours with emerald," advises Martha. "It's best to keep it understated for ultimate chicness."
Silk shirt, Iris & Ink; Heels, Malone Souliers; Earrings, Bounkit; Trousers, Equipment Femme; Black dress, Jonathon Simkhai; Wrap-style dress, Dion Lee; Earrings, Elizabeth Cole; Handbag, Anya Hindmarch; Satin slides, Miu Miu – all from THEOUTNET.COM
---
3. Get suited
This is one trend guaranteed to breath fresh life into your going-out attire, but do you dare to try a trouser suit?
"It's become less 'manly' to wear a trouser suit nowadays—we've moved on leaps and bounds since the '70s when the reigning queen of Studio 54, Bianca Jagger, made the front pages wearing a 'man's' suit. It's now a fitting alternative to a dress and no longer a radical fashion statement."
Le Smoking is always a great evening option—think velvet, think satin, think cropped trousers, or flared, or tapered… there's a viable option for everyone.
Stripe trousers, Alice and Olivia; Green blazer, Amanda Wakeley; Black heels, Marni; Black blazer, Alexander McQueen; Check blazer, Alexander McQueen; White blazer, Stella McCartney; White trousers, Stella McCartney; Silver heels, Loeffler Randall – all from THEOUTNET.COM
---
4. Embrace the power of pink
There's no denying the world is feeling a penchant for pink right now. The colour continues to make a mark on the catwalks so it's no surprise to see the trend trickling into awards season too.
Now is the time to wear a steal-the-show frock adorned with lace and frills. Or if you'd prefer to keep the Barbie associations at bay, look to a sharply tailored suit. Don't forget the punch of bright pink accessories if you want to make a low-key yet on-point statement.
Maxi skirt, Tome; Asymmetric dress, Michelle Mason; Top, 3.1 by Phillip Lim; Suede pumps, Alexander Wang; Lamé dress, Roland Mouret; Velvet gown, Monse; Jacket, Ainea; Clutch, Edie Parker – all from THEOUTNET.COM
---
5. Shine on
Awards season is well and truly embracing glitter, with Chrissy Teigen shimmering at the Grammys and Kerry Washington rocking sparkles at the Golden Globes. But how to do glitzy glamour IRL?
"It's safe to say sequins are no longer just for Christmas—slipping into a sequin number is just as fitting for a beach party or a country wedding," says Martha. "You can tone the sparkle down by wearing a flat sandal and go easy on the jewellery. The sequins will speak for themselves, so less is more."
Clutch, Edie Parker; Sequin dress, Malene Birger; Silver dress, Diane Von Furstenberg; Embellished gown, Marchesa Notte; Satin dress, Narciso Rodriguez; Earrings, Kenneth Jay Lane; Skirt, Perseverance – all from THEOUTNET.COM
---
6. Use the velvet touch
Velvet continues to capture celebrity hearts with the likes of Dakota Johnson and Angelina Jolie rocking the red carpet in the sumptuous material. It's always a favourite throughout the colder months and into the early spring. So how to wear it?
"Opt for a loose wide leg trouser, a figure hugging dress, a heel or even a slipper," says Martha. "Whatever you choose, a velvet number will always solve a 'what to wear tonight' dilemma. This is because it's chic in its own right and needs little else for dressing up." We're sold.
Velvet dress, Rosetta Getty; Ankle boots, Chloé; Strapless dress, Miu Miu; Navy dress, W118 by Walter Baker; Mini dress, Maje; Sandals, Loeffler Randall; Top, Tibi; Midi skirt, Jason Wu; Boots, Laurence Dacade – all from THEOUTNET.COM