78 Bedazzling Autumn Ensemble Ideas
The glitter of Autumn is upon us, with the beauty of falling leaves, changing colors, and cooler weather. It's time to put our summer clothes away and break out the fabrics that keep our bodies warm and comfy – without sacrificing style! Here you'll find 78 different fall fashion ideas to help you set up your closet for the season.
1.  Stylish Art Student
Chunky heels and dueling patterns, this outfit displays an artsy mix-and-match style that grabs attention and leaves a positive impression on on-lookers. A dress shirt layered beneath a colorful short-sleeved top adds a professional appeal that has you ready for class and the cool temperatures of early Autumn.
2. Trench Coat Business

Traditional and classic, a black and white outfit with a long over coat displays professionalism and power. To add a little color, switch out a pair of black shoes with a pair of colorfully patterned heeled loafers. The splash of color shows your audience you've got more to your personality than just work and no play!
3.  Fall Fashionista

Nothing says great style like stripes with a splash of red accessories. To keep your legs and feet warm in strapped heels during the fall season, ensure you wear a thick pair of leggings – or thin ones if its not too cold!
4. Cozy Tiger Growl


Faded ankle boots, a wool overcoat, a thick scarf and a printed sweater. There are endless possibilities of colors you could choose from regarding the shoes and overcoat. Think of the patterns for your scarf. This style is simple, involves all casual wear, and can be put together in no time.
5. City Sleek


If you're looking for well put-together yet simple, this outfit fits you. Throw together a blouse and comfy jeans for a casual look. To spruce it up, add a nice blazer of your choice and a nice set of heels to finish it off.
6. Casual Business


This look appeals to several crowds, with the professionalism of a business suit and the comfort of converse. You don't always have to dress in heels to impress.
7. The London Lovely


This classic look is inspired by London fashion, with the modern twist of jeans and a colorful bag. Patterned pea coats will never go out of style, with every generation of ladies loving their look.
8. Comfy Hiker 


Layers looking good. Combine a short sleeved sweater with a long sleeved jacket and water proof vest. The layers will keep you warm, and give you the convenience of taking them off if the weather warms up.
9. Snazzy Pea Coat


A coat that resembles a dress. This elegant and fashionable look is easy to achieve if you're wanting to sport those legs this season!
10. Green Dream


You're free to wear a comfy outfit here. Jus throw on a colorful coat, some heels, and printed sun-glasses to look trendy and put-together. All three can conveniently be placed at the door of your home, awaiting your departure.
11. Autumn of '79


Bringing back old trends never felt so right. Belled, long-sleeved shirts with patterns look wonderful in the fall with white pants. Slip on a pair of comfy sandals and you'll look like a modern, chic hippie.
12. Busy Tycoon


Jeans are always in, even if they've got a rip or two. Keep that comfy feel while looking professional by throwing on a blazer, scarf, hat, and let's not forget that lovely bag that holds all your important devices.
13. Knitted & Fitted


Tans and browns mix well with blacks and whites during the season. Autumn is the month to pull out all your knitted outfits, creating lovely layers of clothes with these colors.
14. Rock Goddess


If you're looking for a more rebellious look this season, you can still throw on those comfy sweaters. Instead of a blazer, find the leather jacket that's right for you and throw on some aviators!
15. Leopard's Sway 


Cute, casual, and fun, this outfit is for those of us that want to show off our long legs while still keeping warm! A short black skirt looks great with black sweaters and ankle boots. To add some flare, find an animal-printed purse.
16. Casual Movie Date


Long necklaces make your torso look longer. Pair with a long-sleeved over-shirt that lengthens in the front and you'll look taller and more elegant.
17. Cozy Student


Can't seem to get rid of those comfy jeans that feel great on your body, but look a little off when you wear them? Don't throw them away! You can combine one of your coziest shirts with it, and throw on a large pea coat paired with a large bag! You'll look like you're a carefree student just trying to get her education on!
18. Pumped Camo


Simple yet tough – black pumps, black pants, and a camo over shirt with black sunglasses. Need I say more?
19. Spring Dream


Fall may be here, but spring still thrives in our hearts. Share your love by representing the spring blossoms! All you need is a flowered jacket and you can wear jeans a t-shirt to grab this style.
20. Ride or Die


You don't always have to wear skin-tight pants to look great. Wear some comfy jeans with patterned pumps to spruce up your look. A jacket like this makes you look fabulous and resilient!
21. Taste of Paris


Bringing back the beret, this Autumn ensemble will turn heads and have people thinking you're not from here! A bag that adds a splash of color, duel-toned black and white pumps, a beret and pea coat make this look appealing and always in season.
22. Wild & Untamable


Want to look like you've been mauled by your pet tiger a few times? If you love fierce and beautiful animals, try an animal-patterned coat, some ripped up jeans, and a clutch with a tail!
23. Sweater Love


Never mind what kind of jeans or sweater you're wearing, you can choose whatever you like if you've got the right hat and bag.
24. Foxy Sleeves


Some of us can't give up dresses, even when the seasons get cooler. Keep your arms warm with bigger sleeves. They'll be even warmer if they're knitted!
25. Cargo Vested


No matter what fabric your pants are, you can always look great with a stripped shirt paired with a cargo vest. You'll look like you belong in the great outdoors and have the convenience of storing anything you need in the vest! To make your torso look longer, add a lengthy necklace to the outfit.
26. Chic Mystique


Another amazing black and white fall look. Patterned sunglasses add personality to this style.
27. Blazer Binge


You can never go wrong with jeans and a blazer. Coordinate shoes and a necklace to add a dash of flavor to your look.
28. Modern Cowgirl


Cowgirl boots and jeans mixed with a modern, patterned shirt give you a different appeal than the norm. You don't need jewelry or a fancy bag to look good in this outfit, yet at the same time, adding one yourself might at a bit of dazzle to the mix.
29. Alluring Charm


All in black, you will display power and mystery with this look. Chunky heels, a wool skull cap, large business bag and pea coat make you look less approachable – great for those of us that are on the run with no time to spare!
30. Patterned and Pretty


Sick of blacks and tans? You don't have to give up bright colors even though its the Autumn season! Choose patterned over shirts to go over white tops and top it off with chunky necklaces. Your bag doesn't have to be the exact same pattern, so long as its own pattern matches colors with your shirt.
31. Honey Love


Tans and whites are perfect for Autumn. A long-sleeved sweater with its sleeves popping up over the top of a pea coat's wrists make you look both casual and formal simultaneously. Add some bondage boots and you've got an impressive look that will turn heads.
32. Tan and Checkered Marvel


Loose and light, this outfit is perfect for girls that hate the itch of thick fabrics in the Autumn. The top and scarf can be any color you choose so long as they coordinate, but for this specific style, checkered patterns are the way to go.
 33. Gorgeous Girl-Next-Door


If you've got an old shirt or love wearing one of your boyfriend's or husband's, then throw on a coordinating vest with it and take a stroll! It helps to have boots and a bag made of the same material.
34. Snug Occasion


Tan sweater, tan blazer, and tan ankle boots. Easy to put together and lovely with jeans. This outfit is perfect for nearly any occasion or outing – whether to run errands or meet up with friends.
 35. Simply Spellbinding


Push the jeans aside and break out some other fabrics! Don't be afraid of deep colors this season matched with a white top and scarf. It looks both classy and chic, drizzled with personality and elegance. The ankle boots seen here have a cowgirl-ish appeal to them.
36. Rogue and Ready


There isn't much to this look. Find some fantastic ankle hugging heels, your favorite jeans, and a black shirt with an over shirt. If you get too hot, you can lace the over shirt around your hips. You can choose to wear either fitted skinny jeans or a stretch fabric.
37. Quiet & Casual


Got some slip-ons or moccasin shoes and want to stay comfy all day? All you need to do to sport them are add some skinny jeans and a large scarf. Add a colorful purse for an added splash of personality. Don't forget those bangles.
38. Simple Luxury
A red multi tartan scarf  in fall hints at the next coming season of winter. Mix this scarf with a black fitted, leather jacket and dark sunglasses and you'll look like a rock-star.
45. Scarfed Love

Stripes and plaid look stunning together if coordinated just right.
46. Shy & Sensual

If you want the Harvard student look, try a classic sweater with a blouse underneath, pulling its collar and sleeves out. Match with coordinating shoes.
47. Dressy, Layered & Alluring

Put on a jean dress, patterned sweater, and layer up those socks for a sweet and casual look this season.
48. Bloused and Bold

Blouses and blazers are perfect for the cooler fall season, while not over-heating your body.
49. Studied and Stylish

A different kind of Harvard look – one more classic that reminds you of the smarts of Einstein! Brown boots, a bag, and leathered elbows will have people guessing your a law student or doctor.
50. Exquisite Charm

Autumn still gives us girls room for sleek dresses. Throw one on with a small belt to emphasize your waist and match a pair of boots and bag to it.
51. Stunningly Sweet

Have plans to stay at home but still enjoy the outdoors of your own yard? Stay warm with fuzzy moccasins, a loose sweater and knitted hat.
52. Color Splash

We see tons of red or black plaid scarfs during the season. Give yourself a fresh look by choosing a more colorful ensemble.
53. Simple Patterns

Geometric shapes on a sweater or over shirt go well with solid colors.
54. Tempting Tycoon

Heels, leopard-print purse, and matching shirt with a white blazer will have you ready for that meeting while maintaining a sense of style.
55. Captivating Flower Child

Keep the spring and summer spirit by wearing your favorite flower-print dress with leggings and a button-up sweater and scarf.
 56. Divinely Carefree

This outfit can be paired well with either a blazer, pea coat, or sweater, making it ideal for those warmer Autumn days. A pleated shirt can also help hide any muffin top if our jeans happen to be a bit tight! Adding some sandaled heels with studs adds dazzle, and you can show off those manicured toes.
57. Function and Fashion

Why wear heels when you'll be walking several places throughout the day? You can still wear jeans and look professional with some white dockside, converse, or flats.
58. Pastel Fervor

Instead of the plain-Jane blacks, whites, and tans that many women tend to wear during the fall season, why not try a pastel color with a matching scarf? A stripped shirt with long sleeves adds some personality to the solids surrounding it.
59. Adventurous Class

Patterned skirts can go well with a solid blazer and solid shirt. Make sure the colors coordinate! Adding large accessories gives you the glamor you're looking for. An outfit like this screams foxy business.
60. Fun & Flirty

Jeans, t-shirt, scarf and hat. Nothing says I love my life more than a casual and comfy outfit decorated with a smile! And if you get a little chilly, you can always roll those sleeves down and throw on a jacket or blazer.
61. The Hustler

If you're always on the go but spare nothing when it comes to style, a sleek blazer and large, thin scarf paired with matching stilettos might be more your look. They go will with that large bag you need to carry all your devices!
62. Radiant Glow

Instead of wearing black with white accessories, try white with black. It's gives you the radiance you've been seeking instead of dulling your color down, and works particularly well on women with dark hair.
63. On-the-Go Show

Sweater, loose pants, heels, and a large wool jacket, you'll be comfy and cozy while still looking like you've got somewhere important to be – and you don't need a huge bag to go with this look.
 64. Easy Breezy

A white t-shirt and loose jeans mixed with flats and a pocket-less jacket doesn't scream for attention. This outfit is perfect for those that have less time worrying about their wardrobe and need more time worrying about their business.
65. Lone Talent

Sometimes, opposites attract and succeed magnificently together. This is one of those times. For an edgy, rebellious look, lace and cargo never looked so great, especially paired wit a pink bag. Bondage boots work great with an outfit like this one.
66. Mysterious Vintage

Black jeans, black fedora, black bag, and large cozy colorful sweater. You'll look like a chic detective sporting this style! Ever hear of Carmen San Diego? Switch the sweater to red if you want to copy her style!
67. Primal Elegance

A modern Oxford look, layering a sweater over a dress shirt looks great especially when you're not a fan of tucking the dress shirt in. They can be paired with a skirt so you don't have to worry.
68. Brisk & Booted

These two ladies prove that knee-high boots can look good with any style, whether with skirts or pants – whether with a patterned shirt or printed shirt – and whether with or without a bag!
69. Vibrant Vogue

If you like vintage colors, mix and match your pants and coat with a dress shirt to form this style. Boots may not look so good, so sport some cute sandals or heels to go with this look along with a weaved bag.
70. Lovely Rebel

You'll amuse your on-lookers with this style, having them guessing whether you're a rebel or a sweet girl that borrowed her boyfriend's or husband's jacket! Add the leopard scarf to ensure your audience knows you mean business.
71. From Country to City

Blow the dust off those old overalls you've been keeping in the back of your closet. Surprisingly, they look great with a long and bright coat paired with pumps.
72. Blood Glam

It's the season for deep colors, so don't be afraid to have pants that display your personality. Deep red mixed with black and a blouse gives you a subtle rebellious look.
 73. Progressively Posh

You don't need stilettos with a dress to impress. Chunky heels and a pleated skirt are both classy and elegant, especially with a long-sleeved sweater and leggings to keep you warm for the season.
74. Coated Queen

Planning to spend most of your day outside? Grab a large trench coat or over coat. You can wear chunky heels with it for an elegant touch, and colorful pants that disappear beneath the coat's fabric.
75. Thick Luxury

Casual and cute, this style is easy to put on, needing only a knee-long jean skirt and thick sweater so you can remain comfy and stylish. Add a clutch – because who need a huge purse anyway when you're just walking down the street for a coffee?
76. Dashingly Swank
Laced bondage boots and a large bag can give you an edge that appeals to the dark side, with a tan blazer that still displays business.
77. Courtly Fur

A printed dress and faux-fur display a sense of mystique and class – perfect for a formal fall occasion. The fur seen here is elegantly wrapped with a long and thick black scarf, perfect for the season.
78. Autumn Grunge
Jeans and leopard print have become a classic since the 80's when the style was popularized. Bring back the fashion and start a new trend, modernizing it with fitted jeans or leggings.
Fall Outfits for Guys – 40 Best Ideas What to Wear this Fall
Fall Outfits for Guys. With the seasonal shift comes the need to layer up and keep yourself warm as temperatures start to drop. How to do this without sacrificing a sense of style is a problem many guys face. If this sounds familiar, then keep reading. This post is for you! Looking good is about more than just putting together pieces that match. Looking good comes from having an overall effect of sophistication, style, and intuitiveness.
When you dress well, you feel better about yourself. You are more apt to put your best foot forward. You find that you command more respect. (Want to know more about the benefits of dressing well? Check out our article on The Psychology of Dressing Well – How Clothes Affect Behavior.) So how about getting yourself a bit of that kind of magic this season? Keep in mind that dressing well always pays off. And it doesn't always mean you need to break the bank to get there! Use what you have and make what you have work for you. It's all about being creative and developing an eye for what works with what. Without further ado, let's get started!
What to Wear in Fall For Men
Here are some concepts to keep in mind: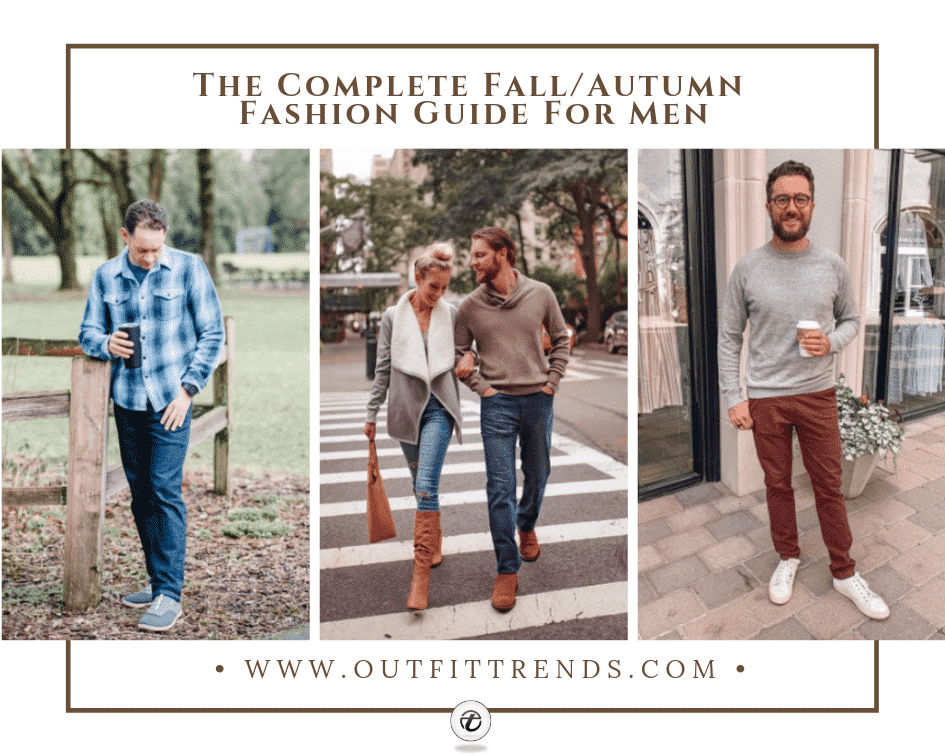 Transitioning into fall doesn't mean that you need to let go of your summer outfits completely. You can easily use the same pieces but layer them and style them in a way that better suits the weather and the season.
If you decide to buy some new pieces this fall, make sure you opt for heavier fabrics.
Keep this color scheme in mind when putting together outfits: burgundy, gold, rust, mauve, browns, and burnt orange. These are the quintessential colors of autumn and you will look instantly in-season when you incorporate these colors into your wardrobe!
Fall is a great time to experiment with different prints and textures (like camo, tweed, plaid, wool, or knits). Remember that you want your pieces to coordinate and work well together, so keep your overall wardrobe in mind when acquiring new pieces.
Have fun with your footwear. Have a nice pair of suede shoes sitting at the back of your closet? Pull them out! Fall is the perfect time to wear them.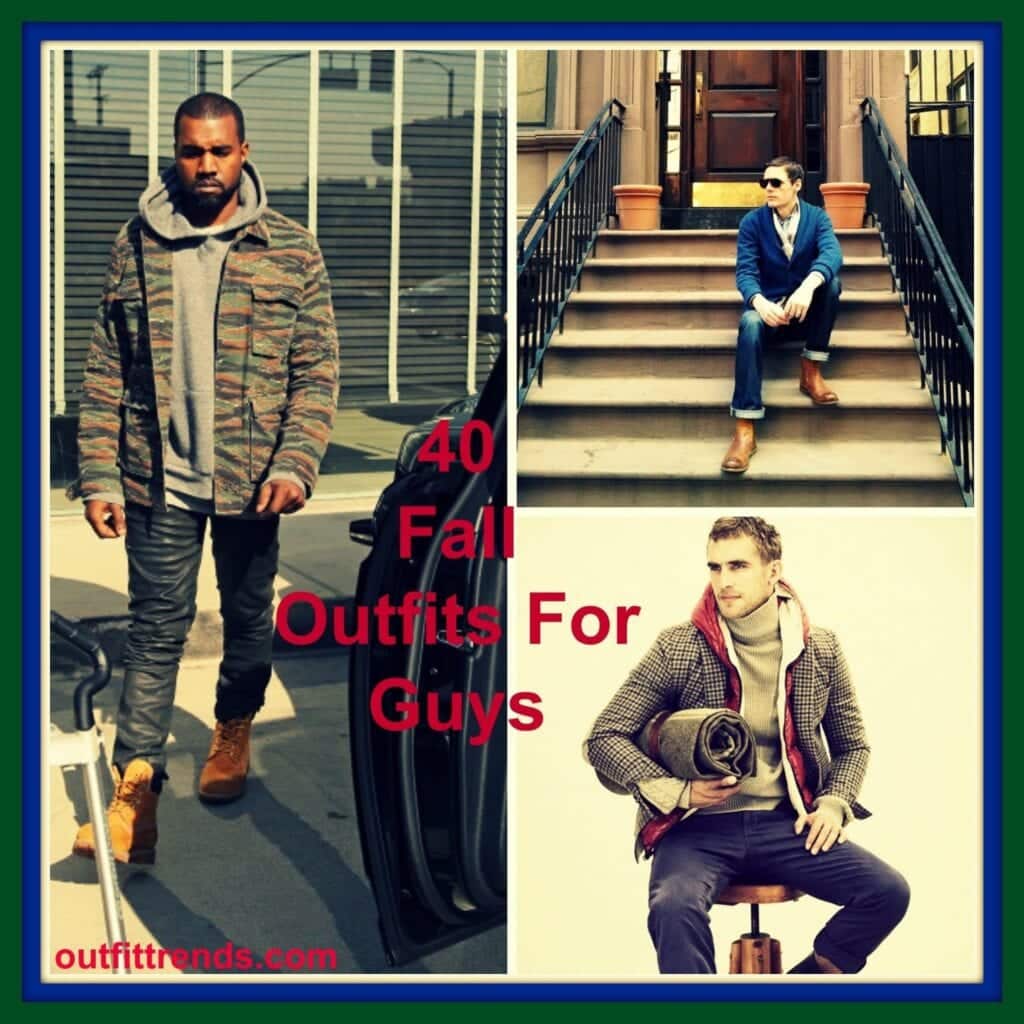 Semi-Casual Early Fall Look
Before autumn has really settled in, why not give a light jacket like this one last run? Paired with a nautical themed blue tie, this is a great outfit for those in-between summer and fall days where the air is cooler but you still want to hold on to some summer vibes. Here are some more Semi-Formal Outfits For Guys.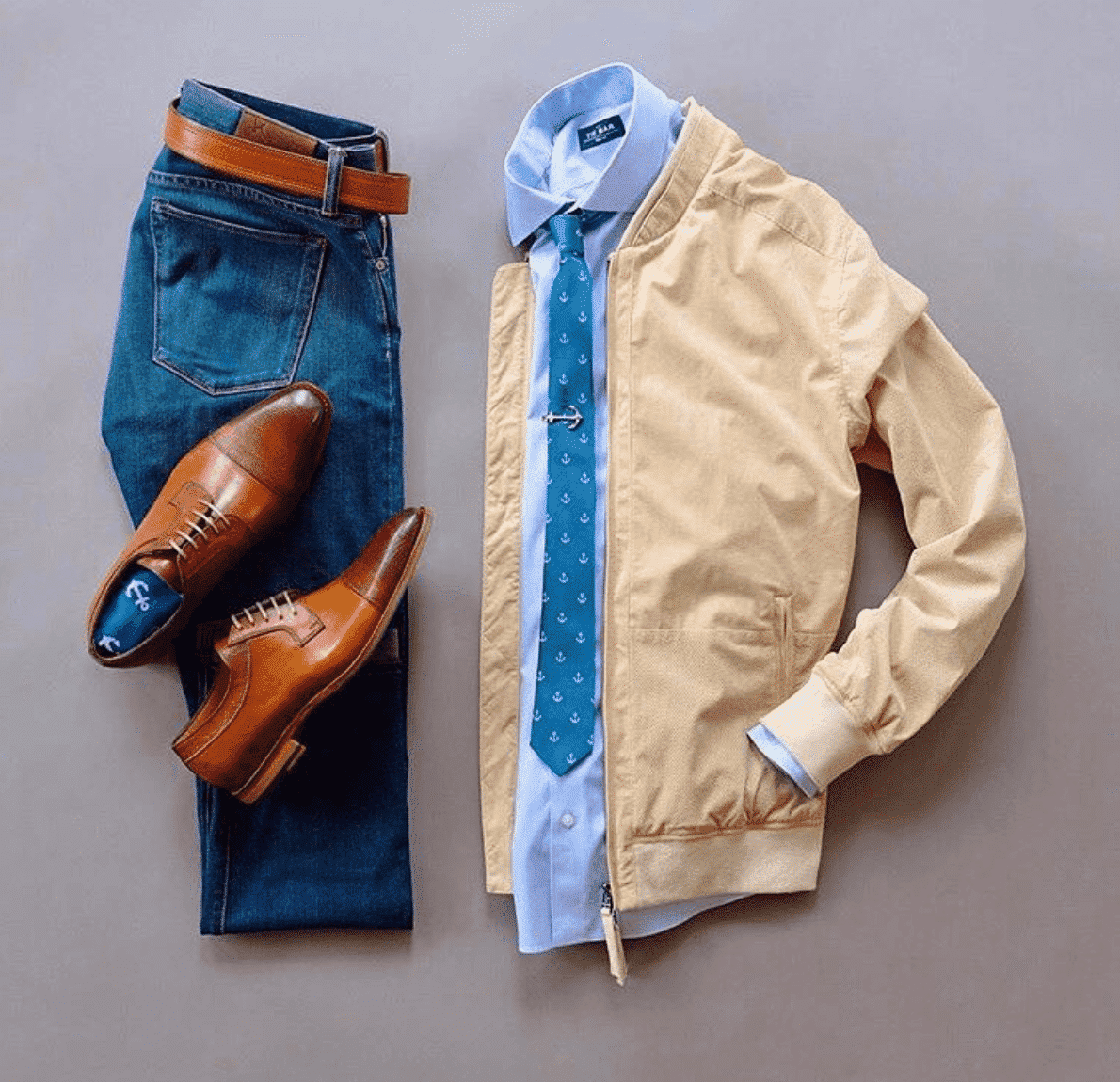 What to Wear to the Office in the Fall
We love the color scheme of this look right here. Grays and forest greens have a fall-esque vibe to them. Plus, check out the suede shoes!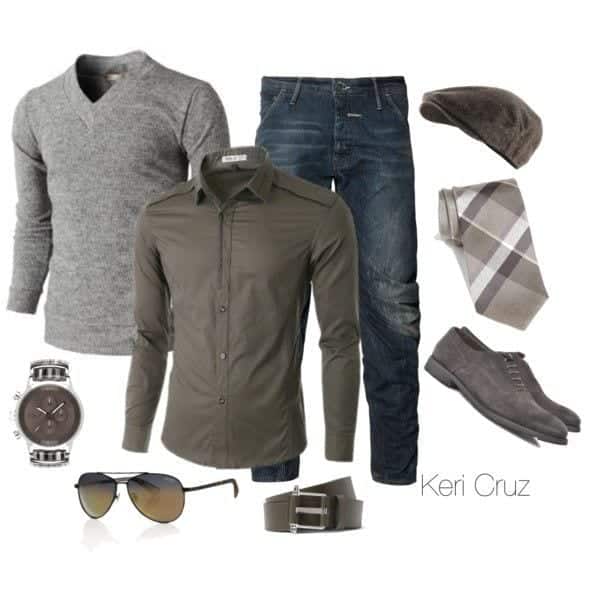 Cashmere Turtleneck and Autumn Brown Jacket
Nothing screams autumn like a cashmere turtleneck. Opt for a soft brown jacket, black or deep navy blue slacks, and dress shoes. This is a great evening party look or lunch outfit.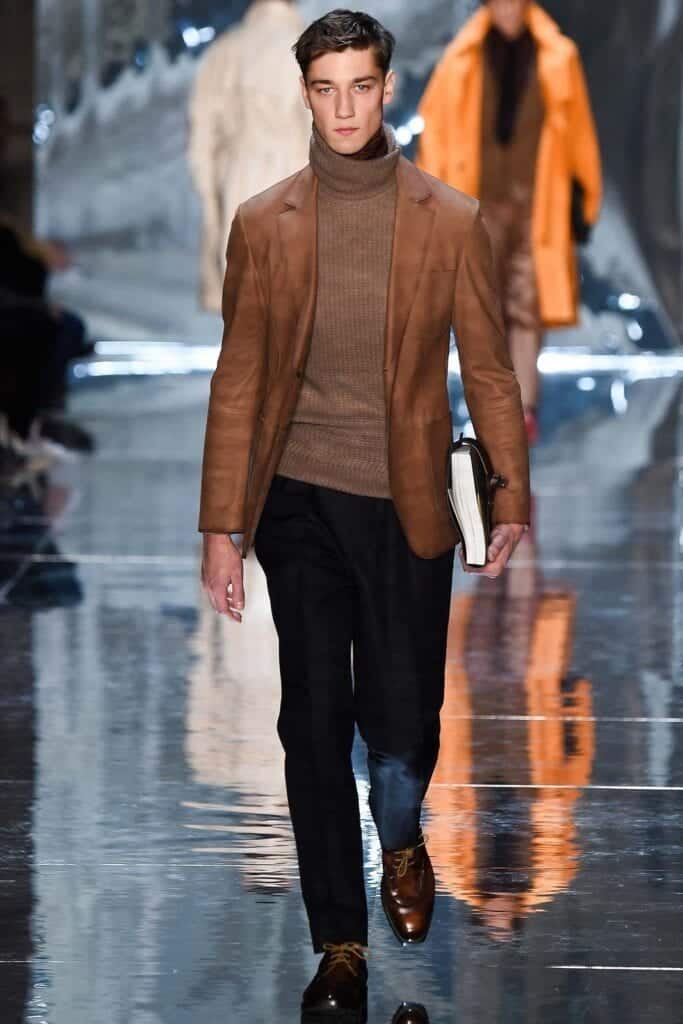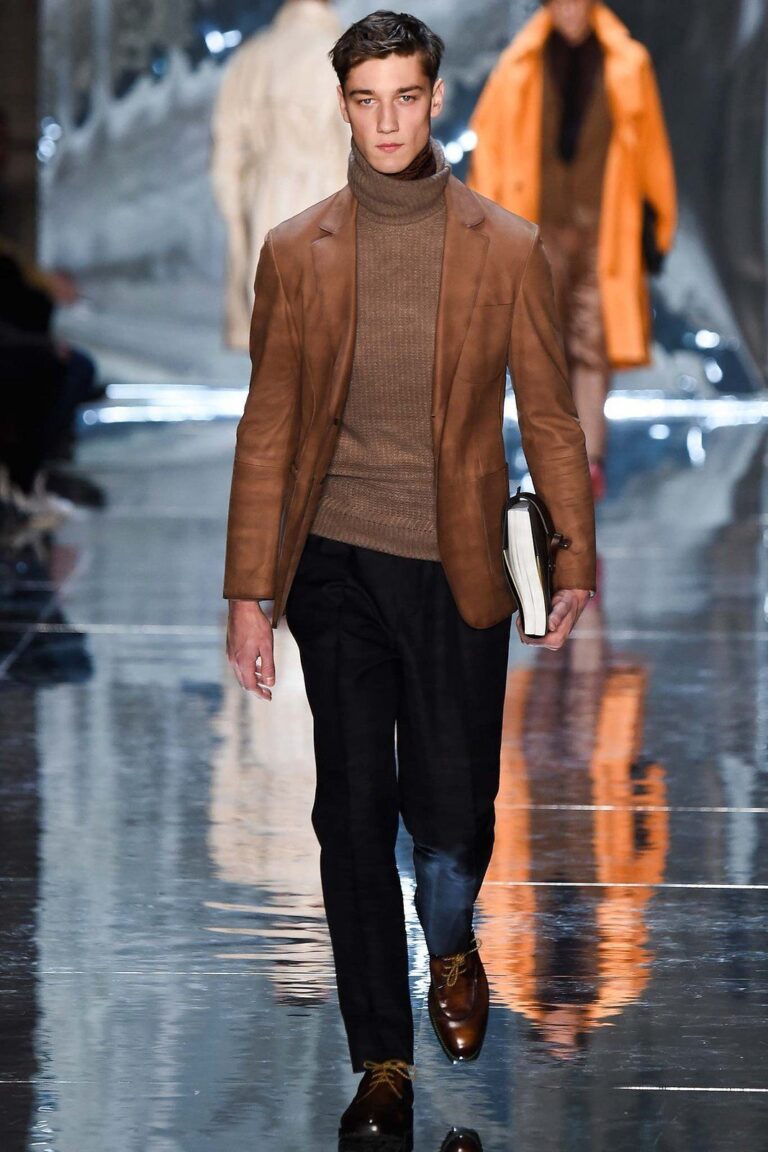 Office Outfit Idea ft. Plaid Jacket
An unusual color choice for a plaid jacket, you say? Sometimes, it's worth taking the fashion risk. Pair with a deep blue turtleneck, dark brown trousers, and your go-to dress shoes.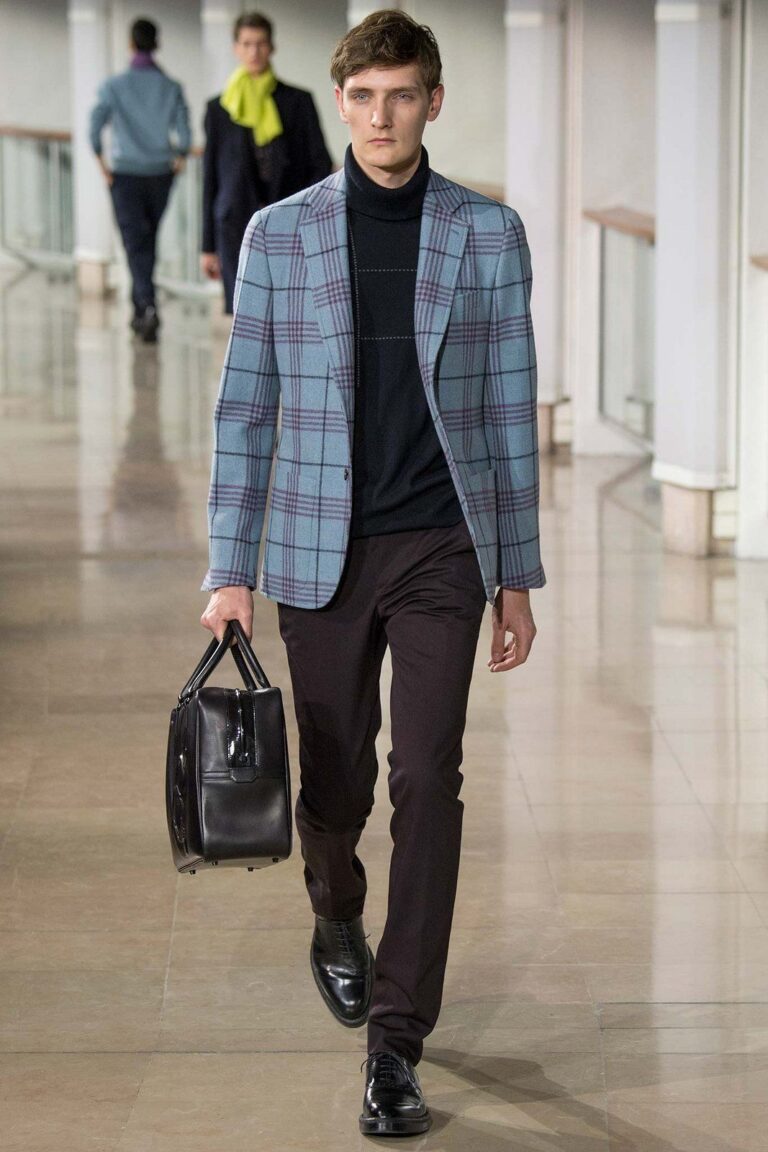 City Look for Colder Days
Touring a new city? Meeting up with some work friends for lunch? This ensemble will serve you well. To dress it up a little, swap out the jeans for slacks or trousers.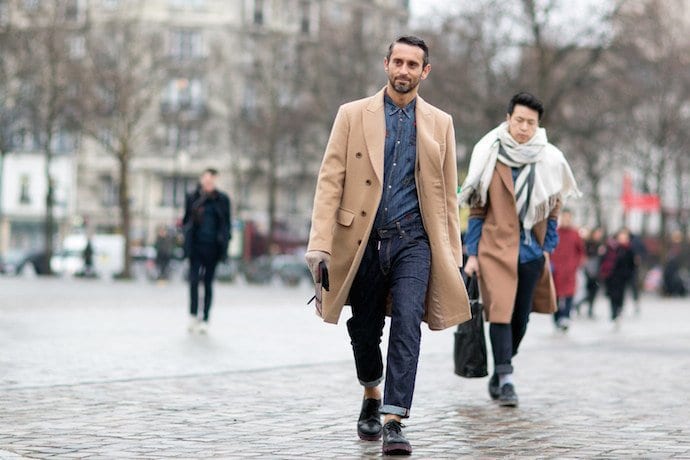 Suits for Semi-Casual Fall Event
This is a high-end look that can be easily replicated with a little thought and careful planning.
This loose overcoat style has a trench feel to it and is worn over a double-breasted suit jacket, white cashmere turtleneck, and tailored pants.
College Style Outfit for Fall
A simple but stylish look for casual outings or heading into an early morning class. Pair a button-down checked shirt with dark jeans rolled at the cuffs, some stylish footwear, and a matching jacket. Here's a collection of the best College Guy Outfit for Guys.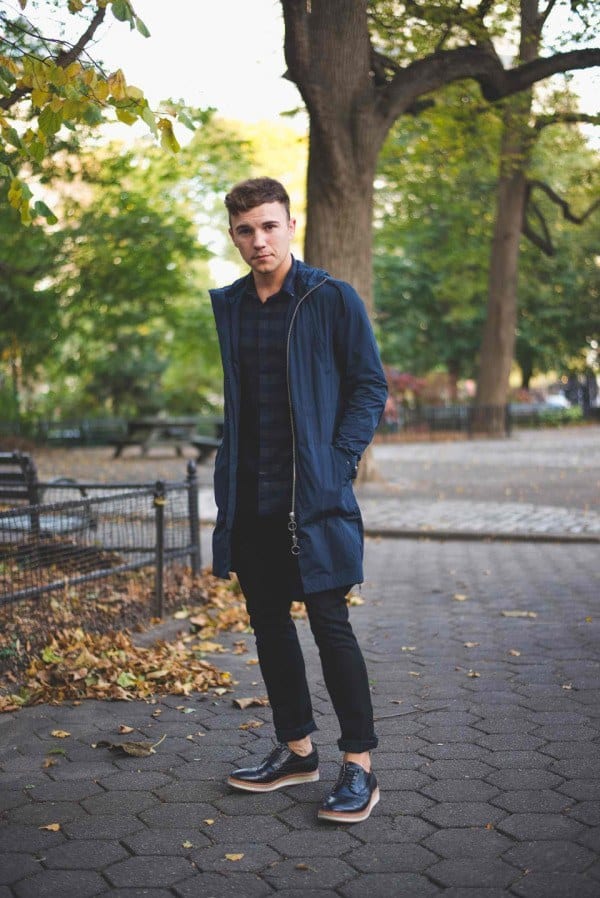 Fall Business Attire
Traditional business attire for autumn. Remember to keep a parka on hand when fall arrives.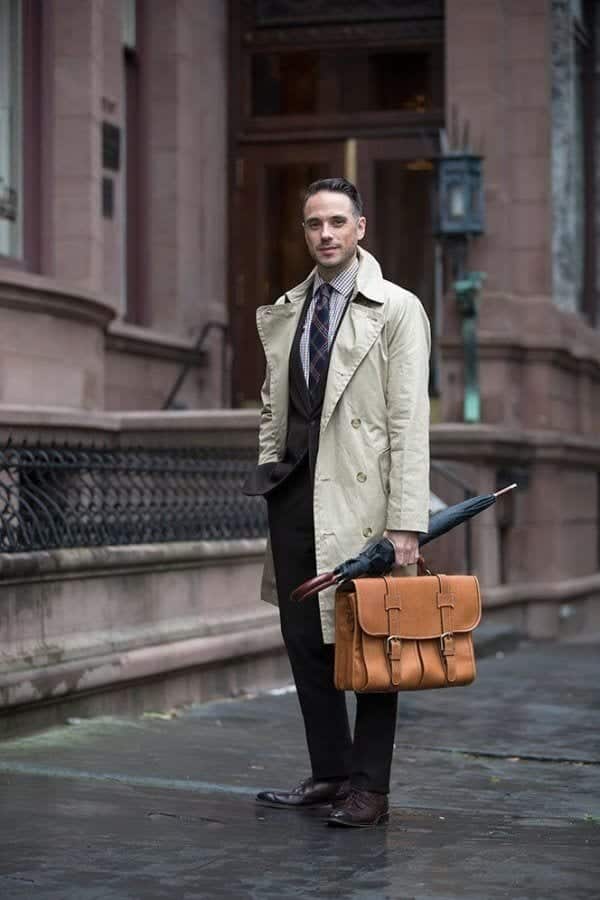 Casual Business Dinner Outfit for Work Events
This outfit blends traditional fall colors with some very modern and trendy styles. Note the deep red tie, matching socks, and complementing checks in the shirt.

High-End Style for Cold Autumn Days
For the guy that doesn't mind investing a little extra time in his look this season, check out this ultra-stylish ensemble. A shearling jacket is worn over a thick, chunky-knit sweater, white turtleneck, and gray pants. Note the color scheme as well, as these are some very seasonal and appealing colors when combined. Interested in reading more? Check out Essential Men's Fashion Pieces for Both Business and Casual Wear.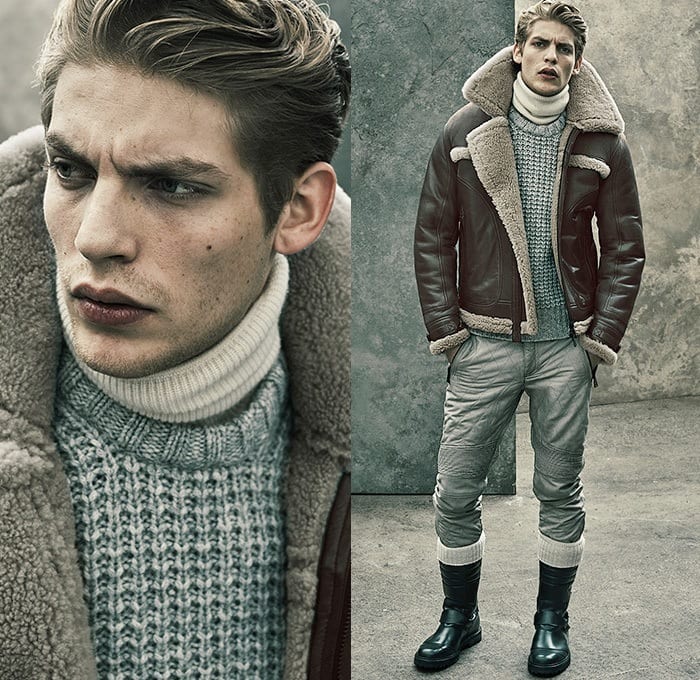 Casual Stylish Look for Guys
Make a style statement with a white sweater and a matching bomber jacket. A modern fedora and embellished jeans bring this look to the next level. Here are some of the best Outfits with Bomber Jackets.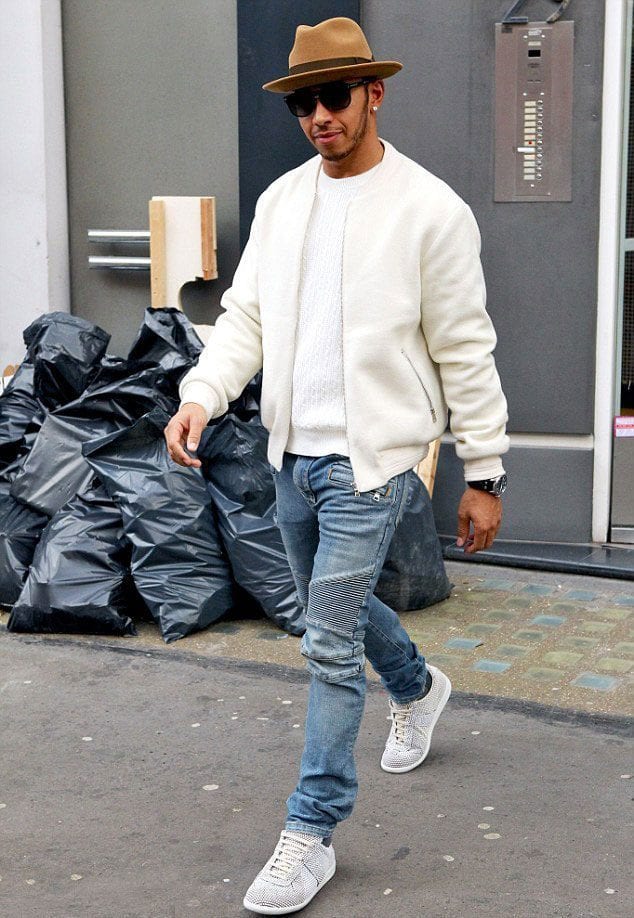 A Daring Look for the Fashion-Forward Guy
This is an edgy look that not many guys could pull off. Think you got what it takes? Give it a whirl!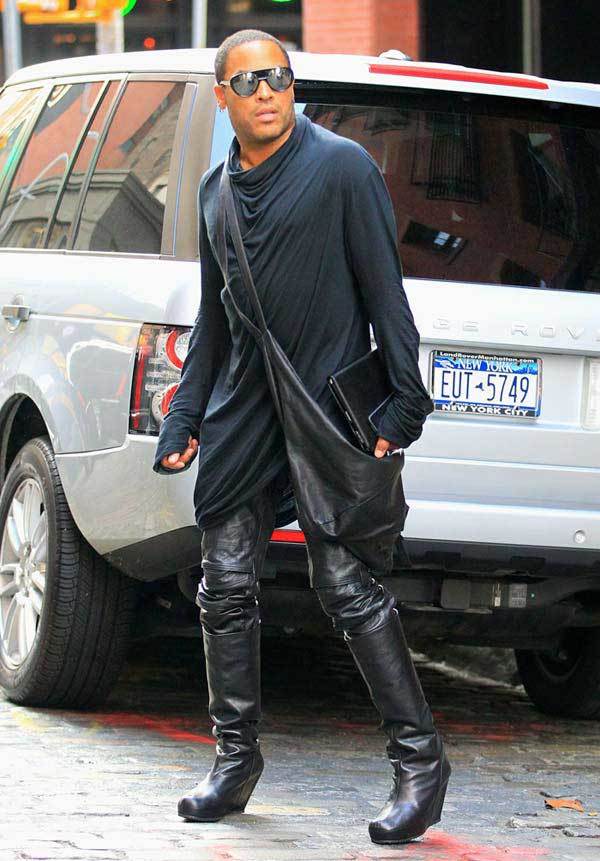 Edgy and Trendy Autumn Outfit
Another off-beat look for the guy that loves to take risks in the fashion department. Let your popped collar do the talking with this one.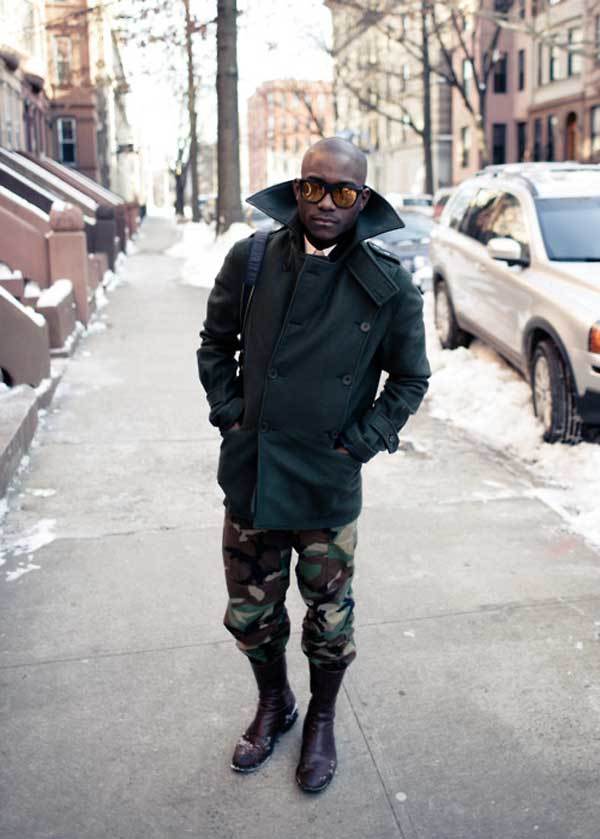 Fall Fashion for Plus Size Men
You can't go wrong with a good puffer jacket. Pair with well-fitting trousers and a sweater vest for optimal style.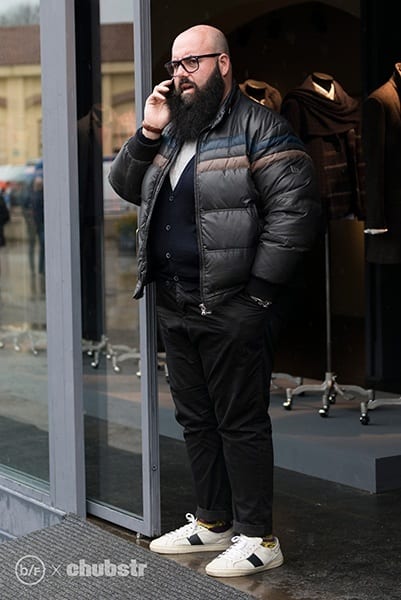 Men's Casual Fall Fashion for Travelling
We love this simple but classic look that is understated without sacrificing style. It's all about the fit with these pieces so make sure each one fits to perfection. Also, have a look at these 18 Winter Travel Outfit Ideas For Men.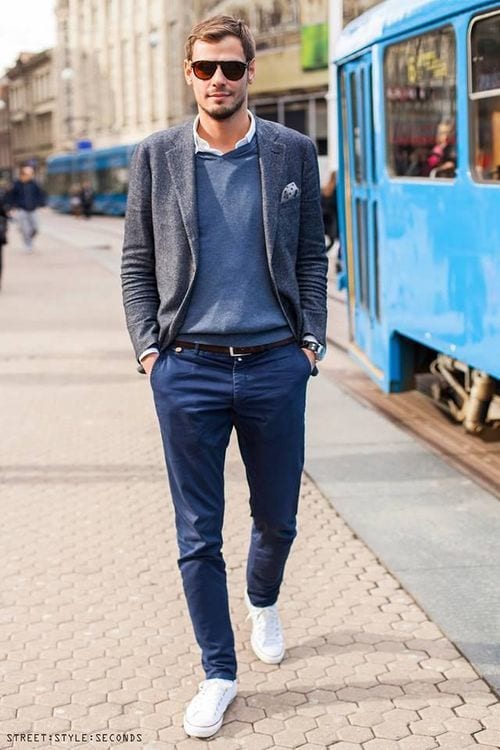 College Guy Look
This is an incredibly stylish look for those cold autumn days. Great for college guys.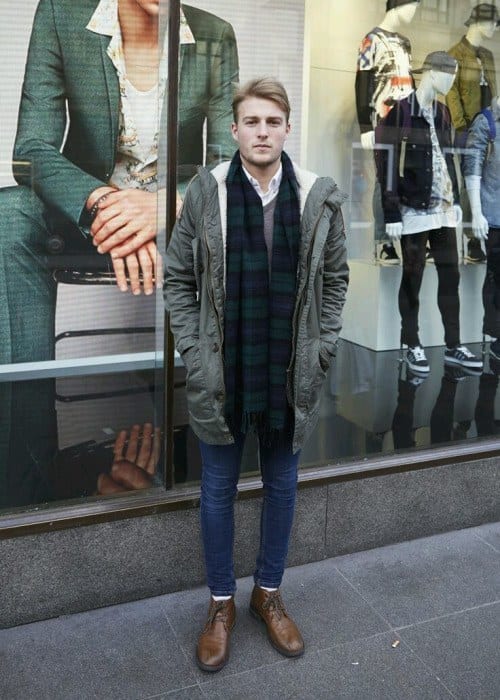 Kanye West Inspired Outfit
Take a page from Kanye's book and go bold this season with a faux fur coat worn over a gray hoodie, well-fitting pants, and trendy sneaks.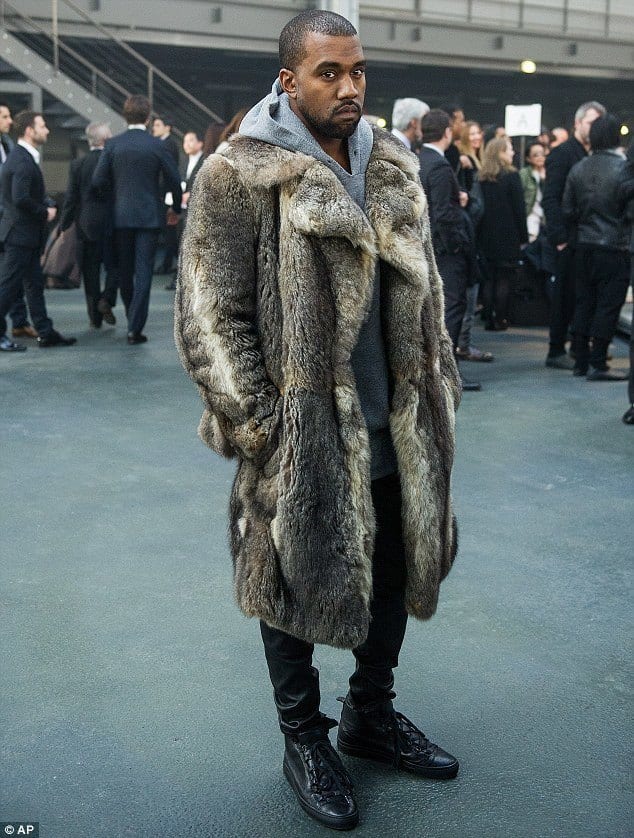 Kanye West in Leather Jacket
Was the faux fur too much for you? Not a problem. Switch it out for an edgy leather jacket instead.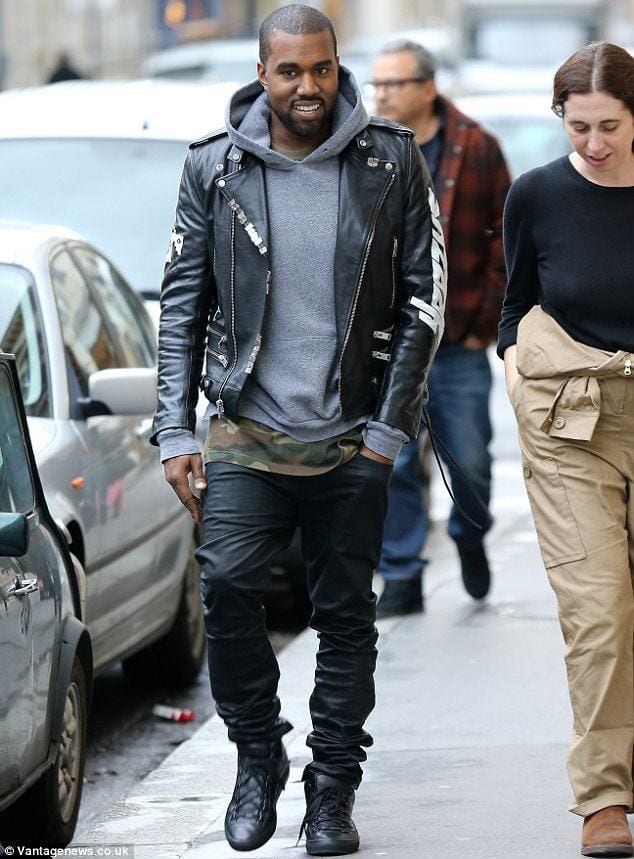 Simple Fall Outfit for Guys
When in doubt, go simple. It's likely you have some of these pieces in your wardrobe at this very moment so why not give this look a try? All you need is your favorite jacket, a light blue sweater over a white tee, jeans, and some understated but classic dress shoes. This is a great look for grabbing lunch with your girlfriend, heading to class, or simply taking a walk around town.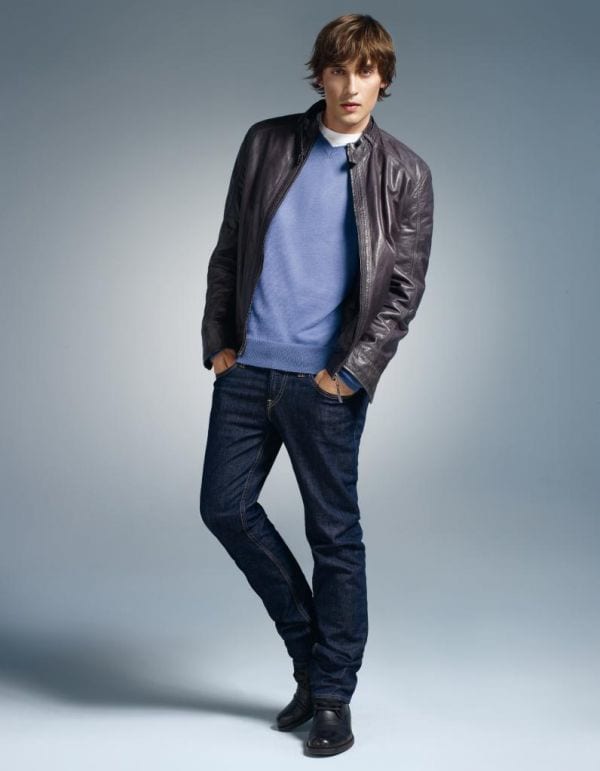 Autumnal Inspired Business Attire
Go bold this season and mix and match some textures and prints, making sure you stay in an autumnal color scheme.
Don't miss out on Professional Facial Hairstyle for Businessmen.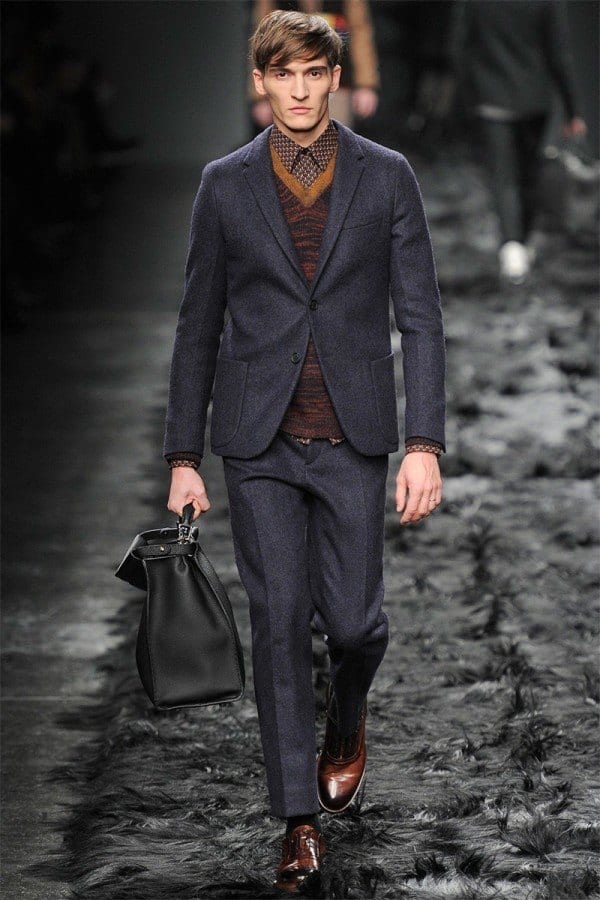 Dressy Look for Formal Event
If you're sick of your same old suit jackets, give this outfit a try. This light gray suit is classy, and the turtleneck is perfect for the season.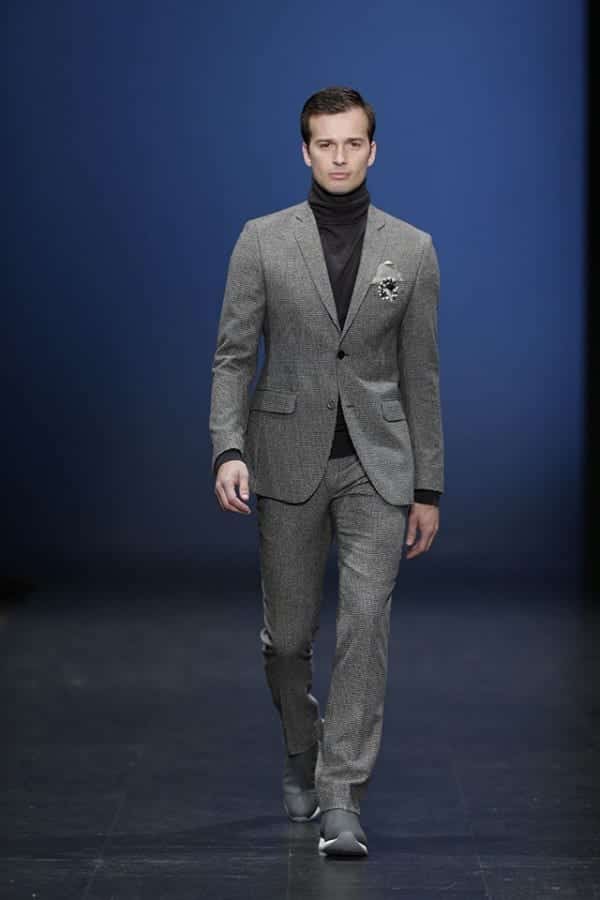 How to Wear a Cardigan for Guys
Not sure how to pull off a cardigan in a manly way? Take a page from this guy's book. Opt for a darker colored sweater and keep your cuffs unrolled for a more rugged look. Check out our earlier post that discusses all the Different Ways to Wear Sweaters Fashionably this season.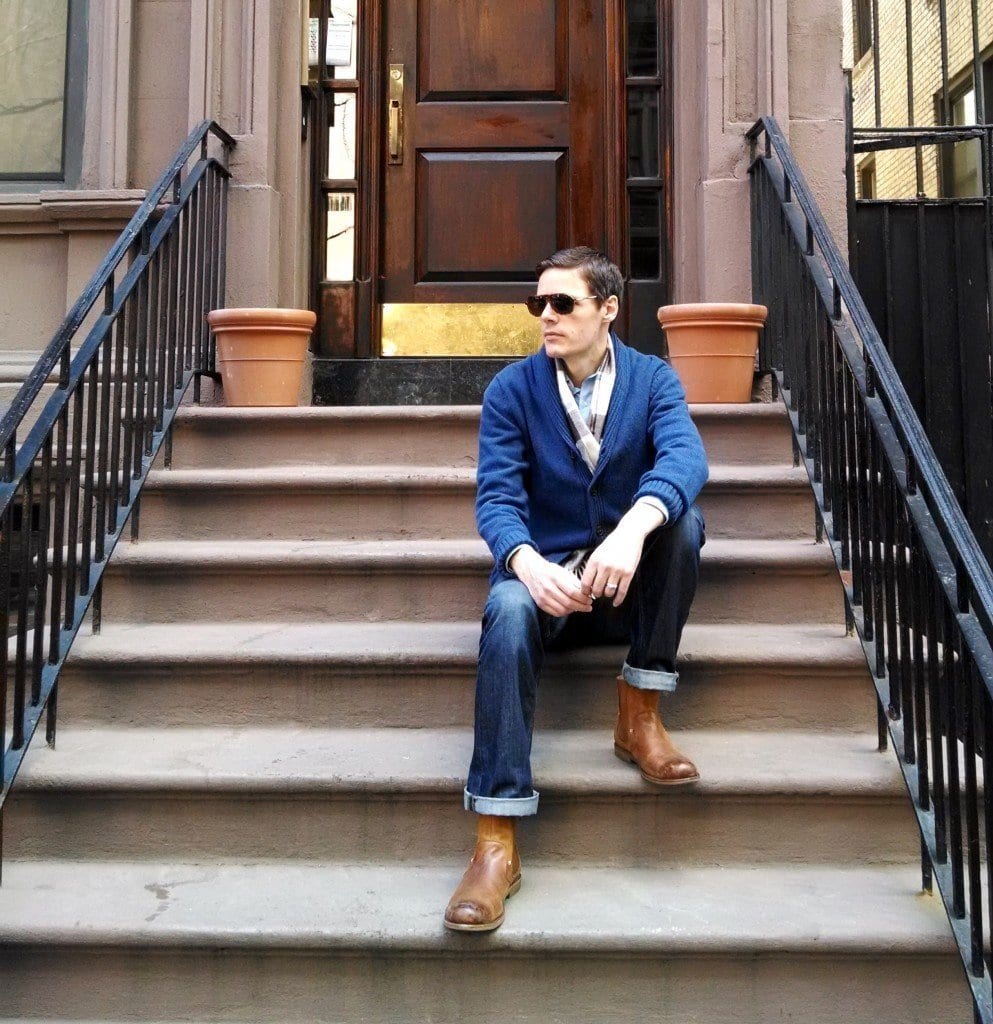 Dapper Outfit for Warm Autumn Days
When your jeans fit to perfection, your confidence will certainly kick up a notch. Accessorize with some cool frames to really tie the look together.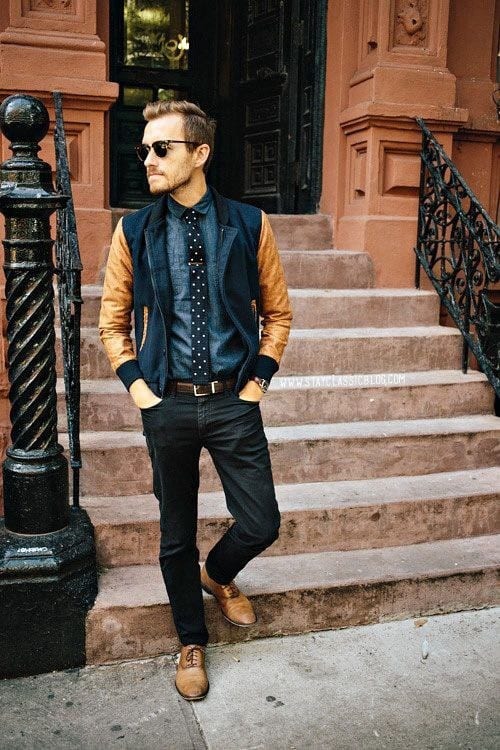 Burgundy Pullover and Chino Pants
In all honesty, we love a classic look like this one. And if you're like most guys, you probably will, too. It's simple, it's masculine, and guess what? You could easily nab it yourself. Check out the outfit details below.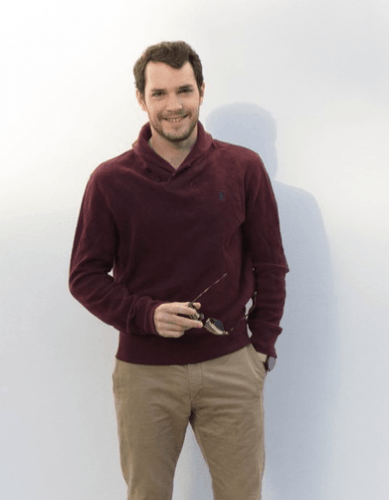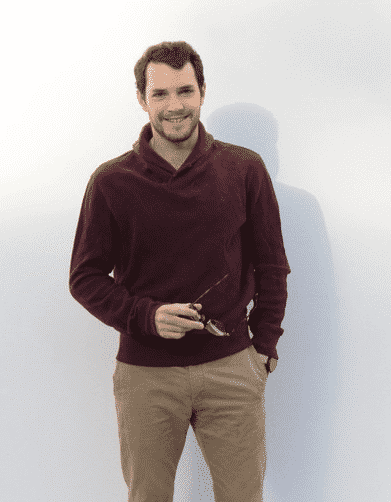 Hipster Style for Guys
Prefer a more casual style? Throw on a beanie and a pullover with jeans and trendy footwear. Plus, check out these 25 Hairstyles for Hipster Men Look.

University Student Outfit
Rolled cuffs and a light gray coat make for a great combination. Slick back your hair and opt for all-white sneaks to bring the look home.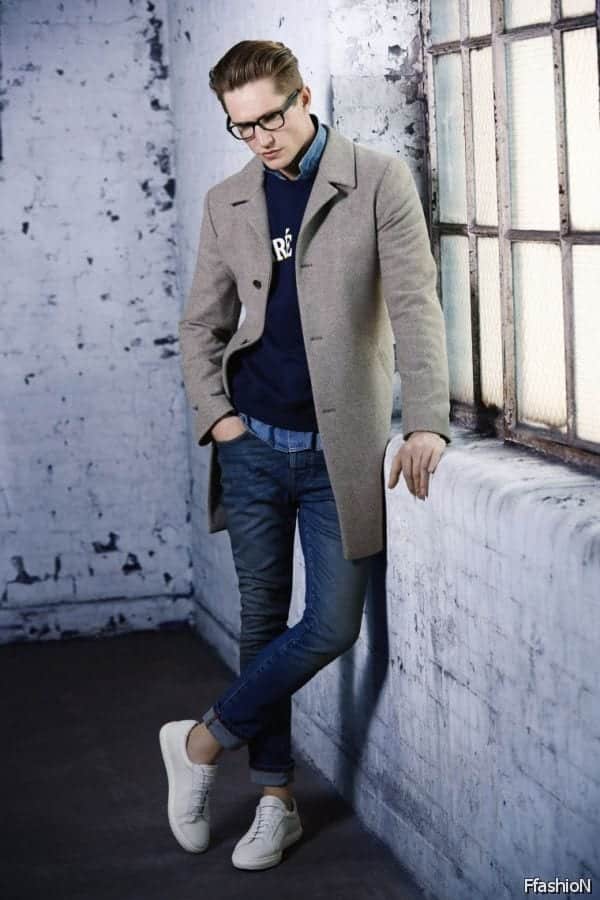 Fedora Hat with Cropped Pants
If you love playing with textures and colors, this is the look for you. Have fun experimenting with sweaters, vests, trousers, and the tie of your choice!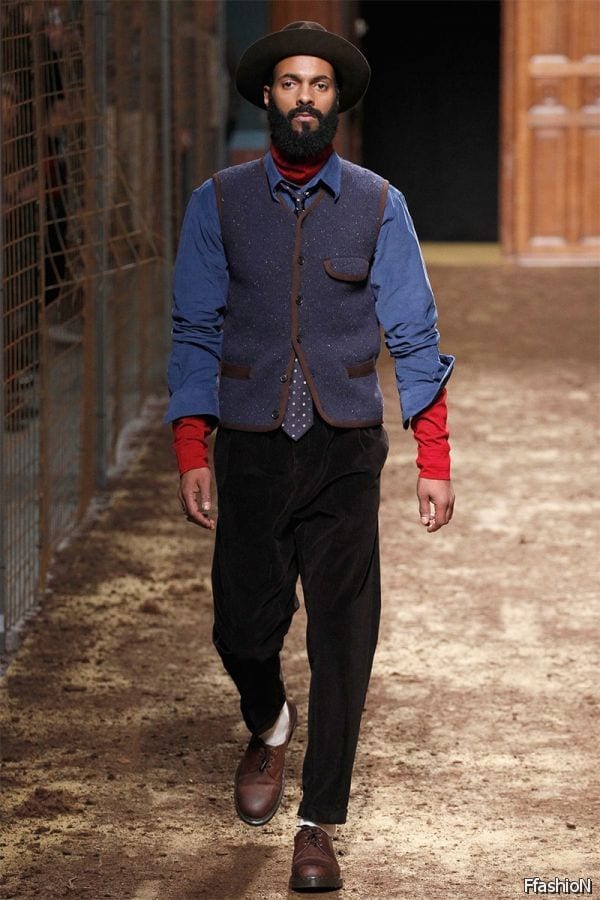 European Fashion for Guys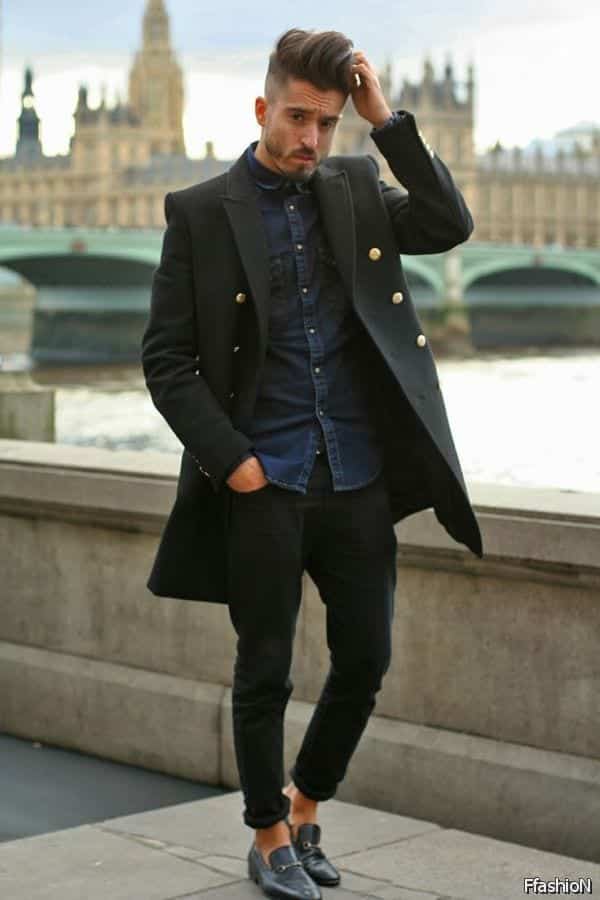 Wearing a Scarf for Guys
A thick woolen scarf does not just make your outfit look much better, but it also wraps your neck up in its warmth, making sure that you enjoy your day. When buying a woolen scarf, make sure that you go for the best quality as a good one can last for years so don't compromise over its quality. There are several different ways to tie a scarf for men so take your time and experiment with different ways to find which one looks best on you. Have a look at our exclusive post on Guys Outfits with Scarves.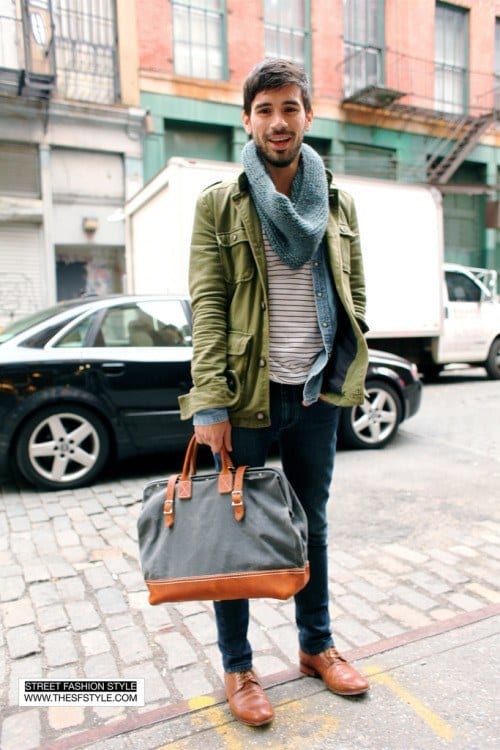 Fall Camping Trip Outfit
No need to sacrifice style on your camping trip this season! Check out this fashion-forward look.
Semi-Formal Lunch Date Outfit for Guys
Here is another classic look that will have you looking like you have just stepped from a GQ magazine. Remember fit, and remember colors with this look.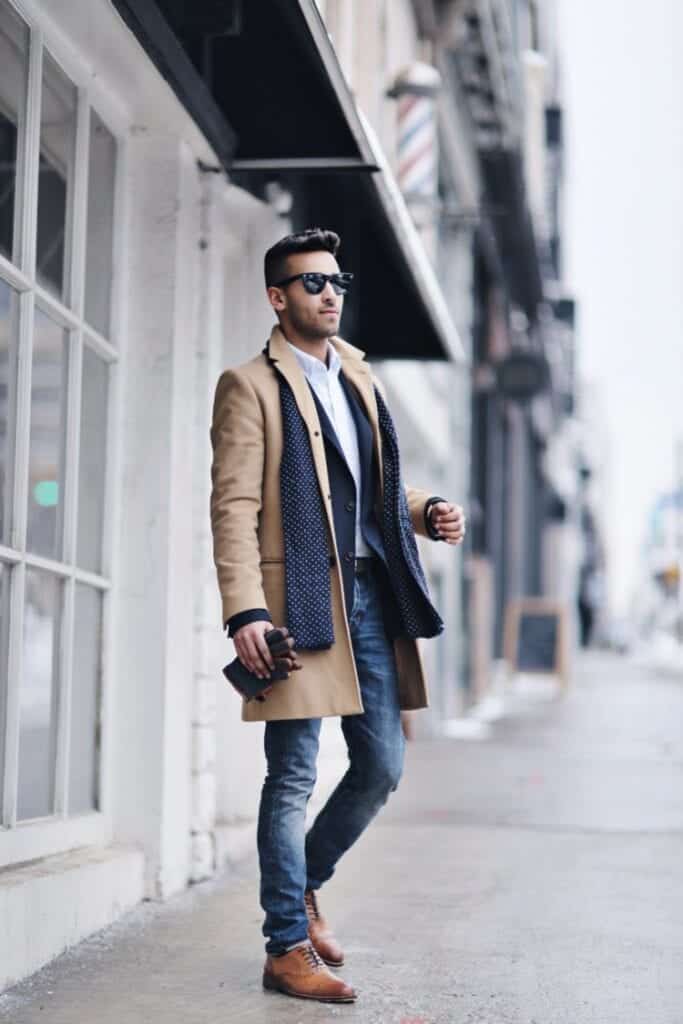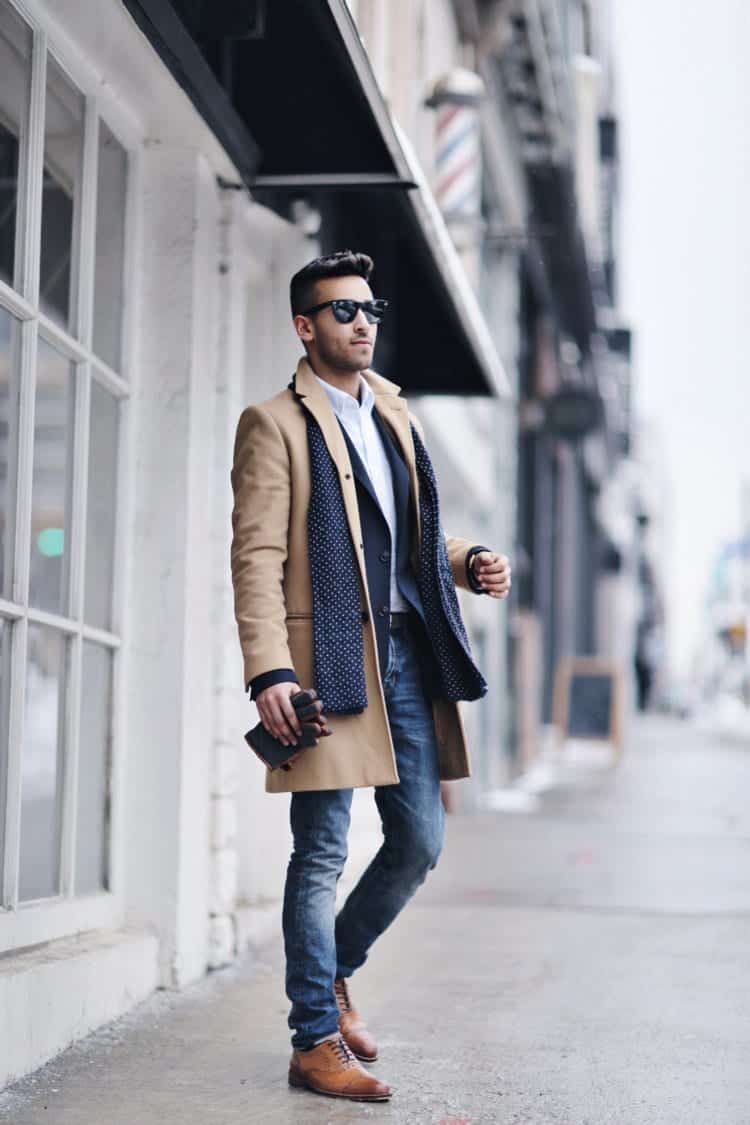 Dapper Long Coat for Men
A camel coat is all you need for a dapper look. Plus, it can be paired with almost anything! Here are 20 Best Outfits To Wear Long Down Coat.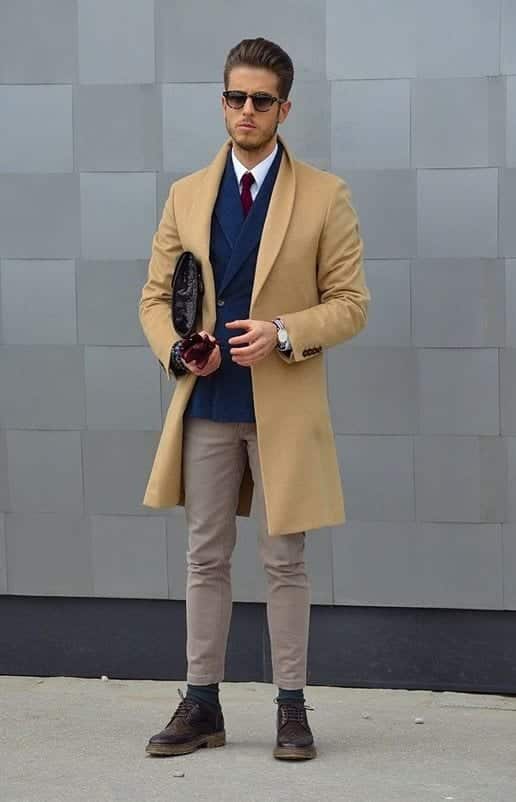 Chunky Sweater and Matching Shoes
A daring look for the guy that likes takes his autumn fashion seriously. Check out those trousers and heavy-duty boots! Plus, you've got to admire that matching backpack.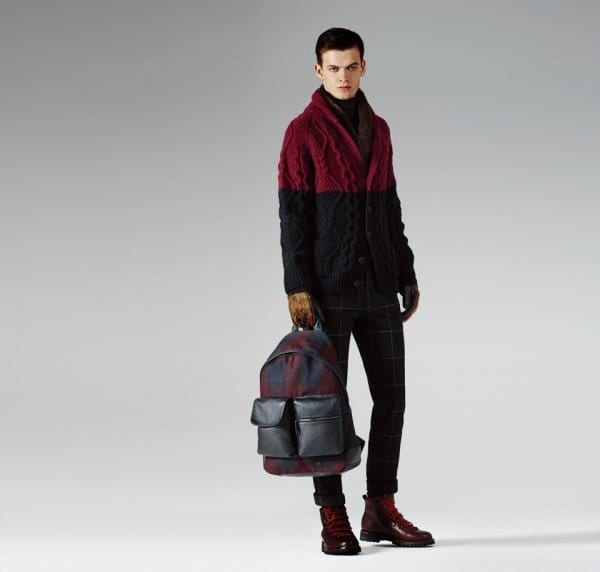 Bright Colors and Cuffed Jeans
A pop of bright color is always pleasing to the eye during the dull fall season, and hot red is definitely the best choice in this case. Here are 30 Ways for Guys to Wear Red Pants.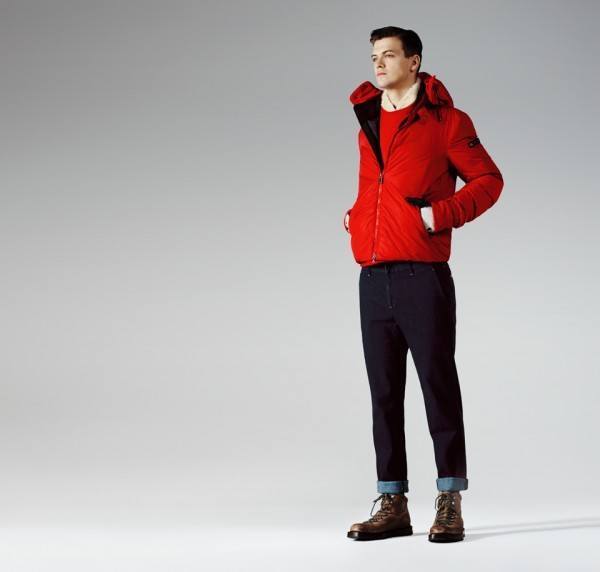 Monochromatic Outfit for Guys
We love this dark and mysterious look. With an outfit like this, people will know you mean business!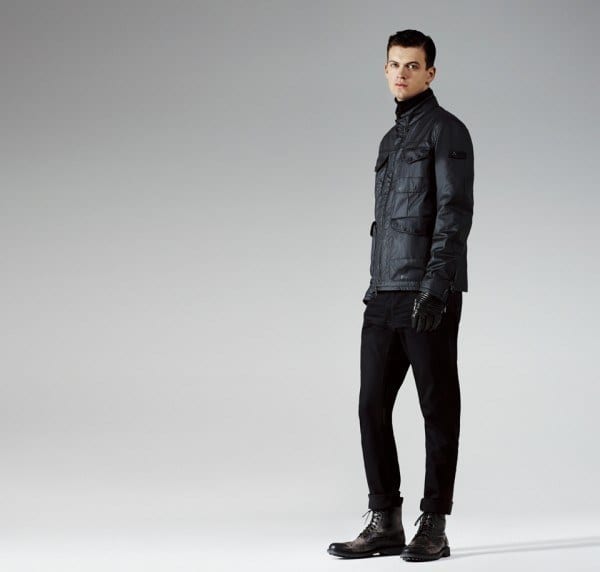 Blended Jacket and Suede Boots
We love the effect of this combined jacket as well as these fashion-conscious boots. Add a white scarf for texture and warmth!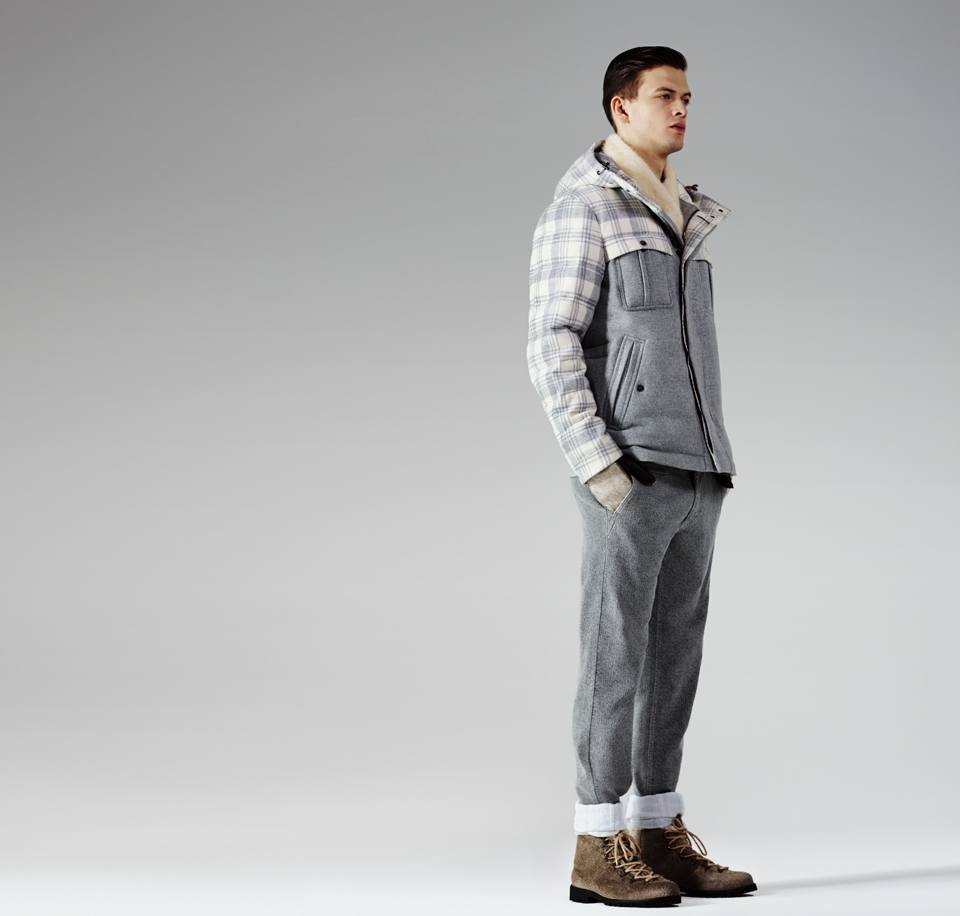 What Colors to Wear in Fall for Men
Avoid overly bright greens, oranges, or yellows. Opt for subtle, duller shades like olive green or burnt orange. Think earthy as well, with browns, reds, and rust-colored clothing.
This outfit is a good example of the kinds of colors you should be leaning towards. Olive or forest green always pairs well with navy blue and brown.
You should also check out these 20 Ways to Wear Blue Suits with Brown Shoes.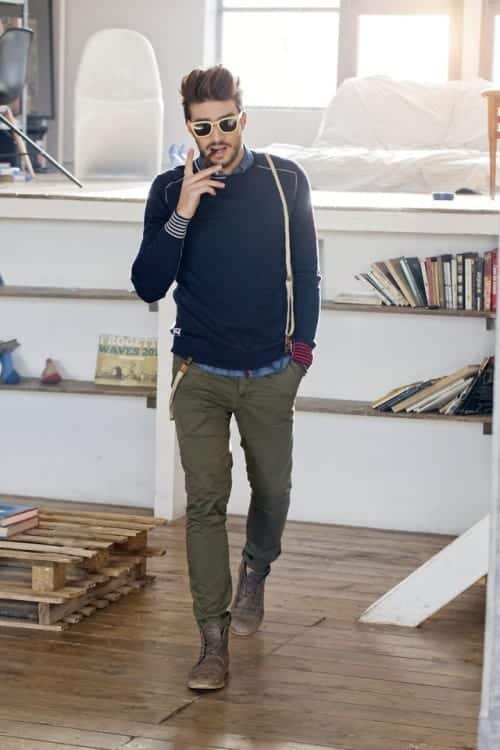 Gray Tones for Fall
This is a gorgeous array of colors that look well when worn together. Gray color truly looks amazing in the fall palette and it's always a smart choice to mix different shades of grey.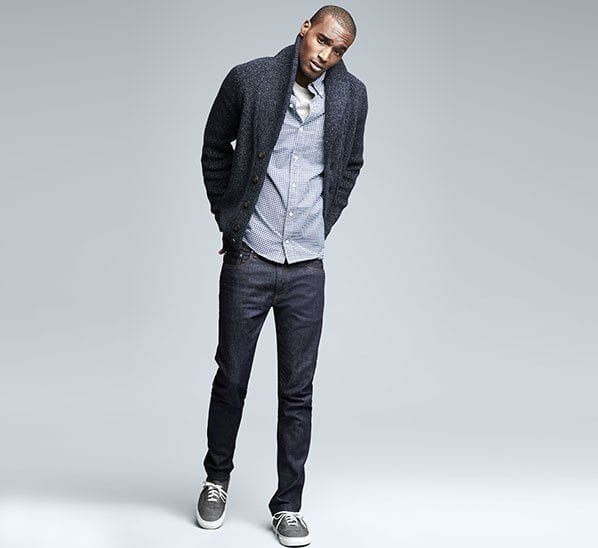 Black Tie Dress Up with Shawl Neckline Coat
This year is all about statement sleeves and collars which is why we find this shawl neckline coat absolutely irresistible! Swap out the velvety blue jacket with a more autumnal-inspired color.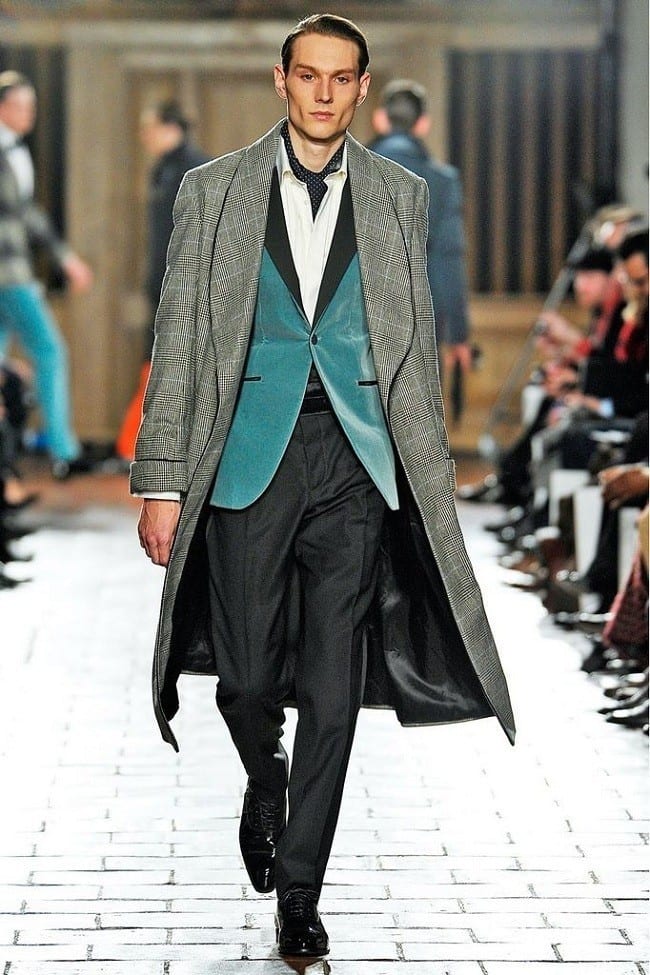 Shearling Jacket for Guys
A shearling jacket is surely one of the best fall pieces money can buy! You can easily layer under these jackets with shirts and sweaters. If you're thinking of buying a new shearling jacket, we would highly recommend a tan colored one for its awesome 70s vibes. The best shoes to wear with them would be loafers; you could also opt for some sturdy creeper shoes.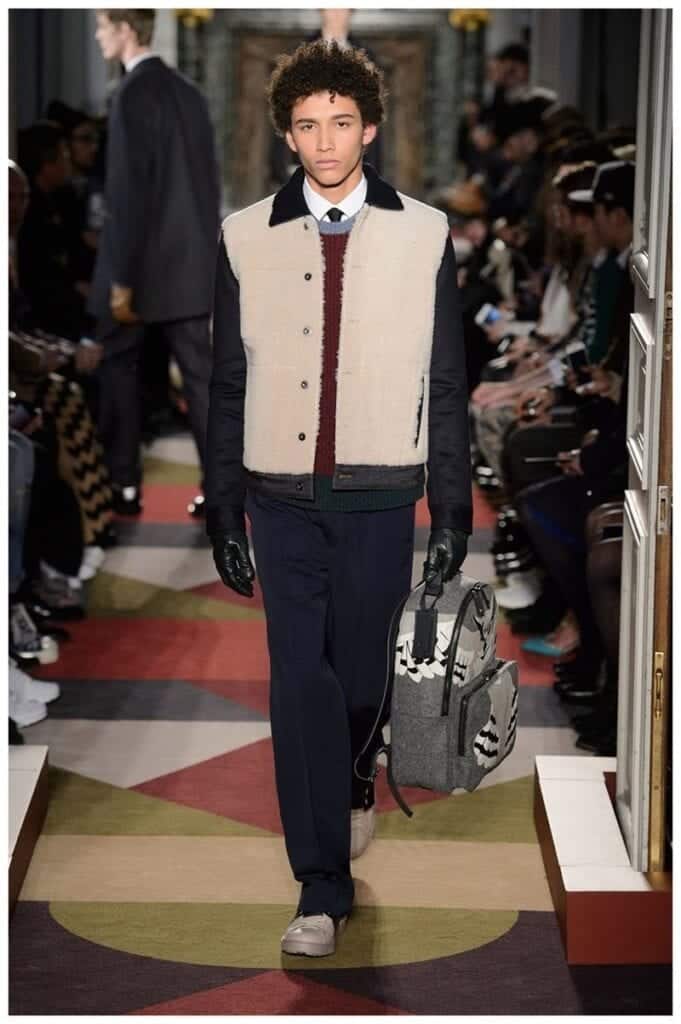 8 Date Outfit Ideas for the Fall
Many people consider fall their favorite season, and it's no secret why. Everybody loves the leaves changing colors, the crisp weather, the warm feeling of curling up on the couch, and of course – cute date nights!
Between hay rides, pumpkin patches, coffee shops, apple picking and hayrides, fall is easily the best time of the year for fun dates. Although planning dates can be fun, planning date outfits is even more exciting. The best part about fall outfits is that a few staple pieces, such as leggings, skinny jeans, and booties, can go a long way. These pieces are classic and versatile. Let's look at 8 different fall date outfit ideas:
1. Jeans and a T-Shirt
There's something charming about the simple pairing of women's jeans and a t-shirt. You can never go wrong with this classic combination. Fall is all about casual and cozy, which makes this outfit a perfect go-to! Grab your favorite t-shirt, a cute scarf, and your most flattering pair of jeans and you're good to go! This is a great opportunity to try a new style of jeans, such as straight leg or skinny jeans. This outfit is best for more adventurous fall activities due to it being comfy and moveable. Be sure to bring a jacket in case it gets chilly, and you're ready to go!
2. The Denim Jacket
A denim jacket is an absolute fall staple. A denim jacket can complete any cozy fall look. They can be thrown on a cute t-shirt, flannel, or dress. Our favorite look is pairing a denim jacket with your coziest cotton t-shirt, leggings and knee-high boots. If you're looking for something different, step out of your comfort zone with a colored denim jacket. No matter how you wear this long-time favorite, you'll be sure to look cute and stylish for your next date night.
3. Flannel Shirt with Leggings and Boots
Another fall staple is a cute flannel shirt. With so many colors and patterns to choose from, flannel shirts make for an easy and stylish fall look. A flannel goes nicely with countless outfits. Mix and match flannels with your favorite leggings or skinny jeans. If it gets too warm, tying your flannel around your waist turns this shirt into a cute accessory. Want to bring your date into the fun? Matching flannel shirts are perfect for an extra special date night or photoshoot.
4. Casual Dress
If it's a warmer fall day, a casual dress is a great option. Throwing on a casual dress is a great way to look cute in an effortless way. Accessorize with cute earrings, a scarf, and nude booties. Be sure to bring your favorite denim jacket to throw on if it gets chilly. Alternatively, a long sleeve dress is a great way to adapt to the brisk fall weather we all love. A denim dress is the perfect way to blend the fall trend of denim with the cute look of a dress.
5. Turtleneck, Leggings and Boots
A cozy turtleneck is a classic piece that has been coming back in style over the years. Like other fall outfits, a turtleneck pairs great with leggings and boots. As a bonus, wearing a chunky knit turtle neck feels more like wearing a blanket than clothes. On the flipside, a cotton turtle neck is a lightweight option that achieves the same classic look. A thinner, cotton turtleneck is yet another opportunity to bring along your denim jacket.
6. Skinny Jeans, Button-Up Shirt, and Loafers
Of course we love classic fall pieces like denim jackets, flannel shirts and turtlenecks. To change things up a bit, try going for a more preppy look. We recommend pairing loafers with your favorite skinny jeans and button-up shirt. This look is classic, yet the loafers provide a unique twist. Nude loafers pair nicely with any fun or unique top, so feel free to try something new! Add gold hoop earrings and your favorite watch and your outfit is ready to go for any autumn adventure.
7. The Shawl
Want to look super cute and stylish and also feel like you're wearing blanket? For maximum coziness, look no further than a shawl. A shawl is another effortless way to look super put together and flirty for your fall date night. This piece also comes in handy when it gets cooler throughout the season.
8. Sweater Weather
There's a reason why the cool, brisk temperatures of fall are always referred to as "sweater weather." It's time to bust out your cutest, coziest fall sweater. Nothing screams fall like wearing a sweater with cute leggings and booties. Or, instead of boots, try wearing your favorite casual sneakers. This is an easy way to look and feel laid back.